Princeton Atelier at National Sawdust
Humanizing Electronic Sound
By:
Susan Hall

-

Feb 24, 2020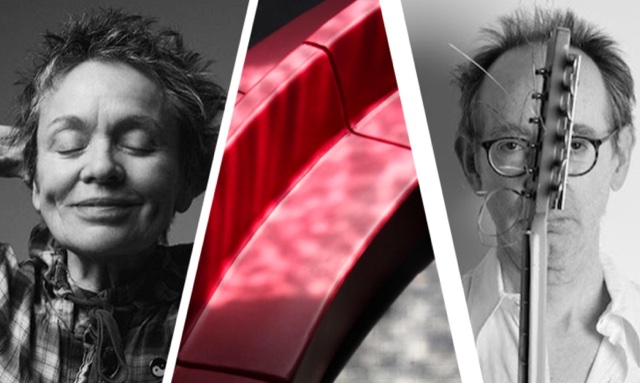 National Sawdust +
A Spacial Lab
Hosted by Laurie Anderson + Arto Lindsay
Featuring Princeton Atelier artists
February 22, 2020
National Sawdust
Williamsburg, New York
Introductory visual and audio moments originated in climate data released as sound in a work by Kyle Barnes. This prelude was "a sonificaton of data for voice, electronics and video." Images played on the huge back wall, which often serves as a screen in this special venue. Gentle scales crested and fell, warming us up for an introduction by Elena Park, a curator of National Sawdust.
Powerhouses Laurie Anderson and Arto Lindsay have explored wave field synthesis with a group of students at Princeton. The dynamics of short stories, parades, suspended grammar, psychic states, animal consciousness and depth of field in sound and film were tackled. Students were prepared for a space like National Sawdust. Here Meyer Sound Systems of Berkley has been working with 116 embedded speakers to offer the acoustics which can simulate any space, be it a cave or Symphony Hall. Innovative special techniques offered to composers and performers were elaborated in the concert.
The lights are down, and manipulated seamlessly with colors and shapes and projections throughout the concert. Janette Lu opened, scampering across the stage, using her arms like a dancer as she made adjustments to equipment. Mysteriously positioned in the center of the stage was a tall rectangular object with protrusions. During the course of the performance, it became clear that this was Lu's creation and the origin of central sound.
Next up Eli Berman merged with his instrument, a very tall beanpole, the xibuccai. Sometimes in duet with the instrument, and sometimes seeming to mesh with the sound he was making on it, this intriguing performance filled the space. Matt McBane also used the violin to merge and contrast with the electronic music.
Alina Kido-Matzner's spatialized narrative "I Want You," offered spoken words mixed with a recorded performance. Demands of mixing these two elements proved challenging. Yet we were drawn into the speech of this attractive performer. Chaya Holch found sounds in the space. Bora Yoon sang beautifully mixing with artificially generated music.
Maya Keren on piano "talked" with her friend Akiva Jacobs on cello. Here the dialogue duet was enhanced from time to time with electronic options. Christopher Douthitt was not part of the Atelier, but is completing his PhD in musical composition at Princeton and offered a song performed by Rosie K.
Abbie Minard concluded the evening, live processing her taps, executed from sea green shoes. The precedence of percussion in contemporary music is made clear in her performance. She is the instrument and composer as she taps. She is very funny. Minard also has an uncanny sense of rhythm, which both delights and jars as she "beats" her work.
Ever present is the feeling that sonic space which is filled with sounds generated by electronics is enhanced when humans join in. This is also an invitation to an audience to enter the performance as listeners. Jean Baptiste Barriere, who ran IRCAM in Paris for a decade, recently devised an opera in which the video images were most often soft and inviting. He too seems concerned with bridging the barrier between non-human sounds and human performers and listeners. The Princeton Atelier, after a fall course with Anderson and Lindsay, created a bridge at National Sawdust.