Born in Freedom Expression in Metal and Stone
Alan Houser Sculptures at Phoenician Resort in Scottsdale
By:
Susan Cohn

-

Apr 02, 2015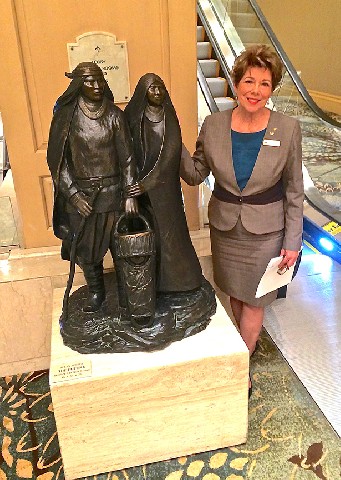 The celebrated Phoenician Resort, nestled at the foot of Camelback
Mountain in Scottsdale, Arizona, houses a multi-million dollar art
collection, the stars of which are eleven large-scale pieces by
renowned Native American sculptor Allan Houser. Set in prominent
locations throughout The Phoenician's lushly landscaped 250 acres, the
works present traditional Native American life in a contemporary
style. Highlights include Chiricahua Apache Family (bronze) at the
entrance gate and Kiowa Song (pink Tennessee marble) and Resting at
the Spring (Indiana limestone) in the Main Lobby outdoor fountains.

Allan Houser was born on June 30, 1914, as Allan
Haozous. His parents were of the Chiricahua Apache tribe held as
prisoners for 28 years after refusing to move from their ancestral
lands in New Mexico to a reservation in Arizona. Houser's father had
been with Geronimo in 1886 when the legendary leader surrendered to
the U.S. Army, and had been among the 1200 Chiricahuas sent to prisons
in Florida.

Houser's mother was born in Alabama where some members of
the tribe were moved in 1887.

The Chiricahuas were eventually placed
at Fort Sill, Oklahoma, where they were ultimately freed in 1914.
Houser was born just months after their release, the first child of
the group born out of captivity. In 1934, Houser was able to study at
the United States Indian School in Santa Fe, New Mexico, where he
gained recognition for his paintings depicting traditional Native
American life. In 1939, Houser began his professional career by
showing work at the New York World's Fair and the Golden Gate
International Exposition in San Francisco. During World War II, Houser
worked in the Los Angeles shipyards by day and painted and sculpted by
night, making friends at the Pasadena Art Center where he was exposed
to the work of Modernist sculptors Constantin BrâncuÈ™i and Henry
Moore.

FLUID LINES AND GRACEFUL DIGNITY.

Phoenician Concierge Jacque Payne,
who leads individual and group tours of The Phoenician Art Collection,
said, "Through the years, the focus of Houser's art work shifted from
drawing and painting to sculpture. In later life he worked primarily
in limestone, marble or bronze, where the fluid lines and graceful
dignity of his figures give his work an unmistakable quality that
reflects the ideals of the people he portrays." Houser's work can also
be found at the Smithsonian Museum of American Art, the National
Museum of the American Indian, and the National Portrait Gallery in
Washington, D.C. Houser, who was awarded the National Medal of Arts.
In 1992 it was presented by then-President George H.W. Bush.

He was the first Native American to receive this country's highest art award.

Houser died on Aug. 22, 1994.
INDIVIDUAL CHARACTER AND ERA REPRESENTATION

The scope of The Phoenician's collection extends
beyond the Houser sculptures to
numerous works from the private collection of The Phoenician's
original owner, Charles Keating, as well as from some of the nation's
top galleries, such as Glenn Green Galleries of Scottsdale. Concierge
Payne said, "The works in The Phoenician's art collection were
selected for their individual character and are representative of the
era in which each was created. These art pieces include the works of
Josef Bakos, an early modernist painter whose main interest was
landscapes; Flemish painter David Vinckboons, known primarily for his
skill as an oil painter, and proclaimed one of the greatest painters
in Amsterdam; Sven Birger Sandezen who established a reputation as an
Impressionist landscape painter of the Rocky Mountain region; and a
work entitled "Ferriccio Ferrazzi," painted by Cavello, purchased from
the Mosaic School of Art of the Vatican City. Chinese porcelain
vases, Chippendale mirrors, a Dhurrie area rug and two Louis XVI
Commodes were all purchased from the John Connally estate."
PHOENICIAN FACTS: The 583-room AAA Five Diamond resort hotel is
located at 6000 E. Camelback Rd. in Scottsdale, Arizona. The
Phoenician provides complimentary self-guided audio tours of its
artwork. Guests who take the tour are given two general admission
tickets to the Phoenix Art Museum. For additional information, visit
www.thephoenician.com or call (480) 941-8200 or (800) 888-8234.
AND REMEMBER: I haven't been everywhere, but it's on my list. Susan Sontag.

Susan Cohn is a member of the North American Travel Journalists
Association, Bay Area Travel Writers, and the International Food, Wine
& Travel Writers Association. She may be reached at
susan@smdailyjournal.com. More of her stories may be found at http://ifwtwa.org/author/susan-cohn.

This story first appeared in the San Mateo Daily Journal on March 21, 2015.