Ogle Winston Link Photographed Steam Locomotives
Visiting His Roanoke Virginia Museum
By:
Susan Cohn

-

Apr 08, 2015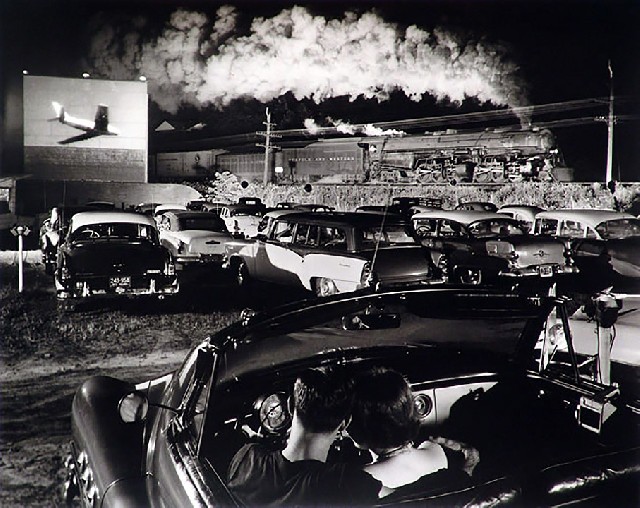 In 1955, New York-based commercial photographer Ogle Winston Link (1914-2001) happened to be in Virginia just as the Norfolk and Western Railway announced that it would change from steam to diesel engines.
The Railway, headquartered since the 1800s in Roanoke, Virginia, was the last major American railroad to operate exclusively under steam power, so its decision to convert effectively meant the end of the steam locomotive. But it also meant the beginning of a five-year self-financed labor of love for photographer Link, who traveled through the mountains of Virginia, West Virginia, Maryland, and North Carolina, documenting this technological shift.
By 1960, when the transition from steam to diesel was complete, Link had captured 2400 images. Today, 250 of these dramatic photographs are displayed at the O. Winston Link Museum in the former passenger station of the Norfolk and Western Railway in downtown Roanoke. These stunning large-scale works, most taken at night, convey Link's strong emotional connection with his subject. He said, "The train is as close to a human being as you can get. It talks, it moves, it grunts and groans. And each engine has its own characteristics–its own sound and smell and sights." In Link's spectacular photographs, the great machines live again.
HOTSHOT EASTBOUND
One of Link's best-known photographs is Hotshot Eastbound, which shows a steam train at night speeding past a small-town drive-in movie theatre. Link posed the photograph by arranging for a young couple to sit and watch the movie in Link's own car. To photograph the speeding train, Link used a large format 4 x 5 Graphic View camera with black and white film, from which he could later produce silver gelatin prints. He set up 42 flashbulbs in a series and arranged another light to highlight the car and the couple. The photo was taken in the instant that the train passed. Link added the airplane image on the movie screen later from a negative he'd made separately of the film, since his own lights had washed out the actual movie.
STEAM GIANTS ON FILM
Mr. Jeff Sanders, President of the Roanoke Chapter of the National Railway Historical Society, said, "The Norfolk and Western Railway (N&W Ry), headquartered in Roanoke, Virginia, was the last major railroad in the country to maintain steam motive power. The railroad designed and built its own locomotives at the company's shops in Roanoke. They were known throughout the world as the most powerful and efficient steam power ever built. The N&W's principal task was hauling high quality coal from southern West Virginia and southwest Virginia to the port at Norfolk, VA. For that reason, the management of the Railway stayed with coal-powered steam as long as they possibly could. In fact the City of Roanoke's very existence and growth for nearly 100 years was due to the N&W Ry, and ultimately, to coal. Mr. Link, a professional industrial photographer, set out on his own, at his own expense, to record these last remaining steam giants on film. In order to be in full control of his photography, i.e., lighting, exposure and location, he photographed his subjects at night! After five years and over 2000 images, his project ended as the N&W completely dieselized. During those years Mr. Link meticulously captured not only the steam locomotives, but the very fabric of life of that era and of the people that lived in those 'simpler times'."
THE NORFOLK AND WESTERN RAILWAY'S ENGINE 1218

A walkway connects the O. Winston Link Museum to the Virginia Museum of Transportation, which holds Norfolk and Western's massive Class A 1218, a steam locomotive that at one time was the most powerful operational steam locomotive in the world. Known as the Mercedes of Steam, the 1218 could easily run at 70 miles per hour. The engine pictured in Link's "Hotshot Eastbound" was of one of 1218's sister engines at full speed.
MUSEUM PARTICULARS

The O. Winston Link Museum is located at 101 Shenandoah Ave. N.E., Roanoke, VA. For more information, visit www.linkmuseumorg or call 540-982-LINK. The Virginia Museum of Transportation is located at 303 Norfolk Ave. SW, Roanoke, VA. For more information, visit www.VMT.org or call 540-342-5670.
Susan Cohn is a member of Bay Area Travel Writers; the North American Travel Journalists Association; and the International Food, Wine & Travel Writers Association.
She may be reached at susan@smdailyjournal.com.

This story first appeared in the San Mateo Daily Journal.