Artist Otto Piene's Last Environmental Artwork
A Test Run at a Boston Gallery before Exhibition in Germany
By:
Mark Favermann

-

Apr 25, 2015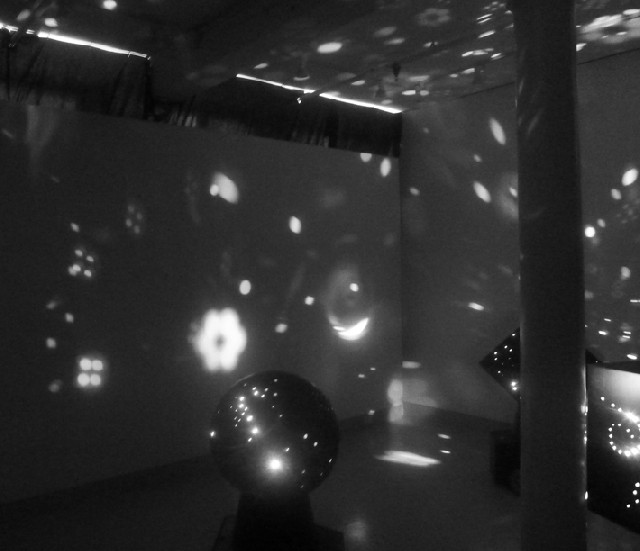 Entering the pitch black Miller Yezersky Gallery in Boston's SOWA, a galaxy of lights and fantastic images moving around the space met the viewer's eye. These visual elements were at once quite new but somehow primeval and quite familiar. The viewers are full participants in the light show. This environmental installation, The Robotic Light Ballet, is a new project by the late German/American pioneer art and technology artist Otto Piene.
When he died last July at age 85, he was involved in supervising one of his distinctive Sky Art installations in Berlin to celebrate a large retrospective of his work. He lived and died an environmental artist. His influence as an international artist, professor/mentor and Director of the Center for Advanced Visual Studies at MIT was a major figure in the evolving world of art and technology.
The Robotic Light Ballet was being worked on prior to his death and produced in collaboration with the MIT Museum Studio, artist John Powell and artist/poet Elizabeth Goldring. This Boston gallery installation was a test run for a show later this year in Germany. It will be shown at LWL-Museum für Kunst und Kultur in Münster, Germany.
It is at once an old and new artwork. It has the look and feel of some of Piene's 1960s and 1970s installation pieces that used light projections as literal environmental brushstrokes. However, as technology has changed in last 40 or 50 years, these light robots also include 21st century LED appliances instead of just incandescent bulbs, while long wires and plugs have also been replaced by long life batteries.
What bridges the time periods, like most of Piene's artwork, there is a major participatory aspect to this installation. Observation is part and parcel of the artist's art. The viewer's involvement is foremost. The action of the light dance is reacted to both visually and sometimes viscerally. There is also a strong intellectual or visual memory referencing aspect to it as well.
Is this part of the primitive core of cosmic recognition or simply shadows on our memories? Is it about the universe or about the aesthetic of light challenging the darkness? Throughout his career, in all of his pieces, Piene strove for a variety of layered reactions and provocative thought.
Piene's art is at once appealing, accessible, and yet somehow unworldly. It was and is joyful mystery yoked to dynamic playfulness. The artistic legacy of Piene's ethereal vision is a provocatively visceral art dedicated to participation, movement, and inevitably, beauty.
So, it is not much of a surprise that his vitality and creative energy is still making artistic statements several months after his death. His legacy lives on in this robotic and animated light environment that displays a visual conversation of dancing and changing illuminations.
The dark gallery environment was transformed into a dancing light show bouncing off of as well as chorographically and visually echoing on walls and ceilings. The space was inhabited by three medium sized robots that projected and animated lights from perforated geometric (round, square and triangular) head pieces. The robots moved randomly around the gallery space at varying speeds with several different luminous imaging patterns.
Otto Piene had a great interest in nature and technology as ingredients for art, dating back to his smoke paintings and light installations he created as part of ZERO. From the early '70s on, he focused on "Sky Art," in which he harnessed air itself as an aesthetic medium.
His sculptured inflatables combined his customary abstraction with symbolic and realistic resonances. By adopting shapes drawn from nature (flowers, a star-like anemone, etc.) and mythology (Icarus, the Minotaur) he created something magical.
Piene was a founder of ZERO, an international group of artists organized to focus upon art that used space as subject and material. This was done with specific reference to the relationships among art, nature, technology, and the viewer. In addition, participatory art was incorporated into the production of live action events, one of the major (and prescient) inspirations for '60s "happenings.
Among the themes explored was the establishment of new definitions of painting, sculpture and Piene's fire and smoke pictures. The introduction of movement and light as both formal and idea-based aspects of art was one of ZERO's many pioneering aesthetic and media breakthroughs.
Rejecting both the self-indulgences of abstract painting and the figurative mode, group members drew on a minimalist but poetic visual vocabulary. Their methods ranged from the geometric to the gestural. The artists often employed nontraditional methods and industrial materials. Elements such as fire and water, light and kinetic effects, previously ignored by fine artists, were used to create their art. Artistic mystery and visual playfulness are present in all of the Otto Piene's work.
His large scale 'Sky' pieces were as much strategic design pieces as artistic statements. Often, his helium-filled clear tubing – gracefully arching structures in space — came off as tall vertical "flowers," a spectacular amalgamation of stars and giant sea anemones. Lighted dramatically at night, the pieces were at once appealing, accessible, and yet somehow unworldly.
Like this recent Robotic Light Ballet dancing light interactive installation, ethereal visions are part of Otto Piene's enduring creative legacy. There is a 21st Century freshness to his artwork. His artistic progeny is a body of provocatively visceral art dedicated to participation, movement, visual beauty and the wonders of observation.
This article is republished by permission of NewMedia.International, New Media, New Ideas, New Art where it was first published.