Museum Director Michael Rush at 65
Battled Brandeis University over Rose Art Museum
By:
Charles Giuliano

-

May 03, 2015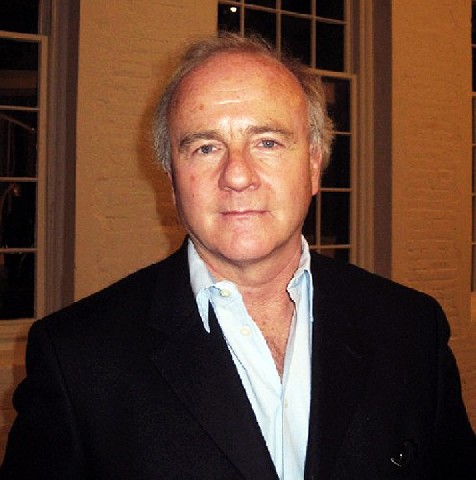 There were many ironies and contradictions to the curator, critic and museum director, Michael Rush, who died at 65 on March 27 from pancreatic cancer.
He entered the fine arts from the back door. For 15 years he was a Jesuit priest with a PhD in psychology and religion from Harvard University. For a time he perused acting with roles on TV shows like "Law and Order." From acting and performance art he found his way to expertise in video art and new media.
He is survived by his partner Hyun-Jae Pi.
From 2005 to 2009 I knew him as the feisty and brilliant director of the Rose Art Museum. By then the museum had added the large, boxy/ generic Lois Foster Wing designed by Graham Gund. It provided the vaulted space to install large and ambitious exhibitions.
He came to the fine arts through a circuitous route which didn't include the study of art history. Rush was intent on breaking through and reinventing another way of looking at contemporary art. The unique exhibitions he mounted added another component to the mix of Boston's diverse museums. His programming was closer in spirit to the cutting edge MIT List under recently deceased director Jane Farver.
They had in fact worked together since Rush became director in 2000 of the Palm Beach Institute of Contemporary Art. In 2010 they again collaborated.
The venue which was handed over to Palm Beach Community College had formerly housed the Lannan Foundation.
A prolific critic and author he wrote books that became standards in the field: "New Media in Late 20th Century Art" (1999), "Video Art" (2003, 2007) and "New Media in Art" (2005), all published by Thames and Hudson.
He was tasked by the Brandeis administration to make a survey and evaluation of the renowned collection of the Rose Art Museum. Its core of outstanding examples of Pop art had been assembled by founding director Sam Hunter.
In 1961 with $50,000 in seed money from Leon Mnuchin and his wife, Harriet Gevirtz-Mnuchin Hunter purchased 21 works averaging from a few hundred dollars for a Claes Oldenburg to $5,000 for a painting by Jasper Johns.
As Hunter told me he might have spent all of the money on a single work by an established artist. His decision to acquire works by then emerging artists proved to be fortuitous.
With a critical mass of outstanding works, often in demand for museum exhibitions, that attracted further donations and wise acquisitions with modest funds by the directors who followed Hunter.
Considering that the Museum of Fine Arts began to collect contemporary art a decade later with mixed results the Rose has one of the finest collections in New England. The Institute of Contemporary has only recently decided to collect and has skimpy space to display and store it.
Rush submitted a report that the collection was then valued at more than $350 million. The art world was shocked by what happened next. Rush was informed that the president of the university, Jehuda Reinharz, and the board of trustees had decided to close the museum and sell substantial parts of the collection. The collection was viewed as a financial asset of the cash strapped university.
When the decision was announced, asked for comment by the media, Rush issued a brief statement. ""I want to express to you, the Rose Art Museum community, my shock and horror at the university's decision to close the Rose Art Museum. As a member of the Brandeis community I feel shame and deep regret over the shortsightedness of this decision."

As is often the case when a prominent position is terminated there is a no comment stipulation as a part of the severance package. That may have been the case with Rush. He did later speak out but was not a leader of the successful effort to reverse the university decision.

Ironically, the furor over the Rose scandal led to the ouster of Reinharz with a golden parachute that offended alumni including myself. The Rose has since been reinstated with a renewed commitment for support.

As reported by the Boston Globe, while still on campus, Rush had an uneasy meeting with Reinharz.

"When I got to his office, there was somebody there to take notes,'' remembered Rush. "I was clearly walking into a situation that was being perceived as part of a legal situation. I had wanted a human situation. I had been in his office a week before [the announcement], with a bottle of champagne to toast the new year. We were very friendly, and all of a sudden we were enemies. I wanted to say, We're two adults, can't we just talk? There was none of that. He wasn't saying anything. I finally said, 'Jehuda, this isn't going anywhere.' I extended a hand. Jehuda didn't reach out. After several beats, he did, reluctantly.''

"It was a very miserable situation to be in,'' said Rush, who acknowledges that in those days, he dreaded each workday as he entered the Brandeis campus. "Friendships were strained. People would sometimes walk the other way when they saw me coming. I had been friendly with the president and provost before this. One day later, I was their enemy. The upside of it was that I think anything I may have learned about leadership in my life was really called to the fore and tested. I had a great learning experience from it, which I'm oddly grateful for.''
At the end of his contract Rush left the Rose. Not long after, in 2010 he became the founding director of the Eli and Edythe Broad Art Museum at Michigan State University.
That year he was invited by Jane Farver, who also passed away this week, to curate a MIT List Visual Arts Center exhibition "Virtuoso Illusion: Cross-Dressing and the New Media Avant-Garde." Rush included media artists who used cross-dressing from Man Ray and Marcel Duchamp through Andy Warhol, Charles Atlas, Matthew Barney, John Kelly, and Ryan Trecartin.
For Rush it was a typically out of the box, provocative project. It was a signifier of what will be missed.