The Barrow Group's Expecting Isabel
Lisa Loomer Creates Theater Magic
By:
Susan Hall

-

Jun 11, 2017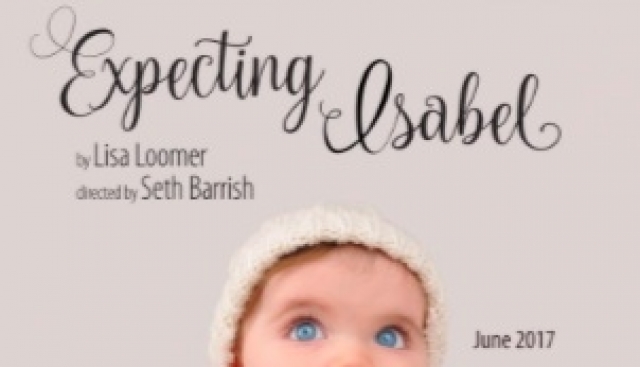 Expecting Isabel
By Lisa Loomer
The Barrow Group
New York, New York
Through July 8
The Barrow Group is committed to intimate theater that feels familiar and real. Expecting Isabel by Lisa Loomer is just that.
The play begins pleasingly off kilter. The subject is trying to conceive a child. When the idea occurs in a couple, it is the man, Nick, who first expresses it. The obvious member to articulate this wish is the woman. Miranda has to be persuaded to put aside her fears about genetic disfunction and the dreadful world into which we bring children.
Having made the decision to go forward, they first try to have sex by the book. Miranda is held upside down by Nick so the sperm can more easily find its target.
Playwright Loomer has the two principal characters each tell their story, passing it back and forth. The other characters step in and out, for often brief, but always pithy moments. They perform fleshed out cameos.
Priscilla Shanks is formidable as an alcoholic Wasp mother. The alcoholic is said to see the word Writ Large, and Mother Lila does. Some of her closest friends have had hormone therapy. Like who? Celine Dion. And so on. This is apt and on target.
Kathryn Kates is the other Mom. She is wide-eyed with wonder that we can't just leave matters to God.
Other cast members are equally adept, but Alex Correia and Myra Thibault as the couple stand out. Thibault has a wonderfully malleable face, which transforms from perpetual curiosity to pain and disappointment in a fleeting moment. Correia is particularly good at stepping in and out of the fourth wall to tell the story, carrying it forward as other players move in and out.
He withstands a test of his fertility. His semen is injected into a hamster, the least of the couples' humiliations.
Moving on to adoption, you wish they had not met the biological parents of the emerging embryos they propose to adopt. Finally they do not.
What is unsettling about the play is its take on intimacy. The creation of a child is one of the most personal moments between two people. It gets megaphoned when fertility experts and marital experts enter the picture. Like Facebook, we lose all sense of the private. Part of the moving drama of Nick and Miranda's story is their exposure. The simple conclusion, realized in part because Miranda has learned to accept the fact that some things "just are that way" returns them to privacy.
This play is so well written and acted that you are grateful for the set's simplicity. Peiyi Wong is credited with using three big plans with the one stage left at a slant.
Focus is deservedly on Seth Barrish's excellent stage diretion. Don't let a description of the subject matter put you off. Expecting Isabel is a terrific evening of theater.