Art of Puerto Vallarta
Sculpture Walk on the Malecón
By:
Susan Cohn

-

Jun 24, 2015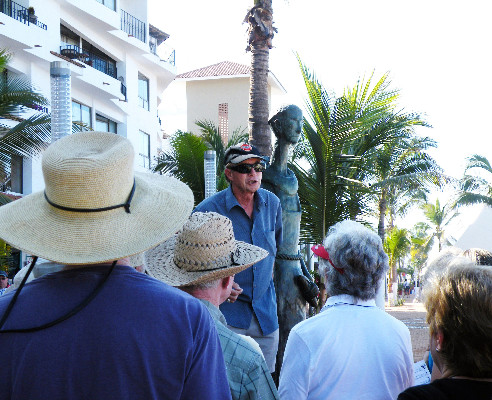 SCULPTURE WALK ON THE MALECÓN: ART AT THE HEART OF PUERTO VALLARTA.

Puerto Vallarta's spectacular curving esplanade known as the Malecón is the place for a relaxing stroll any time of the day, but Tuesday mornings hold a special attraction – a free guided walk of the dramatic monumental bronze and stone sculptures that punctuate this broad, exclusively pedestrian, seaside promenade. The guide for these tours is Gary Thompson, the owner since 1987 of the Galeria Pacifico in the historic heart of Puerto Vallarta.
Thompson, who knows many of the featured sculptors personally, said, "In the mid 1990's I started doing tours in vans of artists' studios scattered around the Puerto Vallarta area. We would pass by a few sculptures on the Malecón that I would comment on while heading to the first studio. Eventually more sculptures had been added on the Malecón and adjacent streets, and it seemed to me that a tour of just the monumental bronzes might be something of interest. Many visitors have gone multiple times and some winter and full time residents always include it as something to do with visiting friends. A common comment is 'I've been visiting Vallarta for 5-30 years and always wondered about the sculptures but never knew anything about them until now.'"
The walk's numerous sculptures include works by Ramiz Barquet (La nostalgia; "Nostalgia"); Sergio Bustamante (En busca de la razón; "In Search of Reason"); Alejandro Colunga (La rotonda del Mar; "Rotunda of the Sea"); Manuel Lepe (The Fish Sellers' Mosaic); Pedro Tello (Origen y destino; Origin & Destiny); and Rafael Zamarripa, whose Boy on the Seahorse (El caballito de mar) is the playful sculptural symbol of Puerto Vallarta. A selection may be seen at http://www.puertovallarta.net.
TUESDAY MORNING ART WALK PARTICULARS.

The approximately two hour free tours begin at 9:30 a.m. on Tuesday mornings from the middle of November to the middle of April. The starting point is Fernando Banos's Millennium sculpture next to the Hotel Rosita. Although the tour was initially designed for about 35 people, 50 are common during the busiest weeks of the season. Joining Thompson on the Tuesday morning walks is Kevin Simpson, Artistic Director of Colectika Ancestral Contemporary Art Gallery, who explains the symbols of the Huichol Indians that have been created as reliefs of black pebbles in the pavement of the Malecón.
WEDNESDAY EVENING ART WALK.

Simpson's Colectika Gallery joins with Thompson's Galeria Pacifico and numerous other galleries to host Art Walk, held from 6 to 10 p.m. on Wednesday nights from October through May in the Historical Center of the City just inland from the Malecón. This art community open house offers visitors a chance to meet gallery owners, artists and fellow art aficionados. The galleries cover the spectrum of decorative and fine arts including contemporary museum quality works by Mexican folk artists and representative works by international. Simpson said, "The [Wednesday evening] Art Walk in Puerto Vallarta allows tourists and locals alike a chance to see some of the finest examples of art created in Mexico. In combination with the fine dining available in downtown Puerto Vallarta, Wednesday night on the town has become an event not to be missed. There are 10 participating galleries whose styles of work ranges considerably. It is a self-guided tour so you can spend as much time as you want in one gallery and skip the ones who's genre might not be your cup of tea. Some of the galleries have artists in residence so you can get to know the actual artists and ask them about their work or what influences them."
PUERTO VALLARTA GALLERIES TO CHECK OUT.

Galeria Pacifico presents an eclectic blend of sculptures and paintings mostly by Mexican artists as well some foreigners living and working in Mexico. Paintings and sculptures are shown together, with an emphasis on local painters • Aldama 174, 2nd Floor. El Centro/Downtown. *** Colectika Ancestral Contemporary Art Gallery presents contemporary and folk art from the newer generation of artists. - el Centro/Downtown - 852 Guadalupe Sanchez at Allende. *** Galeria de Ollas, founded in 1998, is exclusively dedicated to displaying and selling the works of Mata Ortiz potters. This little town in the middle of the desert in Chihuahua State is the hometown to about 400 ceramists. Corona 176, el Centro/Downtown.
AND REMEMBER: To paint... to travel... to combine the two... is to celebrate life. Jack R. Brouwer.
Susan Cohn is a member of the North American Travel Journalists Association, Bay Area Travel Writers, and the International Food, Wine & Travel Writers Association. She may be reached at susan@smdailyjournal.com. More of her stories may be found at http://ifwtwa.org/author/susan-cohn.