Wayne Hopkins and Cathy Wysocki at Eclipse Gallery
Cuckoo's Call on View In North Adams
By:
Eclipse

-

Jul 28, 2018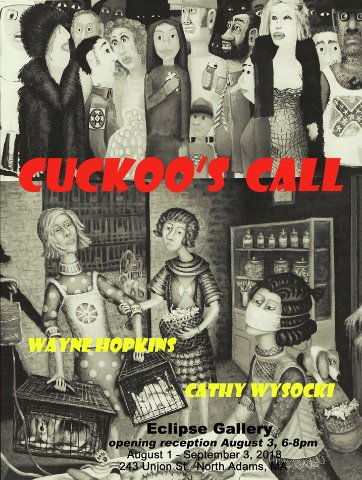 Cuckoo's Call, is an exhibition of paintings and sculpture by Wayne Hopkins and Cathy Wysocki that reflects on the sea of humanity, ever restlessly heaving up and down.
The work will be on view at the Eclipse Gallery in the artist loft building at 243 Union St., North Adams, MA. Cuckoo's Call runs from August 1 - September 3. Gallery hours are: Thursday- Sunday, 10am-5pm. There will be a reception for the artists on August 3 from 6 to 8 PM.
Included in the show are Hopkins' large scale oil paintings that portray figures in various states of apprehension, intimidation and mystery. The engaging color choices veil the foreboding tone of the paintings. There is a sense of disquieting stillness in his works.
Wysocki will exhibit paintings and mixed media sculptures. One group of paintings are from her Alleviator series depicting women involved in various acts of animal rescue. With vivid color and imagery, the paintings evoke optimism despite the sometimes harrowing circumstances.
Also included will be her works that are imagined devices for salvaging the deluded mind, such as "Disentanglers" and an "Identity Deletion Device," as well as a group of sculptures envisioning future sea organisms.
Hopkins is a painter, printmaker, and sculptor. He attended and later taught at The School of the Museum of Fine Arts, Boston, MA. He lived and worked in the Boston area until 2003, when he moved to New Mexico. His website is: www.wayne-hopkins.com
Wysocki is a painter and sculptor. Born and raised amidst the steel mills of Gary, Indiana, she attended college in Los Angeles and later received a B.A. from San Francisco State University.
She lived and worked in the Boston area for 24 years before moving to New Mexico in 2003. Her website is www.cathywysocki.com.
Both artists have lived and worked in the Berkshires since 2011.