Dig This a Super Sized Sandbox Near Vegas
Biggest Toys Imaginable
By:
Susan Cohn

-

Jul 31, 2015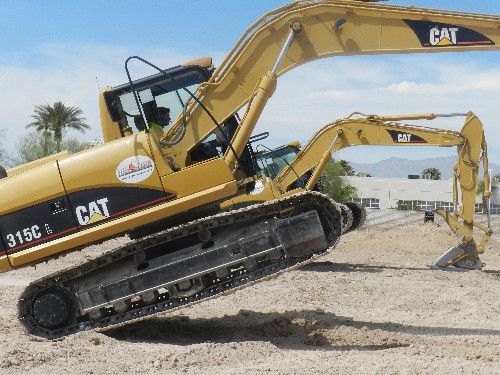 DIG THIS: EARTH-MOVING MACHINES ARE THE BIGGEST TOYS AROUND AT A SUPER-SIZED SANDBOX IN LAS VEGAS.

Ah, remember when you were a kid? Did you love to stand near a construction site and watch the big earth-moving machines? Wasn't it fun playing with the bright yellow Tonka construction equipment in the sandbox? Was Mike Mulligan and His Steam Shovel one of your favorite books? Well, whatever the answers to those questions, now is your chance to let your inner child out in a BIG way…in Las Vegas. Las Vegas has a lot of fantasy about it, to be sure, but none grabs the imagination any faster than Dig This, the Heavy Equipment Playground, where 10-ton Caterpillar Bulldozers and 15-ton Caterpillar Excavators wait for you to climb aboard and take the controls.
STICKS, BLADES, AND BUCKETS.

The Dig This experience begins indoors as instructors take guests through a safety and equipment orientation course before issuing them each a hard hat, orange vest, and two-way radio head-set, and leading them out to the field where the bulldozers and excavators are lined up. The instructors stand to one edge of the large work-site and give one-on-one instructions through the headsets, clearly explaining how to operate the sticks, levers and buttons that control the machine functions. Within minutes you will be using the bulldozer's front blade to build giant piles of dirt or push gigantic tires. You can even drive it up one side of a large mound and teeter-totter it on the top, before driving it down the other side. Or, in no time at all, make a 30,000-pound excavator "rear up" by pressing its bucket to the ground.
A MAN WITH A DREAM.

Dig This exists because owner and founder Ed Mumm was fascinated by these amazing machines. Mumm said, "Since I was a kid, I have always had a fascination with big heavy equipment. Funny enough, one of my school holiday jobs was to operate the STOP/GO paddles to direct traffic on road construction projects. I was always surrounded by tons of all this cool equipment but never got to operate it, only sit in it during my lunch breaks. I really wanted to fire one up, but no one would let me." It wasn't until years later, when Mumm was building a house and had to do some excavating, that he got his chance to play out those childhood dreams. Mumm said, "With the help of a friend who was an experienced operator, we rented a bulldozer and 20 ton excavator and started tearing the place up. After 2 hours of operating the excavator I was having so much fun and it occurred to me, if I'm having this much fun, imagine the number of people out there who would love to experience this but can't. Thus, Dig This was born."
TOYS FOR BIG BOYS…AND BIG GIRLS.

Today, Mumm helps guests find the same thrill he did. He was surprised to find that his largest group of sales is to women 55 – 70. He said, "Originally I thought only men would be into this. As soon as we opened our doors for business, it became very obvious that I was wrong. Half of our clients are woman who apparently have also craved the opportunity to play in bulldozers and excavators. I think it is very empowering for them and is fantastic therapy to take control of a 20 ton piece of machinery and tear up some earth and what ever else is in their way."
FOR MORE INFORMATION.

Dig This is located at 3012 S. Rancho Drive, Las Vegas, NV, just minutes from The Strip. Sessions can be arranged from 90 minutes to three and a one half-hours, allowing ample time to rip, crush, doze and dig. www.digthisvegas.com or 1-888-DIG-THIS.
AND REMEMBER: Travel, in the younger sort, is a part of education; in the elder, a part of experience. Francis Bacon.
Susan Cohn is a member of the North American Travel Journalists Association, Bay Area Travel Writers, and the International Food, Wine& Travel Writers Association. She may be reached at susan@smdailyjournal.com. More of her stories may be found at
http://ifwtwa.org/author/susan-cohn.