Mattress Factory in Pittsburgh
Installation by Chiharu Shiota
By:
Susan Cohn

-

Nov 06, 2015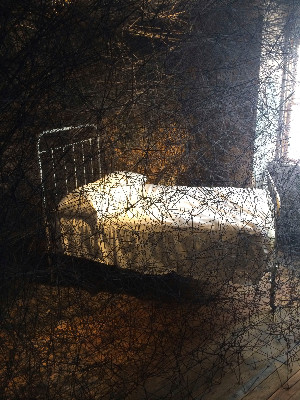 ART YOU CAN GET INTO: CHIHARU SHIOTA'S TRACE OF MEMORY, AT THE MATTRESS FACTORY IN PITTSBURGH, PENNSYLVANIA.

Feelings of loss and questions of memory are often the subject matter for Japanese-born, Berlin-based installation artist Chiharu Shiota. One of her most recent site-specific works on these themes, Trace of Memory (2013), fills an entire renovated 19th-century row house owned by the Mattress Factory, a contemporary art museum in Pittsburgh, Pennsylvania. Room after room, floor after floor, webs of multi-layered, intricately strung black yarn enclose shoes, pianos, beds, desks, suitcases and other material fragments of day-to-day life.

The partitions of yarn compel the visitor to look more closely while at the same time obscuring the view. Shiota's intriguing work, which may be viewed through May 31, 2016, is the first to be installed in the row house, which had stood empty for decades. When the artist first visited, she began to imagine what the lives of the former occupants had been, and she decided to assemble used objects to recreate the stories she developed in her mind. Shiota believes that both the house and the objects contain memories, which she traps by weaving thousands of yards of black yarn through the rooms and corridors. Those intangible memories represent existence in the midst of absence – a concept that fascinates her.
Commenting on her work, Shiota said, "When I weave, I create patterns that can be seen as a mirror of my feelings. For example, when my mind is troubled, the thread entangles easily. On the other side, when I feel balanced, the weavings I make become very regular. Like in [Trace of Memory], my personal state of mind and history is connected to the stories of the objects I decide to put into my work."
THE MATTRESS FACTORY AND SITE-SPECIFIC ART.

Site-specific art is created to exist in a certain place. Typically, the artist takes the location into account while planning and creating the artwork. The work of art is created in the site and can only exist there - it cannot be moved or changed. The Mattress Factory, featuring site-specific installations created by artists in residence from around the world, was founded in 1977 by Artist Barbara Luderowski in a former Stearns & Foster mattress warehouse in Pittsburgh's historic Central Northside. From the beginning, the Mattress Factory has been run by artists to support artists working in residence as they created site-specific installations. To date, it has presented and commissioned new installations by more than 650 artists.
Expanding from its original site, the Mattress Factory has rehabilitated nine nearby properties to provide additional installation space, including, most recently, the 516 Sampsonia Way row house which houses Chiharu Shiota's Trace of Memory (2013). The Mattress Factory is now an internationally recognized leader in site-specific, contemporary art and currently has 17 permanent installations on continuous display, including works by James Turrell, Bill Woodrow, Allan Wexler, William Anastasi, Dove Bradshaw, Jene Highstein, Rolf Julius, Yayoi Kusama, Winifred Lutz, Greer Lankton, Vanessa Sica & Chris Kasabach, and Monica M. Bock, Mary Carlisle, Cathy Lynn Gasser, Melissa Goldstein, Sandrine Sheon and Catherine Smith. ?
ART WITHOUT BOUNDARIES.

Mattress Factory Co-Director Michael Olijnyk said, "What's great about visiting an installation at the Mattress Factory is that there are no boundaries between the viewer and the artwork - you enter the installation and you are completely surrounded by it. You are often experiencing it with all of your senses - sometimes you can smell it, sometimes you can hear it, obviously you can see it. You experience the artwork before you even have to think about it, so you really don't have to know anything about the work to enjoy it."
MATTRESS FACTORY PARTICULARS.

The Mattress Factory is located at 500 Sampsonia Way in Pittsburgh, Pennsylvania. Free parking for Mattress Factory guests is provided in the museum parking lot, located at 505 Jacksonia St. The Mattress Factory Shop offers artisan jewelry, handmade greeting cards and unusual décor that mirrors the playful and interactive artwork on display in the galleries. In addition to the shop inventory, the Mattress Factory sponsors the Artist Limited Edition Series to provide artists with the opportunity to create editions of small works that are permanent and accessible to the public long after the original temporary installations are dismantled. Artists work with a variety of professional printmaking studios, foundries, and fabrication workshops to produce the editions. More information about the Mattress Factory may be found at www.mattress.org or by calling 412-231-3169.
Susan Cohn is a member of the North American Travel Journalists Association, Bay Area Travel Writers, and the International Food, Wine & Travel Writers Association. She can be reached at susan@smdailyjournal.com. More of her stories may be found at http://ifwtwa.org/author/susan-cohn.