Touring Company of 42nd Street
On the Road in Florida
By:
Aaron Krause

-

Jan 02, 2017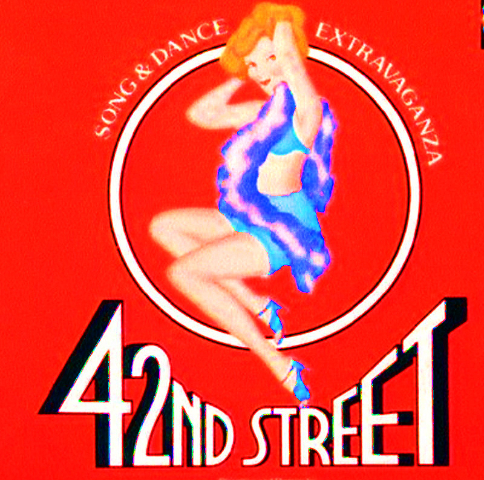 It's a safe bet to assume many people see "42nd Street" to "come and meet…those dancing feet."
Current non-equity national tour director Mark Bramble doesn't disappoint in a mostly commendable production that played a one-night stand in West Palm Beach on New Year's Eve. The 16-week touring production will continue at Florida venues until Jan. 6, when it heads north.
For the reviewed production at West Palm Beach's Kravis Center for the Performing Arts, Bramble chose to have the curtains closed as the audience filed into the theatre. As the show began, the curtain rose until we could only see those dancing feet. One could hear vocal indications of recognition at that point.
And what great work those dancing feet accomplish. They belong to the roughly 40-person cast, which admirably clicks tap shoes in unison. They fully inhabit their characters and execute the musical's creative, vivacious dances with flair, giving us a toe-tapping, memorable evening filled with glitz and glamor. It appeared to be just the stylish New Year's Eve celebration audience members were seeking. All that was missing was a champagne toast.
It's easy to want to toast "42nd Street's" likable heroin, Peggy Sawyer, an eager but naïve performer wannabe who arrives to make it big in New York City from Allentown, Pa. during the height of the Great Depression.
Certainly the dancing and extravagance of "42nd Street" are big draws for the musical, a love letter to Broadway and musicals. It originally opened on the Great White Way in 1980, played for 3,486 performances and won Tony Awards in 1981 for Best Musical and Best Choreography. A 2001 revival earned two Tony Awards, including Best Revival of a Musical and spanned 1,524 performances.
But the people who lived during the musical's setting of the Great Depression hardly enjoyed success and extravagance. Near the beginning of the show, Julian Marsh, the director of "Pretty Lady," the musical-within-the-musical, remarks that those who don't wish to audition can join the bread line outside. Marsh himself badly needs a hit; the Depression's hit him hard.
Into this world of frustration and desperation Sawyer arrives. It's a world with which we can identify, with the economic woes the nation's faced in recent years. It's easy to root for Sawyer, perhaps because we see part of ourselves in this determined, desperate young woman seeking the American Dream.
Of course, our emotional investment in the character depends on how effectively an actor conveys Sawyer's desire and commitment.
Clara Cox excels in the role. At first, her body posture, mannerisms and voice suggest insecurity, hesitancy, modesty and even an apologetic feeling for merely being at the theater. By the end, as the star, she walks with an air of triumph and confidence.
Sawyer's a challenging role. That's because a performer must convince us that the inexperienced young woman has potential as a performer, but is capable of quickly transforming into an actor who performs like a seasoned veteran. Cox makes this transition appear seamless.
Leading lady Dorothy Brock also changes during the course of "42nd Street." At the beginning, she's arrogant and vain, but later shows compassion to Sawyer.
As Brock, Kara Gibson Slocum is commanding, never leaving us with any doubt that this woman owns the stage, her role and feels she's above taking direction from anybody. Everything about Slocum's performance screams diva, from her glamorous aura to the way she walks with a firm, resolute purpose. Slocum softens considerably at the end, speaking with tenderness and compassion toward Sawyer as she gives the younger woman advice before the novice takes over the lead role in "Pretty Lady."

Matthew J. Taylor is commanding, driven and demanding as desperate director Julian Marsh, matching the intensity of Slocum's Brock. But Taylor also deftly conveys Marsh's softer, compassionate side. One moment, he's like a drill sergeant, the next he's like a coach anyone would want to play for.
Taylor's also comical, especially in the scene in which an incredulous Marsh is told by Sawyer that she'd rather return to her hometown of Allentown than play the lead in "Pretty Lady." Taylor's Marsh scrunches up his face and draws out the word "Allentown" with a mixture of disbelief, belittlement and disgust, as though the lowly town gives off a stink that spreads all the way to New York. Wouldn't it be funny if "42nd Street" played a theater in Allentown?
Gerrianne Genga is a hoot as "Pretty Lady" co-author and airhead Maggie Jones, playing her with a high-pitched voice and great comedic timing.
Director Bramble has helmed the production with a comedic bent and smart staging, which includes highlighting major characters at key moments. Bramble's pacing is effective; it's fast, especially toward the end, reinforcing the chaos, tension and high stakes as Sawyer scrambles to learn her part. She has "36 hours to learn 25 pages, six songs and 10 dance numbers." Bramble manages to pace the production quickly and, at the same time, stress key moments of the story and not rush the production.
At times, cast members don't sound as comprehensible as they could. There are also moments when they speak before applause completely dies down.
Singing wise, company members display mostly expressive, versatile and strong voices that are pleasant to listen to. The singers are accompanied by a vibrant, live orchestra.
Musical highlights include a catchy "We're in the Money" a rousing "Lullaby of Broadway," and a sultry, inviting rendition of the title song.
Scenic designer Kacie Hultgren keeps the sets simple, although some look a bit amateurish. Roger Kirk's costumes are period appropriate and elegant, particularly the costume worn by Brock.
Lighting designer Ken Billington helps focus performers and establish mood.
This touring company is nearly as big as the 48-member cast of the original Broadway production, resulting in the rich sound of those clicking shoes.
They'll click throughout the tour in several states, including Pennsylvania.
One of the cities is Bethlehem, Pa.
It's about 10 miles from Allentown.
This touring production of "42nd Street" plays through the end of January. For a schedule, log onto http://www.42ndstmusical.com/#about.