Food
From the Coast of Chile

Winemaker Alejandro Galaz produces wines from Chile's coastline
September 6th & 7th

Wine, food and fun this weekend at the Dutchess County Fairgrounds. This is the 13th year of the event, which features wines from New York state. At last count, over fifty vineyards will be represented at the festival. The events main focus is to highlight the wonderful wineries that are found in the Hudson Valley and all over New York state.
Beer Tasting and Concert on August 15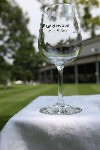 On August 15 conductor Stephane Deneve will lead a Beethoven and Prokofiev program featuring pianist and soloist Emanual Ax, followed by mezzo-soprano Elena Manistina. Starting at 5:30, prior to the concert, there will be a tasting of regional microbreweries and snacks.
Wine Made Simple

This is a basic wine course that will help you to understand wine. There are Saturday afternoon tastings at Nejaimes's wines in both Lenox and Stockbridge and Spirited Wines in Lenox. Your local shop in West Stockbridge, Housatonic, Adams, North Adams or Williamstown may do the same.
Mange Bene

This is a lively guide to a four day Roman Holiday. Our overview provides links to accomodations and tours as well as lists of favorite restaurants and recipes. This will serve as a guide to a delicious taste of the food and wine of Italy.
Delicious Event August 7-10

Tanglewood isn't just Music. The annual "Wine and Food Classic" takes place from August 7th-10th, 2014. Hundreds of wines from around the world and locally sourced food, cooked by local chefs will be available to sample on the beautiful Tanglewood grounds.
Planting a Berkshire Garden

When I was a lad the annual flower show inspired me. Each winter since I have dreamed of summer gardens. Here in the Berkshires with crazy weather and global warming that can be tricky. Last year we had a great but late crop of tomatoes. There is also the ongoing hosta project with eventual tours of our thousand exotic varieties.
Legendary Former Cat House Deep in the Woods

When chef Amy Loveless invited Alice Brock to design a special event and menu for Dream Away Lodge in Becket, Mass. they got slammed. Over two days they sold out three sittings on each evening. It turned out to be the hottest event of a busy Berkshire weekend. Alice personally greeted each and every old and new friend during an amazing occasion and triumphant return which she described to me as "overwhelming."
Home Cooking on Florida's Panhandle

Along the Emerald Coast of the Florida Panhandle in the clear Gulf water the seafood is just awesome. In the galley kitchen of our condo we cooked up a storm with fresh jumbo shrimp in white wine sauce and the local delicacy cobia which was in season. Here are quick and easy delicious recipes.