Food
Quality Comfort and Price

For an ample, fresh, cheap meal Country Buffet in the Pittsfield Mall is an enticing option. The Pit Bulls differed in their responses. In general you get what you pay for.
Education Enhances the Experience

In the Berkshires my Saturday wine destination is Spirited in Lenox. Also check out Kelly's Package Store in Dalton and Nejaime's in both Lenox and Stockbridge. They will help you know more about wine through tastings.
Italian Style Is a Mouthful

Elegant style, trendy packaging is what Gianni Martini and Canti Prosecco is about. We had the good fortune to dine with Gianni Martini, President of Frotelli Martini Secondo Luigi S.p.A. (that's a mouthful) at the trendy and chic Robert DiNero owned Tribeca restaurant, Locanda Verde.
From the Coast of Chile

Winemaker Alejandro Galaz produces wines from Chile's coastline
September 6th & 7th

Wine, food and fun this weekend at the Dutchess County Fairgrounds. This is the 13th year of the event, which features wines from New York state. At last count, over fifty vineyards will be represented at the festival. The events main focus is to highlight the wonderful wineries that are found in the Hudson Valley and all over New York state.
Beer Tasting and Concert on August 15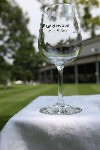 On August 15 conductor Stephane Deneve will lead a Beethoven and Prokofiev program featuring pianist and soloist Emanual Ax, followed by mezzo-soprano Elena Manistina. Starting at 5:30, prior to the concert, there will be a tasting of regional microbreweries and snacks.
Wine Made Simple

This is a basic wine course that will help you to understand wine. There are Saturday afternoon tastings at Nejaimes's wines in both Lenox and Stockbridge and Spirited Wines in Lenox. Your local shop in West Stockbridge, Housatonic, Adams, North Adams or Williamstown may do the same.
Mange Bene

This is a lively guide to a four day Roman Holiday. Our overview provides links to accomodations and tours as well as lists of favorite restaurants and recipes. This will serve as a guide to a delicious taste of the food and wine of Italy.
Delicious Event August 7-10

Tanglewood isn't just Music. The annual "Wine and Food Classic" takes place from August 7th-10th, 2014. Hundreds of wines from around the world and locally sourced food, cooked by local chefs will be available to sample on the beautiful Tanglewood grounds.