Food
Mange Bene

This is a lively guide to a four day Roman Holiday. Our overview provides links to accomodations and tours as well as lists of favorite restaurants and recipes. This will serve as a guide to a delicious taste of the food and wine of Italy.
Delicious Event August 7-10

Tanglewood isn't just Music. The annual "Wine and Food Classic" takes place from August 7th-10th, 2014. Hundreds of wines from around the world and locally sourced food, cooked by local chefs will be available to sample on the beautiful Tanglewood grounds.
Planting a Berkshire Garden

When I was a lad the annual flower show inspired me. Each winter since I have dreamed of summer gardens. Here in the Berkshires with crazy weather and global warming that can be tricky. Last year we had a great but late crop of tomatoes. There is also the ongoing hosta project with eventual tours of our thousand exotic varieties.
Legendary Former Cat House Deep in the Woods

When chef Amy Loveless invited Alice Brock to design a special event and menu for Dream Away Lodge in Becket, Mass. they got slammed. Over two days they sold out three sittings on each evening. It turned out to be the hottest event of a busy Berkshire weekend. Alice personally greeted each and every old and new friend during an amazing occasion and triumphant return which she described to me as "overwhelming."
Home Cooking on Florida's Panhandle

Along the Emerald Coast of the Florida Panhandle in the clear Gulf water the seafood is just awesome. In the galley kitchen of our condo we cooked up a storm with fresh jumbo shrimp in white wine sauce and the local delicacy cobia which was in season. Here are quick and easy delicious recipes.
Dream Away Lodge Honors Women Chefs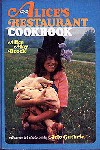 The rambling song "Alice's Restaurant" by Arlo Guthrie is an icon of the 1960s. It spawned the film by Arthur Penn as well as "The Alice's Restaurant Cookbook" which has gone through four printings. For the past 36 years Alice Brock has lived in Provincetown. She returns to Dream Away Lodge May 17 and 18 with evenings of her recipes prepared by Chef Amy Loveless. It is the second in a series created by Loveless to honor renowned women chefs of the Berkshires.
Family Style Lunch in Savannah, Georgia

When in Savannah Georgia you simply must have lunch at Mrs. Wilkes' Dining Room. During a campaign swing through town President Obama sampled the famous fried chicken and Southern hospitality.
Pittsfield Burger Joint

A hole in the wall and favorite among locals is The Lantern Bar & Grill at 455 North Street along the main drag of downtown Pittsfield, Mass. The owner chef Mike Papas is a jazz fan signified by the photos on the long narrow space with a single row of tables. The Lantern touts the best burger in the Berkshires. The Pit Bulls dropped by for lunch.
Improvising on a Peasant Recipe

In upscale Italian restaurants when possible I always order Osso Bucco. Having read and absorbed some classic recipes on line, to the horror of my gourmet friends, I winged it and improvised. The resultant sauce was just awesome. But even at the suggested two hours the meat could have been more tender with longer cooking.