Theatre
Julianne Boyd Part Two
What Happens When Everyone Does Clybourne Park

Surprise. Like every other regional theatre company Barrington Stage has scheduled Clybourne Park. What are the consequences when theatre companies all over America are presenting a short list of recent Broadway and Off Broadway plays and musicals? Does it mean a dumbing down of American Theatre with long term negative consequence?. Two of Barrington's productions this season On the Town and The Chosen have been recently presented by Boston's Lyric Stage.
Barrington Stage Now Debt Free
Julianne Boyd Completes $7 Million Campaign
Julianne Boyd, the artistic director of Barrington Stage in Pittsfield called for a morning chin wag about the upcoming season. That led to a lively discussion of the current state of theatre and impact of criticism. Now in its 8th season the company has just completed raising $7 million. This is part one of an extended dialogue.
Far From Heaven at Playwrights Horizons
Williamstown Production Transfers to New York
Last summer the musical based on a film with the same title Far From Heaven was developed by the Williamstown Theatre Festival. With the original cast leads Kelli O'Hara and Steven Pasquale from Williamstown it opens at New York's Playwrights Horizons on June 2 with a limited run through June 30.
On The Town Brilliant At Lyric Stage
As Good As It Gets Of Classic Revival

Sometimes there is a rare theatrical event that is brilliantly performed and directed, thoroughly entertaining and totally wonderful. The Lyric Stage Company's On The Town is one of these. It is the story of three young WWII American sailors with one day in New York City to see sights, meet a special girl, and literally have the time of their lives. Leonard Bernstein's score melds perfectly with the witty book by Betty Comden and Adolph Green to create a magical musical experience. Directed by an inspired Spiro Veloudos, this show revival is as good as it gets. It could transfer directly to Broadway with little or no changes. Run to get tickets. It is that brilliant.
Joan Rivers Torches the Colonial
The Queen of Mean Rips Pittsfield a New One

With a mask like face, pulled as tight as a drum from numerous nips and tucks, the potty mouthed, eighty something going on sweet sixteen, Joan Rivers prowled the stage of the Colonial Theatre in Pittsfield like a tigress in heat hungry for raw meat.
Other Desert Cities at Old Globe Theatre
Dry as Dust in San Diego

This is our fourth review of Other Desert Cities and second by Jack Lyons who also covered the play at Mark Taper Forum. We will have our fifth review next season from Indianapolis. It begs the question of why every city in American seems to be producing a short list of the same ten overexposed plays.
In The Heights Soars At SpeakEasy Stage
The Importance of Chasing Dreams & Finding Yourself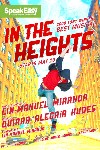 Winner of four 2008 Tony Awards including Best Musical, In The Heights is a potent reminder of the importance of chasing one's dreams while finding who you are and where you belong. Set in New York's Washington Heights neighborhood, this vital production with a distinctive Latin beat spices up traditional musical fare with hip hop, salsa and rap to tell the stories of the residents of this close-knit community. You will be dancing when you leave the theatre.
50th Theatre Festival in Berlin
Plays and Events Until May 20th

The current Theatertreffen in Berlin is presenting German language plays, classics and modern classics from Medea, War and Peace, to Orpheus Descending, as well as other theatre events and panel discussions. For non German speakers, Berlin will offer again the Berliner Festspiele in June and July of this year; more reasons for a trip to Berlin!
The Cape Cod Theater Coalition
Total Membership Now 22 Organizations

The Cape & Islands Theater Coalition is a collaboration of live performance theaters from Woods Hole to Provincetown and the Islands. Best known for its annual Theater Guide and Schedule which this year will be distributed to over 70,000 households and visitors throughout the Northeast, the Coalition also provides the latest theater performance calendars and news through its website, Facebook page, and Twitter feed.