Theatre
Gianmarco Soresi's Hilarious Theatre Piece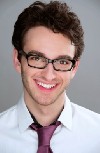 Soresi describes his first moment playing a role like <50%'s in second grade: "I was the Handsome Prince in "The Princess and the Pea" in 2nd grade. My crown was made of gold-spray-painted-Styrofoam. It was a big deal. In the penultimate scene, Pretty Princess said to me "I love you". My response was supposed to be "And I love you". In the heat of the moment, twenty if not thirty parents' eyes fixed on me, I stuck my index finger down my opened mouth, tongue outstretched and made a gagging sound. The audience approved. I saw those ten-to-fifteen adults roar with laughter, people who under any other circumstance wouldn't have given me the time of day (my parents were in the audience as well…), all of us sharing something." In that moment I became a writer, an actor, and a bit of an asshole all at once.
A Brilliant Woman's Love and Philosophy At The Nora
Emilie du Châtelet, was a brilliant physicist before physics was a word. She was also a card shark, and all-around bad ass during the Age of Enlightenment. At the Nora Theatre Company, she as a ghost returns searching for answers: Love or Philosophy? Head or Heart? An outspoken eccentric or actual intellectual revolutionary, she was lustful and brilliant. The Marquise introduced Newtonian physics to France and took Voltaire as her lover always correcting errors in his work. This theatrical exploration traverses time and space with a woman ahead of her time, ignoring the rules of polite society, with her greatest limitation being that of her dexterous mind. The central character is wonderfully portrayed by Lee Mikeska Gardner.
World Premiere at La Jolla Playhouse

The La Jolla Playhouse launched the world premiere of "Kingdome City" by playwright Sheri Wilner directed by Jackson Gay. "Kingdom City" is playwright Wilner's take on the state of censorship in the United States in the 21st century. Like Arthur Miller before her she uses the metaphor of "The Crucible" to examine thorny problems and issues plaguing American society when it comes to religious issues versus political situations and protected First Amendment rights to free speech.
Theatre for a New Audience in Brooklyn

Peter Brook and Marie-Hélène Estienne stage mesmerizing moments at the Polonsky Shakespeare Center. In a program note, Brook makes clear that theatre must both amaze and hit the audience in its gut. Four unusual characters are presented under examination by neuro-scientists. The result is charming, engaging and provocative.
1950s Musical Deals With Sexual and Cultural Issues

Set in the Eisenhower era of complacency and Norman Rockwell family and Main Street values, Far From Heaven is by the creators of the musical Grey Gardens and Tony Award-winning playwright Richard Greenberg, It is a a lushly operatic adaptation of Director Todd Haynes' romantic melodrama of private longings and social taboos. A beautiful 1950s Connecticut housewife's perfect life is shattered when she discovers her husband's secret and then seeks comfort in a forbidden relationship. The world is never what it seems..
Launching 2014-2015 Season

This season the Phoenix Theatre is presenting the various ways we laugh. Humor is how we manage to get through the tragedies and absurdities of life. They've put together a lineup of stories featuring a rich variety of comedic styles.
Dinner Theatre in Indianapolis

Our Indianapolis contributor and ATCA member, Melissa Hall, is set for another season of dinnert theatre at Beef and Boards. The company is note for lavishly staged productions of popular musicals. As well as decent roast beef.
The 2014-2015 Season

The Modern Theatre at Suffolk University announces the programming lineup for its 2014-2015 season, featuring conversation, film, and new and classic plays.
North Coast Rep Theatre in San Diego

North Coast Rep Company, of Solano Beach, CA, launched its 33rd season last weekend and hit the ground running with Noel Coward's delightful spin on the 1920's comedy-of-manners genre "Fallen Angels". This wonderfully hilarious and fast-paced romp has the very good fortune to have San Diego-based director Rosina Reynolds at the helm.