Theatre
Casting and Special Event Added

Williamstown Theatre Festival has announced casting for their Main Stage productions, along with a several special events for their 2014 Summer Season. On the Main Stage: Festival veterans including Nate Corddry, Holley Fain, Christopher Fitzgerald and Nancy Opel join the cast of June Moon, directed by Jessica Stone (July 2- 13); Justin Long returns to Williamstown, joining Renee Fleming in the World Premiere of Living on Love (July 16 - 26), and theater veterans Judy Kuhn, Howard McGillin, festival favorite Roger Rees, and more join Chita Rivera in the John Doyle-directed production of The Visit, with choreography by Graciela Daniele (July 31 - August 17).
A Brilliant Concept, a Brilliant Cast, an Astonishing Experience

The Transport Group Theatre's New York production of I Remember Mama, the season's truly "must see" and "run don't walk" – it will be treading the boards at the Gym at Judson through April 20, and hopefully extended – granted all of my above wishes, judging from welling tears, breaths held, and the audible hosannas heard as they exited the theatre.
Riveting Drama About Artist Mark Rothko

The hovering clouds of color by Mark Rothko are among the most absorbing and spiritual paintings of the Abstract Expressionist artists of the New York School. The Tony Award winning play Red, having a San Diego production, focuses on the emotional intensity of the artist in crisis. There is a compelling interaction with his assistant in a riveting drama of their give and take. John Vickery and Jason Maddy are powerful in their roles.
Noel Coward Back Home in Indiana

Anything Goes has been entertaining crowds for 80 years and is on stage now at Beef & Boards Dinner Theatre. The show contains a selection of charming well-known songs, like "It's De-Lovely" and "I Get a Kick Out of You," by Indiana's ownNoel Coward.
2014-2015 Season Announced

Broadway Across America announces the 2014/15 Indianapolis program. Season tickets are now on sale.
One Woman Play at Pittsburgh's City Theatre

George Brant's new one-woman play Grounded, is, on one level, the story of a fighter pilot whose job has changed drastically. The Pilot (Kelly McAndrew), tells us she was born to be "in the blue" at the controls of an F16 fighter jet, dropping bombs on unseen targets and accelerating away before the shells explode. It runs at City Theatre in Pittsburgh through May 4..
Brownsville Song, Partners, The Grown Up

From Wednesday through Sunday while attending the 38th Humana Festival of New American Plays we were flat out. It's a part of the Festival Syndrome absorbing and sorting out a sensory overload of information. Some plays are etched into the subconscious indelibly while others evaporate like the burned off morning fog. With an intense regimen of plays to see there were fleeting impressions of historic Louisville, Kentucky.
A Smart Adaption by Jay Ball of 1929 Play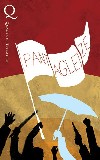 Pantagleize – Jay Ball's smart adaptation of Michel de Ghelderode's 1929 play of the same name – is a deeply cynical, outrageously comic, and highly provocative play about challenges and contradictions of democratic revolutions. The world premiere of the adaption runs in Pittsburgh at Quantum Theatre through April 27.
Based on Music by Julia Wolfe Directed by Anne Bogart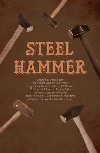 At two hours with no intermission Steel Hammer the avant-garde deconstruction of the traditional ballad John Henry was physically and emotionally demanding on the performers as well as the audience. The company was co founded in 1992 by the Japanese master Tadashi Suzuki and Columbia University professor and director Anne Bogart. After the first five years Suzuki ceased participation but the company continues to follow the Suzuki method which entails cult like discipline and dedication.