Theatre
A Play in Letters Between Elizabeth Bishop & Robert Lowell

Told through an extensive and compelling correspondence between two of 20th century's most important and celebrated American poets, Elizabeth Bishop and Robert Lowell, this play on and with words is a different kind of love. It is a story of the spirit and imagination between artists and friends. This thirty-year friendship served to buoy each other up in life and art. Their often messy, addictive and sometimes unhealthy lives were profoundly impacted by the other. This is a lyrical, moving portrait of a friendship that eloquently transcends oceans, continents, and time.
Ensemble Studio & Women's Porject Theater Join Forces

Originally produced by Ensemble Studio Theatre this terrific play is instantly in revival and deserves any staging it gets. Cori Thomas, the playwright, has taken often stereotyped characters and made them real and full of surprises.
World Premiere at San Diego's Old Globe

The immensely multi-talented Steve Martin – actor, playwright, director, musician, producer author – has joined creative forces with Southern songwriter-singer Edie Brickell becoming of one America's newest and successful musical writing teams in the process. Their Bright Star runs at the Old Globe through November 2.
Superb Production of Tennessee Williams Drama

The trick to a good production of this play – and the one at the Pittsburgh Public Theatre falls squarely into that category – lies in finding a style for representing memory, one that keeps in view not only the events as remembered by Tom, infused and informed by his guilty conscience over having left his overbearing mother and fragile sister to their own devices, but also the reality of the characters themselves, distinct from his memory somehow, so that we in the audience don't fall into the trap of only seeing the other characters as Tom remembers them.
Rick Dildine Takes Charge

When Tony Simotes took over Shakespeare & Company from founder Tina Packer five years ago it soon was revealed that the company was on the brink of ruin. With negotiations and austerity the company was put on a more secure footing. It is now more stable as leadership passes to Rick Dildine..
Dark Musical About Murderous Losers

With a large cast and Stephen Sondheim's music, Assassins is a musical based on the premise of a murderous carnival game to produce a revue-style portrayal of men and women who attempted (successfully or not) to assassinate various Presidents of the United States. Even though the music varies to reflect the popular music of the eras depicted, the time warps of the characters act to confuse the audience. With a fine ensemble, The New Rep tries hard with a very dark Sondheim vehicle.
Alex Sharp Brilliant as an Autistic Boy

The title suggests an Oliver Sacks' story, but unfortuntately his humanity is not translated to the stage.
Lost in Yonkers and Man of La Mancha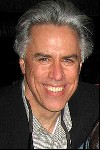 Barrington Stage Company (BSC),announced today two of its 2015 Boyd-Quinson Mainstage productions – Neil Simon's Lost in Yonkers and Man of La Mancha.
Indiana Repertory Theatre To October 19

Indiana Repertory Theatre opens its 43rd season with a play in honor of Shakespeare's 450th birthday. The show includes a cast of IRT vets like Ryan Artzberger and Robert Neal (who both starred in HART "The Tempest" this summer), along with some excellent newcomers. Two standouts were Charles Pasternak as Valentine, who vacillates between ardent lover and frustrated exile and Ashley Wickett as both Julia's maid Lucetta and the sought-after Silvia.