Architecture
Calatrava's Costly Sculpture As Architecture
A Starchitect Whose Legacy Is Being Questioned

In the last few decades, Spanish-born Santiago Calatrava (b.1951), a visionary architect, structural engineer and sculptor has risen to be a world renown star. His graceful, soaring and visually impressive bridges, transportation centers and cultural institutions are futuristically iconic. However, many of his prominent projects, though often quite startlingly beautiful, have been greatly criticized for functional flaws, detail mistakes, construction delays and huge cost overruns. His constant involvement in massive law suits is now diminishing his legacy.
Maya Lin Beyond Vietnam Memorial
Lecture at Harvard University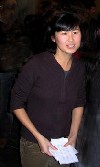 As a student Maya Lin entered and won the competition to design the Vietnam Memorial in Washington, D.C. She has had a major career as an architect and artist since then. This report on a 2005 lecture at Harvard University is reposted from Maverick Arts Magazine.
Hal Foster's The Art-Architecture Complex
Book of Criticism Published by Verso Books
Matthew Hassell the editor of NYArts magazine reviews a book by noted critic Hal Foster. It explores the influence of fine arts on contemporary architecture. It examines architectural leaders such as the Venturis, Rem Koolhaas, Renzo Piano, and Zaha Hadid. Their work is evaluated in relation to pop aesthetics, the international style, and the widespread influence of minimalism.
Rosencrantz and Guildenstern Are Dead in San Diego
Stoppard's Play at Old Globe's Shakespeare Festival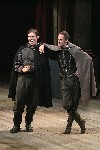 In "Rosencrantz and Guildenstern Are Dead", Tom Stoppard's absurdist take on the Bard's masterpiece "Hamlet", has been hailed as a master work in itself, with "Hapgood" next, followed by the recent multiple Tony winning play "The Coast of Utopia".
Edith Wharton at Home: Life at The Mount
A Study by Richard Guy Wilson With Photos by John Arthur

Edith Wharton was 35 in 1897 when, in collaboration with Ogden Codman, she published her first work, the widely influential treatise "Decoration of Houses." Eight years later, in 1905, she published her first work of fiction "House of Mirth. " By then the Whartons had been living in The Mount, their estate in Lenox, Mass. for three years. The mansion and grounds expressed many of her theories of architecture, interior deign, and landscape gardening. She left under unhappy circumstances in 1911 never to return to the home she no longer owned.
Provincetown's Historic Dune Shacks. Going, Going….
Preserving a Remarkable Legacy

This article on Provincetown's historic dune shacks was originally posted in 2007. It continues to attract readers through Google searches. With another season about to begin we are refreshing this article as a service to readers. They have spent time in the dune shacks several times since this article was written.
Harvard Art Museums to Reopen in Fall 2014
Designed by architect Renzo Piano

Designed by architect Renzo Piano, the project will create new resources for innovative teaching, research, and scholarship, and provide greater access to the collections—among the nation's largest and most renowned—held by the Fogg, Busch-Reisinger, and Arthur M. Sackler museums $5 million gift from the German Friends of the Busch-Reisinger Museum will support one of three new study centers
Ada Louse Huxtable Dead At 91
Eloquent Critic of Architecture and Built Environment

Ada Louise Huxtable was the first architecture critic at the New York Times (1963) and the first architecture critic to win the Pulitzer Prize (1970). Her clearly stated analytical prose was always accessible and enlightening. She was a voice of reason and often a voice of conscience. Ms. Huxtable's thoughts and refined wisdom will be missed from our civic conversation. Reprinted here is a 2008 review of the last major compendium of her writings.
Frank Lloyd Wright House Rescued
Preservationists Save Unique 1952 House From Demolition
An anonymous benefactor purchased and saved a Frank Lloyd Wright-designed house in Phoenix that had been threatened with demolition. Wright designed the 1952 home for his son and daughter-in-law. Preservationists objected last summer when they learned a development company planned to demolish it in order to split the property. The house is the only Wright-designed residence that uses a circular spiral plan similar to Wright's Guggenheim Museum in New York.