Architecture
Renovation by Renco Piano Conflates Separate Museums
The Harvard Art Museums—comprising the Fogg Museum, the Busch-Reisinger Museum, and the Arthur M. Sackler Museum—will open their new Renzo Piano-designed facility to the public on November 16, 2014. The renovation and expansion of the museums' landmark building at 32 Quincy Street in Cambridge will bring the three museums and their collections together under one roof for the first time
Trip to NYC Yields Architecture, Art and Theatrical Joy

Invited to an architectural tour of Ground Zero, Mark Favermann and his companion Lisa went on a trip that was framed around ML King Birthday weekend to include architecture, art, theatre, good food and football playoff games. This underscores the notion that New York City is so nice it was named twice.
Moby Dick's New England Legacy

In the 19th century the whaling industry, as chronicled in Herman Melville's novel Moby Dick, thrived in Nantucket. The community declined after the 1850s, first through competiton from New Bedford and access to railroads, then through the introduction of cheaper keroscene lamps. Long languishing as a ghosttown it has been revived as a super expensive time capsule of historic architecture and culture. The island swells to some 50,000 inhabitants during the summer season.
A Starchitect Whose Legacy Is Being Questioned

In the last few decades, Spanish-born Santiago Calatrava (b.1951), a visionary architect, structural engineer and sculptor has risen to be a world renown star. His graceful, soaring and visually impressive bridges, transportation centers and cultural institutions are futuristically iconic. However, many of his prominent projects, though often quite startlingly beautiful, have been greatly criticized for functional flaws, detail mistakes, construction delays and huge cost overruns. His constant involvement in massive law suits is now diminishing his legacy.
Lecture at Harvard University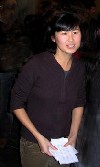 As a student Maya Lin entered and won the competition to design the Vietnam Memorial in Washington, D.C. She has had a major career as an architect and artist since then. This report on a 2005 lecture at Harvard University is reposted from Maverick Arts Magazine.
Book of Criticism Published by Verso Books
Matthew Hassell the editor of NYArts magazine reviews a book by noted critic Hal Foster. It explores the influence of fine arts on contemporary architecture. It examines architectural leaders such as the Venturis, Rem Koolhaas, Renzo Piano, and Zaha Hadid. Their work is evaluated in relation to pop aesthetics, the international style, and the widespread influence of minimalism.
Stoppard's Play at Old Globe's Shakespeare Festival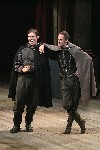 In "Rosencrantz and Guildenstern Are Dead", Tom Stoppard's absurdist take on the Bard's masterpiece "Hamlet", has been hailed as a master work in itself, with "Hapgood" next, followed by the recent multiple Tony winning play "The Coast of Utopia".
A Study by Richard Guy Wilson With Photos by John Arthur

Edith Wharton was 35 in 1897 when, in collaboration with Ogden Codman, she published her first work, the widely influential treatise "Decoration of Houses." Eight years later, in 1905, she published her first work of fiction "House of Mirth. " By then the Whartons had been living in The Mount, their estate in Lenox, Mass. for three years. The mansion and grounds expressed many of her theories of architecture, interior deign, and landscape gardening. She left under unhappy circumstances in 1911 never to return to the home she no longer owned.
Preserving a Remarkable Legacy

This article on Provincetown's historic dune shacks was originally posted in 2007. It continues to attract readers through Google searches. With another season about to begin we are refreshing this article as a service to readers. They have spent time in the dune shacks several times since this article was written.