Documentaries on Art and Design
What to Stream When Home Alone
By:
Mark Favermann

-

Apr 02, 2020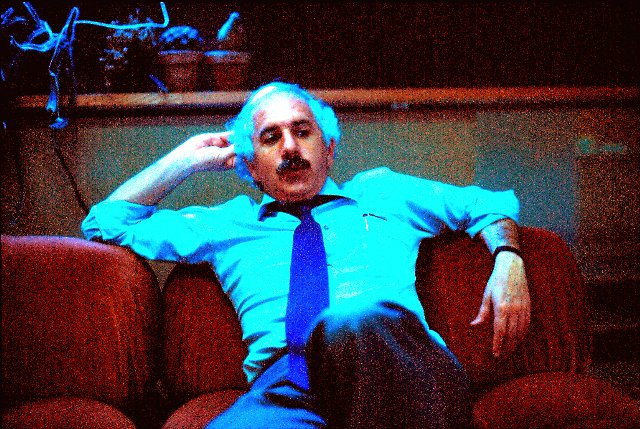 Films for those who practice — or are just interested in — design, architecture, and urban planning
How things have changed in just over a week. Most of us are now hunkered down and isolated, inundated by 24/7 news coverage of depressing medical and economic conditions, compounded by failed White House leadership. To lighten our burden, just a bit, here is a list, with thumbnail reviews, of nine excellent documentary films about architecture and design. These films are filled with optimism, celebrations of ideas and people that inspire hope for humanity. They are listed in no particular order. I have suggested where they can be streamed, but there are so many services available, so please check out the possibilities.
My Architect, directed by Nathaniel Kahn, 2003
My Architect is filmmaker Nathaniel Kahn's engrossing study of his father, Louis Kahn, one of the most celebrated architects of the 20th century, who died in 1974. He led a highly compartmentalized life, which included two children born out of wedlock to two different mistresses.
The film features interviews with star architects Philip Johnson, Frank Gehry, I.M. Pei, Moshe Safdie, and Anne Tyng. Kahn also visits many of his father's buildings, including The Jonas Salk Institute, The Library at Philips Exeter Academy, The Yale Center for British Art, and the Indian Institute of Management Ahmedabad.
Despite his accomplishments, Kahn Sr. died bankrupt and alone in a Penn Station men's room. He left behind three families, none of whom were aware of the existence of the others. The film was nominated for an Academy Award in 2003.
Available for screening on You Tube
---
Note: Gary Hustwit is streaming his films free during the COVID-19 crisis. Go here
Urbanized, directed By Gary Hustwit, 2011
Architect Rem Koolhaas recently stated that 75 percent of the world's population is expected to live in urban centers by 2050. That means 98 percent of the earth's surface will be uninhabited. This is alarming, given that density seems to have contributed to the COVID-19 plague. Urbanized examines the issues and strategies raised by urban design. Filmmaker Gary Hustwit's previous design documentaries include Helvetica and Objectified (they are also on this list). Urbanized is the final installment in the trilogy. In the documentary, Hustwit city hops to 40 different locations and talks with a variety of architectural, planning, and policymaker heavyweights, including Lord Norman Foster.
Available for screening on Amazon Prime, Vimeo, and Kanopy.
---
Objectified, directed by Gary Hustwit, 2009
Objectified examines the way in which everyday objects and the designers responsible for them have influenced our lives. From humble toothbrushes to complex technological devices, the film explores how creativity has spawned manufactured objects.
The search for insights into consumerism, creativity, design, and contemporary society takes us into the imaginative processes of an impressive selection of influential product designers. Among them: Jonathan Ive, the former Senior VP of Design for Apple (Cupertino); Chris Bangle, the former Design Director of BMW Group (Munich); Paola Antonelli, the Design Curator of the Museum of Modern Art (New York); and Rob Walker of the New York Times Magazine.
Available for screening on Amazon Prime, iTunes, and Kanopy
---
Helvetica from Film First on Vimeo.
Helvetica, directed by Gary Hustwit, 2007.
This film is about graphic design, typography, and visual culture, with a particular focus on the widespread proliferation of the Helvetica typeface. The documentary explores the powerful influence the typeface has had on our culture and personal lives.
In order to chronicle the history of Helvetica, Hustwit talked with leading graphic and type designers, including the late Massimo Vignelli, Rick Poynor, Matthew Carter, and Michael Bierut. The documentary celebrates the typeface's beauty and goes into how its popularity has generated criticism between modernist and postmodernist design ideologies.
Available on Amazon Prime and ITunes
---
Frederick Law Olmsted: Designing America, written by Ken Chowder and filmed by Stephen McCarthy, 2014
Frederick Law Olmsted is the father of American landscape architecture: he viewed a park as both a work of art and as a necessity for a healthy urban life. His efforts to preserve nature helped create an "environmental ethic" decades before the movement became a force in American culture and politics. The film documents how one man's contributions shaped our ideas about the fundamental importance of parks and open space.
PBS, Amazon Prime, and Kanopy
---
Citizen Architect: Samuel Mockbee and the Spirit of the Rural Studio, directed by Sam Wainwright Douglas, 2010
This documentary explores the life and legacy of architect and public-interest-design pioneer Samuel "Sambo" Mockbee, who co-founded the radical design/build program at Auburn University's Rural Studio. Mockbee dedicated his life, as a teacher and architect, to creating architecture that did more than just elevate the living standards of the rural poor. By strategically using humble construction materials, he also provided "shelter for the soul." Winner of many prestigious architecture awards, he died prematurely at age 57.
Amazon Prime and Vimeo
---
Eames: The Architect and the Painter, directed by Jason Cohn & Bill Jersey, 2011
Narrated by James Franco, this documentary offers a glimpse into the collaboratively creative marriage of Charles and Ray Eames, a partnership that inspired generations of design ingenuity. The couple's impact continues, a half century later. Crowned as America's most influential designers, they have become iconic figures in architecture and furniture design. The film draws from a huge amount of archival material as well as interviews with friends, colleagues, and critics. Their furniture is highly valued today — they epitomize the genius of Mid-Century Modern.
Amazon Prime, iTunes, Google Play, You Tube, and Kanopy
---
Citizen Jane: Battle for the City, directed by Matt Tyrnauer, 2016
This film explores the work of writer and community activist Jane Jacobs, whose best books highlighted the effects of urban expansion and city planning on her West Village neighborhood in New York City. Her narratives retrace (as well as reflected) her public fight against New York's infamous city administrator and regional planner Robert Moses. In the 1960s and '70s, her books The Death and Life of Great American Cities and Cities and the Wealth of Nations were staples in college sociology classes.
Early on, Jacobs was hailed as the housewife hero of community-based urban planning. Moses was attacked as the devil incarnate. However, in recent years Jacobs's reputational halo has been somewhat tarnished by the far-reaching consequences of her arguing for the appeal of small-scale neighborhood "village" settings — which has led to poorer residents being left out of massive urban gentrification. Moses's reputation, on the other hand, has grown because of the recognition given his gargantuan accomplishments in park planning, bridge building, and the creation of beaches.
Apple TV, iTunes, and Kanopy
---
Abstract: The Art of Design, created by Scott Dadich, 2017 & 2019
An eight-part documentary series on design, two seasons
This highly informative documentary series, created by the former Wired editor-in-chief Scott Dadich, focuses on creatives and explores their lives and work. The film investigates the visions of a roundup of individual design professionals: an architect, shoe designer, stage designer, graphic designer, automotive designer, interior designer, etc.
Netflix
---
An urban designer and public artist, Mark Favermann has been deeply involved in branding, enhancing, and making more accessible parts of cities, sports venues, and key institutions. Also an award-winning public artist, he creates functional public art as civic design. Mark created the Looks of the 1996 Centennial Olympic Games in Atlanta, the 1999 Ryder Cup Matches in Brookline, MA, and the 2000 NCAA Final Four in Indianapolis. The designer of the renovated Coolidge Corner Theatre, he is design consultant to the Massachusetts Downtown Initiative Program. Since 2002, Mark has been a design consultant to the Red Sox. Mark is Associate Editor of Arts Fuse from which this is reposted.