Music
Boston -remiere for Korngold Rarity

Best known for his film scores, Erich Wolfgang Korngold was a child prodigy in Vienna. "Die tote Stadt" is his operatic masterpiece. Long ignored, it is increasingly being performed internationally.
James Cohn, Beethoven and Brahms

Musicians like Joe Rosen will keep all forms of music alive. Monthly or bi-monthly, in a lovely, open salon that seems to hover over the Hudson and the setting sun, Rosen gathers together special young musicians as they begin their careers in music, or continue them even if they have to have a day job elsewhere.
Bluegrass Festival at Mass MoCa

See Bela Fleck and Emmylou Harris at the Fresh Grass Festival on September 19-21st at Mass MoCA. The line-up for the festival features The Duhks on opening night at 10:30pm. Gates open at 5:30pm with Michael Daves & Tony Trischka opening the show at 7pm, followed by Aoife O'Donovan at 8pm. Featured guests, the Carolina Chocolate Drops follow at 9:05pm, followed by The Duhks, a Canadian band whose music ranges from their northern roots to southern gospel and cajun zydeco.
Clark Features Berkshire Composer October 12

During a recent meeting in Williamstown the Berkshire Composer and Berkshire Fine Arts contributor, Stephen Denkner, discussed several world premieres over the next couple of months. His Quartets Nos. 14, 16 and 17 will be performed by the Dover String Quartet at the Clark Art Institute on October 12 at 3 PM.
American Jazz Master Flat Out at 88

The Tanglewood season closed with a near to capacity audience for national treasure Tony Bennett. Closing in on 90 yet again he uniquely rattled the renowned rusty pipes. He proved why Frank Sintra hailed him as the greatest jazz singer of his generation. Keeping forever young he is about to release an album of duets with Lady Gaga.
Falling in Love Again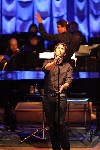 Humor, wit, charm and good looks equal Josh Groban. Like local favorite, Arlo Guthrie, Groban is a master storyteller.
Wallflowers Shared the Stage

TRAIN brought down the house at Tanglewood. In a return to the Berkshires classic TRAIN songs were mixed with songs from the upcoming new album, titled 'Bulletproof Picasso.' Yet again the middle aged rockers thrilled an audience of teenieboppers.
An Enchanter Beguiles at the Keyboard
Javier Perianes has been nurtured by Rafael Frühbeck de Burgos and Charles Dutoit. Already he has appeared at Carnegie Hall and in San Francisco. He performs Grieg with the Atlanta Symphony in November and is scheduled for both the Boston and Chicago Symphonies in 2015-16. At Ravinia you could hear why much is expected of this charming, impish and technically fabulous artist.
Grand Opera in Cambridge, New York
Le Nozze di Figaro and Gianni Schicchi play through August 24."Gianni Schicchi" is a little known gem that you absolutely must go to see. As to "Nozze di Figaro", it is a long evening, but well worth it.