Music
Part One: Interview with Joey DeFrancesco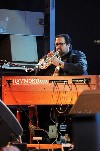 Europe's largest, perhaps only outdoor Jazz Festival in Garana, Romania, drew again a large crowd and major Jazz Players from around the world. The Jazz Fest in the Carpathian Mountains began in 1997 and has been on the scene yearly; a great effort by all participants. Here the first of three interviews documenting 2014 .
Rare Performance of Czech Opera

A smart production featuring talented young singers proves a delight for art-starved local summer audiences. Spoiler alert: the young woman who would be bartered ends up with the man she loves.
Packed the House at Tanglewood

Amazingly Joshua Bell has performed at Tanglewood for 26 consecutive seasons. The charisma for Lenox audiences compares to the annual appearances of James Taylor. There are many reasons for his immense popularity all based on the fluid music evoked from his violin. On this occasion he collaborated with new BSO music director the young and equally exciting Andris Nelsons. It made for a thrilling combination.
Performed at Tanglewood on July 26

This is not a program note, but my "take" on Mahler's music in toto and what I feel it represents extramusically – the backstory behind the composer's aesthetic, if you will. The Symphony No. 2 is, to my way of thinking, the most iconic of all Mahler's works, since everything he subsequently composed stems from this landmark hybrid of symphony, solo song and choral work.
No more George Costanza

Jason Alexander mesmerized the packed house at Tanglewood. His performance consisted of humor, dance and song. He had the crowd on their feet, watching his every move.
White Hot Blues

Signed to a record breaking advance of $600,000 Columbia released the debut album" Johnny Winter" in 1969. Born an albino he was hyped as the whitest blues player. He produced several Grammy winners for Muddy Waters and a few for his own blues albums but his career faltered when he refused to record guitar rock albums. He ended out of the running 63rd on Rolling Stone's list of 100 greatest guitarists.
Changing of the Guard for Orchestras

James Levine's travails because of persistent illnesses several years ago, became a liability for the Metropolitan Opera and Boston Symphony, despite his great musical gifts. By contrast, the Los Angeles Philharmonic had good fortune in nabbing the talented young superstar Gustavo Dudamel in 2008. Levine, now confined to a wheelchair, has begun the long road back to conducting at the Met, but it's unlikely, at 72, that he'll regain his former energy and commanding presence in opera and symphony concerts.
Present and Future Orchestras Shine on Stage

Fireworks started at Tanglewood immediately after the intermission of the gala performance welcoming music director designate Andris Nelsons. In the second half of the program, the Boston Symphony performed with the conductor and the match seemed perfect, in part because the Rachmaninoff and Ravel suited the Maestro and his instrumentalists. On stage fireworks exploded. The Maestro left nothing on the podium as he exited to fireworks falling out of the night Berkshire sky.
A Varied Antonín Dvořák Program Entranced on a Summer Night
Speaking with Nelsons after the Saturday morning rehearsal, he seemed eager to dig in to making music live in Lenox and Boston as he takes on the task of making classic symphonic music relevant to today's audience. This is particularly difficult in the US where children are not as exposed to the classical form as they are in Europe.