Music
Clark Features Berkshire Composer October 12

During a recent meeting in Williamstown the Berkshire Composer and Berkshire Fine Arts contributor, Stephen Denkner, discussed several world premieres over the next couple of months. His Quartets Nos. 14, 16 and 17 will be performed by the Dover String Quartet at the Clark Art Institute on October 12 at 3 PM.
American Jazz Master Flat Out at 88

The Tanglewood season closed with a near to capacity audience for national treasure Tony Bennett. Closing in on 90 yet again he uniquely rattled the renowned rusty pipes. He proved why Frank Sintra hailed him as the greatest jazz singer of his generation. Keeping forever young he is about to release an album of duets with Lady Gaga.
Falling in Love Again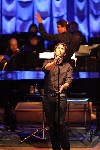 Humor, wit, charm and good looks equal Josh Groban. Like local favorite, Arlo Guthrie, Groban is a master storyteller.
Wallflowers Shared the Stage

TRAIN brought down the house at Tanglewood. In a return to the Berkshires classic TRAIN songs were mixed with songs from the upcoming new album, titled 'Bulletproof Picasso.' Yet again the middle aged rockers thrilled an audience of teenieboppers.
An Enchanter Beguiles at the Keyboard
Javier Perianes has been nurtured by Rafael Frühbeck de Burgos and Charles Dutoit. Already he has appeared at Carnegie Hall and in San Francisco. He performs Grieg with the Atlanta Symphony in November and is scheduled for both the Boston and Chicago Symphonies in 2015-16. At Ravinia you could hear why much is expected of this charming, impish and technically fabulous artist.
Grand Opera in Cambridge, New York
Le Nozze di Figaro and Gianni Schicchi play through August 24."Gianni Schicchi" is a little known gem that you absolutely must go to see. As to "Nozze di Figaro", it is a long evening, but well worth it.
John Relyea and Lisette Oropesa Sublime with the Chicago Symphony

The Chicago Symphony was red hot when it embarked on the overture to Figaro. They relished the challenge and it paid off for listeners. One of the reasons that you can't put a B cast to perform familiar music is that the audience knows the music so well. The performance has to be perfect. With Assistant concert master Stephanie Jeong leading, this Mozart was sublime.
Singing Along with David Bizic, Tamara Wilson, and Saimir Pirgu

At first you wonder what the terms of Ravinia's contracts are. Performance after performance in the opera concerts and semi stagings we get luxury casting, first rate, world class singers across the board. This is the magic of a conductor and music director who singers love. And why not? Up close in an 850 seat theatre, you could see Conlon sing the entire opera, helping the singers as a live prompter and nearby encourager. Too bad the Metropolitan Opera did not catch him when they could. It is hard to imagine the mess the Met is in now if he had been at the helm.
Fun Fun Fun on Monday, August 18th

The Beach Boys will take over Tanglewood on Monday, August 18th. There will be a dance area on the lawn outside of the shed, volleyball nets near the rear of the lawn, beach balls will be dispersed for play throughout the concert and sand and beach motif will dress up Tanglewood.