Dance
Kiss and Cry at ArtsEmerson
Hands On Dance

The Belgian company Charleroi Danses presents Kiss and Cry a dance for animation and hands at the Majestic Theatre of ArtsEmerson. Performances continue through October 12. This is one of the most astonishing and original "dance" perrormances we have ever experienced.
Ailey II at Williams College
Residence and Performance

In the program of Sandra Burton a major dance company is invited to reside at Willams College as an aspect of the fall curriculum. Last night at the "62 Center on its Main Stage there was a galvanic performance by Ailey II. The two hour program featured three works spanning from Revelations (1960) to Virtues (2012) and Streams (1970) in between.
'Tanz im August' in Berlin
A Fantastic 25th Season

Germany's most celebrated Contemporary Dance Festival just closed after presenting for two weeks choreographers and companies from around the globe. All performed to sold out houses and on public stages. Where is contemporary dance heading? Berlin may have given many indications.
Martha Graham Company at Jacob's Pillow
Program Ends 81st Season in Becket

For the final performances of the Jacob's Pillow 81st season we were presented with the full gamut of the iconic Martha Graham Company. The program was bracketed with her own works also including variations of her solo, Lamentations, and a galvanic, pathos inducing commissioned work Rust exploring torture and terrorism. From 1948 the program began with her Diversion of Angels from 1948 and ended with the visceral Rite of Spring which, at 89, she created in 1984.
Wendy Whelan at Jacob's Pillow
World Premiere of Restless Creature

Tall, slender and as tightly wound as a Swiss watch the body of Wendy Whelan, a dancer with the New York City Ballet since 1986, and principal dancer since 1991, is a precision instrument. Working with four male choreographers and partners Jacob's Pillow presented the world premiere of Restless Creature. She will tour with the new production for the coming months with a performance in Boston in March.
La Otra Orilla U.S. Debut at Jacob's Pillow
Deconstructed Conceptual Flamenco

While rooted in Spain, as a tradition of music and dance flamenco is performed by companies all around the globe. This is the first American appearance by the experimental Montreal based group La Otra Orill. At Jacobs's Pillow Dance Festival it features the co-artistic directors, solo dancer Myriam Allard and singer, Hedi Garja. They are accompanied by three musicians.
O Vertigo Danse at Jacob's Pillow
La Vie qui bat Set to Reich's Drumming

In 1971 Steve Reich composed "Drumming" a masterpiece of the Minimal style of music. In 1999, now regarded as an icon of contemporary dance, it was choreographed as La Vie qui bat (The Beat of Life) by Ginette Laurin. It was retired and is now revived by O Vertigo Danse and Société de musique contemporaine du Québec (SMCQ) seen with live music at Jacob's Pillow Dance.
3e Étage: Soloists and Dancers of the Paris Opera Ballet
World Premiere of Le Pillow Thirteen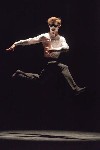 The highlight of the 2011 Jacob's Pillow season was the American debut of 3e Étage: Soloists and Dancers of the Paris Opera Ballet. For their sold out return artistic director and choreographer Samuel Murez created a new work Le Pillow Thirteen which had its world premiere this week in Becket. Yet again the audience was thrilled and utterly enchanted.
Mark Morris at Tanglewood 2013
Something Old and Something New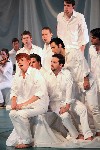 On the occasion of the 100th birthday of the British composer Edward Benjamin Britten (November 22, 1913 – December 4, 1976) last night Morris presented the world premiere of Curlew River. The chamber opera was inspired by a then young composer visiting Japan. It is adapted from Juro Motomasa's medieval play Sumidagawa. For the second half of the program The Mark Morris Dance Group presented one of his most iconic works Dido and Aeneas (1989).