Dance
White on Black Wrapped in Guernica Thrills at the Apollo

Carmen. How can you miss? To the incessant, erotic beat of Bizet's music, the dancers create jealousy, passion, lust and innocence in white and black against a back drop of Picasso's Guernica.
Barefoot in Memorial at Lincoln Center Plaza

The procession is silent, the dancers barefoot circle the fountain at the center of the Lincoln Center Plaza. Carrying plates, they could be the apostles going to the Last Supper. Gestures range from perfectly ordinary steps taken on an ordinary September Day to arms twisted in anguish. Three flutes and three singers, whose voices were magnified by horns, paraded and intermingled with the dancers.
Assessment of Contemporary Dance

'Dance in August' in Berlin, Germany, celebrated it's 26th season.Quite an accomplishment! 21 international companies representing 14 countries performed on several stages throughout Berlin. 'Tanz im August' and its current artistic director, Virve Sutinen, celebrated again the world of dance with well known companies and newly discovered dancers and choreographers during a two week long festival.
82nd Season Ends with Neo Classical Modernism

The 82nd season of Jacob's Pillow Dance ended with the fifth Berkshire performance of the Aspen Santa Fe Ballet. With a program of works by three choreographers the company conflated classical traditions and contemporary variations. Post season we anticipate the annual collaboration with Mass MoCA.
Conflating Classical Ballet and Post Modernism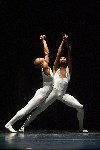 When Arthur Mitchell and Karel Shook diverted from major careers in dance to teach classical ballet in Harlem there was a complex mandate. That was 1968 in the midst of civil rights and social/ political change. In 1970 Dance Theatre of Harlem first performed at Jacob's Pillow. They have returned many times as they have this week with a program of three diverse works.
Eclectic Chicago Dance Company

A Jacob's Pillow favorite Hubbard Street Dance Chicago returned to Becket with an eclectic program of four pieces by different choreographers. The music ranged from minimalist, Steve Reich, North African, and can you believe it, hilariously, Dean Martin.
Company Disbands at Jacob's Pillow

The final performance of the now disbanded, Iowa based, Trey McIntyre Project was followed by one of the longest and most raucous ovations we have ever encountered at the Jacob's Pillow Dance Theatre. The audiece was thrilled by a two part peformance based on the macabre innustrations of Edward Gorey and the magnificent music of the British rock group Queen. What a fitting send off for a superb dance company.
Ted Shawn Theatre at Jacob's Pillow, July 9-13.

Dance Theatre of Harlem, led by Artistic Director Virginia Johnson, performs Donald Byrd's smooth yet power-packed contemporary ballet Contested Space, which features a plethora of solos and duets. past-carry-forward, created for DTH by Tanya Wideman-Davis and Thaddeus Davis, conveys the spirit and significance of the Harlem Renaissance.
Returns to Jacob's Pillow July 2-6

Popular contemporary company Hubbard Street Dance Chicago returns to Jacob's Pillow Dance Festival for the first time since 2010, bringing a sensational mixed-bill program. Directed by Glenn Edgerton, the 18-member company performs the dramatic Mediterranean-inspired Gnawa, choreographed by Nacho Duato, and Jiří Kylián's vivid Falling Angels, a stark all-female work danced to "Drumming" by contemporary composer Steve Reich.