Fine Arts
Clark Curator David Breslin Part Two

Through October 13 the new special exhition galleries of the Clark Art Instiute feature Make It New: Abstract Painting from the National Gallery of Art 1950-1975. This is part two of a dialogue with Clark curator David Breslin who worked with Harry Cooper of the National Gallery. We discussed how this changes art history and the impact of the exhibition on showing modern art in the Berkshires.
Trident Gallery Gloucester, Mass.

In the heart of downtown Gloucester, a short walk from the renovated and expanded Cape Ann Museum of Art is the ambitious Trident Gallery. Unlike the tourist kitsch of the majority of Gloucester and Rockport galleries this venue speaks to the historic role of Cape Ann as a vibrant modernist art colony. Susan Erony is an example of the small but seminal community of professional artists represented by gallerist Matthew Swift. In his catalogue essay published here he offers an insightful overview of the issues and work of a concerned artist.
Selection of Mid Century Abstraction from the National Gallery

Clark curator, David Breslin, worked with Harry Cooper of the National Gallery for a special exhibition launching the spacious new galleries designed by Tadao Ando. For long time friends of the Clark it is a bold move into issues of 20th century art. This is the first of two parts of a dialogue with Breslin about the impact of the exhibition, a related seminar, and what this means for the future of modernism in the Berkshires.
Reacting to Jed Perl's Essay in New York Review of Books

As Brice Marden commented in a symposium at the Clark "I haven't made up my mind about Jeff Koons. But it's not for lack of information." He's not the only one that's hanging on the fence. Here Martin Mugar responds to a review of Koons by the always fiesty Jed Perl.
At 75 an American Master

Brice Marden is widely admired as one of the foremost abstract artists of his generation. He spoke with the poet Vincent Katz during a recent symposium Make It New? Conversations on Mid-Century Abstraction at the Clark Art Institute During a break we spoke with him and also researched his experiences as an undergraduate at Boston Unversity and transition to graduate study at Yale.
Clark Art Institute's Globe Trotting Director

Completing a $145 million renovation and expansion the Clark Art Institute repoened this summer. The occasion was launched with a stunning range of special exhibitions. During a recent opening of Magna Carta we asked the museum's fast moving director, Michael Conforti, for an overview of the season and when we might expect to see Treasures from the Prado?
Definitive Study of Boston Expressionism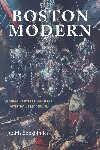 Judith Bookbinder's 2005 publication Boston Modern: Figurative Expressionism as Alternative Modernism is the definitive study of this important but neglected movement. Her study is meticulously researched and documented. This is the catalogue for the exhibition that the Museum of Fine Arts has failed to deliver. Significantly most of the Boston Expressionists were Jews struggling with Biblical constraints against the graven image.
Tour with Director Ronda Faloon

The Cape Ann Museum has raised $5 million with $3.5 for a renovation of its eclectic warren of buildings and galleries. Just prior to the recent reopening we were given a tour of the collection by the museum's director Ronda Faloon. The collection displays all aspects of life on historic Cape Ann. Its heart and soul comprises 40 paintings and 100 drawings by America's most renowned 19th century painter of seascapes Fitz Henry Lane. There are also many works by leading artists who were a part of the art colony.
Presenting Berkshire Artists

As artists approach their senior years familiar issues arise. Unless they reach a level of broad recognition and market value for the work there is the challenge of legacy and handling of estates. North Adams based artist/ author and developer, Eric Rudd, has written a book on these concerns and by creating his own museum in North Adams is taking action to address them. Art historian and former Berkshire Eagle critic, Keith Shaw, is assisting Rudd by curating exhibitions based on artists living and working in the region. Here he discusses what that entails.