Fine Arts
Definitive Study of Boston Expressionism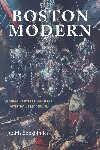 Judith Bookbinder's 2005 publication Boston Modern: Figurative Expressionism as Alternative Modernism is the definitive study of this important but neglected movement. Her study is meticulously researched and documented. This is the catalogue for the exhibition that the Museum of Fine Arts has failed to deliver. Significantly most of the Boston Expressionists were Jews struggling with Biblical constraints against the graven image.
Tour with Director Ronda Faloon

The Cape Ann Museum has raised $5 million with $3.5 for a renovation of its eclectic warren of buildings and galleries. Just prior to the recent reopening we were given a tour of the collection by the museum's director Ronda Faloon. The collection displays all aspects of life on historic Cape Ann. Its heart and soul comprises 40 paintings and 100 drawings by America's most renowned 19th century painter of seascapes Fitz Henry Lane. There are also many works by leading artists who were a part of the art colony.
Presenting Berkshire Artists

As artists approach their senior years familiar issues arise. Unless they reach a level of broad recognition and market value for the work there is the challenge of legacy and handling of estates. North Adams based artist/ author and developer, Eric Rudd, has written a book on these concerns and by creating his own museum in North Adams is taking action to address them. Art historian and former Berkshire Eagle critic, Keith Shaw, is assisting Rudd by curating exhibitions based on artists living and working in the region. Here he discusses what that entails.
Winner of the Biannual Roy R. Neuberger Exhibition Prize

Animating The Everyday - running through August 10 – is a ten-year survey of the work of South African born, Berlin based artist Robin Rhode. Curated by Helaine Posner, the museum's Chief Curator of Contemporary Art, along with co-curator Louise Yelin. High definition projectors, and advanced musical composed sound tracks by Arenor Anuku, feature the artist's digital animations, as well as a selection of his still photographs, the latter elegantly hung on charcoal gray walls.
2003 Installation in Building Five

In 2003-2004 Ann Hamilton installed a paper based work Corpus in the vast building five of Mass MoCA. It was a relatvely early project in the space. This article is reposted from Maverick Arts Magazine.
Paper Sounding Premieres at Mass MoCA

With just four rehearsal sessions in less than a week installatin artist, Ann Hamilton, returned to Mass MoCA to create a piece for some thirty individuals "Paper Sounding" as a part of the annual Bang on a Can festival. The spontaneous and lively work was co directed by Mark Stewart and David Cossin. The performance was our introducton to an area of the vast Building Six which the museum hopes soon to develop. We spoke with Hamilton about the significance of paper in her practice.
National Museum of the American Indian

When the NMAI was established in 1989 with the passage of the National Museum of the American Indian Act (NMAI Act), it included the first U.S. repatriation legislation that provided for the return of Native American human remains and certain cultural items in the collections. Since the museum's inception, one of the highest priorities has been the return of Native American human remains and their associated funerary items back to their communities of origin.
Multi Media Works at Maria Lund Galerie in Paris

Pipaluk Lake takes a long time to conceive her glass and metal "bundles"; she cuts, hammers, attaches, knits, sews… Putting into practice a know-how acquired during a quadruple training in fields as diverse as textile, glass, metal and wood. Once her complex preparation work finished, she abandons her "bundle" to the alchemy of heat and gravity inside the kiln.
Collaborations with Her Son Mike Gordon of Phish

During the final days of her exhibition at the Eclipse Mill Gallery in North Adams, Mass. we spoke with Marjorie Minkin about her painted Lexan reliefs. We discussed the current exhibition and background of her relationship with renowned critic, Clement Greenberg, and curator/ critic, Kenworth Moffett. As well as a 2005/06 project in collaboration with her son Mike Gordon of the rock band Phish and engineer Jamie Robertson.