Film
Book Thief Steals Hearts and Minds
Forbidden Literacy in Nazi Germany

"The Book Thief" based on the international best selling novel of the same name by Markus Zusak, is intelligently and sensitively directed by Brian Percival, from a wonderfully crafted screenplay by Michael Petroni. It's a small, touching story with large emotional issues that is flawlessly and understatedly performed by a cast led by Oscar winner Geoffrey Rush, and Oscar nominee Emily Watson, and stars young French-Canadian teen actress Sophie Nelisse in the title role as Liesel Meminger.
Dallas Buyers Club a Film Scorcher
Matthew McConaghey As a Wasted Hustler Dying of AIDS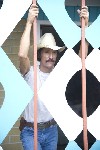 Don't miss the gritty, grungy, and f-bomb laden film " Dallas Buyers Club" starring Matthew McConaghey. McConaghey, a Hollywood handsome, leading man, lost more than 40 pounds in order to play the role of Ron Woodroof, a Texas hustler and rodeo rider/electrician with Aids, who turned drug dealer in the recently released "Dallas Buyers Club".
The Zen of Watching Westerns
When Contemplating Art Just Ain't Enough

Artist and theorist Martin Mugar is taking a break from his usual beat to explore the philosophical nuances and cult implications of watching Westerns. The discourse ranges from Hopalong Cassidy, to the Marklborough Man as a hacking and coughing paradigm of manhood, and the ultra vi of Sam Peckinpah's The Wild Bunch. Here he gets his kicks on Route 66. With a left turn through Monument Valley.
Nail Biting Captain Phillips
Tom Hanks and Unknowns Battle on the High Seas

As good as Tom Hanks is, and he's very good, he shares the screen with first time actors: Barkhad Abdi as Muse, the leader of the pirates; Barkhad Abdirahman as Bilal, the loose cannon of the four, Faysal Ahmed as Najee, and Mahat M. Ali as Elmi, the teenaged pirate. This high seas thriller will be a likely Oscar contender.
12 Years a Slave
Film a Sure Oscar Contender

The film is not the tale of the Old South that your grandparents remember when viewing "Gone With the Wind". This is an unflinchingly brutal, cruel story told from the point of view of the thousands of black slaves who have endured two hundred and fifty years of living lives devoid of basic humanity and denied the dignity that all humans deserve.
The Fifth Estate Flops
Julian Assange Drama Under House Arrest

On the upside: The acting is splendid. The performances are first rate, with a possible Oscar nomination in 2014 for Benedict Cumberbatch for his eerily accurate portrayal of mysterious, conflicted, and idiosyncratic computer genius-with-an-obsession, Julian Assange.
Wild Girl Waltz by Mark Lewis
Indy Film Shot in Pioneer Valley

With just $10,000 and an eight day shooting schedule in Pioneer Valley of Western Massachusetts Mark Lewis created Wild Girl Waltz a charming and goofy film. It will be screened on October 12 at the annual Filmshift Film Festival in Somerville, Mass.
Is Cate Blanchett a Lock for an Oscar
Stars in Blue Jasmine Woody Allen's 44th Film

Based on a stunning performance in Woody Allen's 44th film, Blue Jasmine, odds are that the 44-year-old Australian born actress, Cate Blanchett, is a strong contender for her second Oscar. In his cost effective, low key, Indy manner it seems that Allen just turned on the camera and with little or no direction she dug deeply to reveal her heart and soul as a fallen woman of a certain age.
Palm Springs International Film Festival
19th Annual Event

ShortFest, as it is known in the movie industry, is the largest short film festival in North America. It's a must stop for filmmakers, movie producers, directors, writers, and film distributors looking for short movies to represent. Those distributors that do attend, will have a veritable feast of films and deals from which to select what they hope will go on to attract worldwide audiences.