Film
Thursday, March 13 at Monument High School

THE BIFF is proud to partner with Monument Mountain Regional High School (MMRHS) to present a very special community screening of the award-winning documentary A PLACE AT THE TABLE, narrated by Academy Award winner Jeff Bridges and directed by Kristi Jacobson and Lori Silverbush. The BIFF and MMRHS will present a FREE community dinner followed by the screening and panel discussion on Thursday, March 13 at Monument High School.
French Film Directed by Daniele Thompson

"It Happened in Saint-Tropez" is gorgeously photographed by Jean-Marc Fabre along with a stunning production design by Michele Abbe-Vannier. The film is easy on the eyes, and is well acted. It's a light, frothy, tasty French pastry of a movie that produces chuckles and laughs all the while being entertaining in the process. And there isn't a calorie in sight. Enjoy!
Shoes Written and Directed by Ukrainian-born Costa Fam

The story of the film "Shoes" is cleverly told without dialogue or seeing the faces of the actors. This unique film approach immediately engages the viewer; drawing them deeper into the story that director Costa Fam wants to tell. "Shoes" is a powerful, yet tenderly crafted movie, that traces a pair of red shoes from their purchase by a young woman just beginning to enjoy the pleasures and dreams that life has to offer.
Film by BBC-TV Production Team

"Neil Diamond: Solitary Man" chronicles Diamond's early years growing up in Brooklyn and his initiation into the world of songwriters working in the famous Brill Building, in New York City in the fifties. He wrote songs for others, but always harbored a desire to become a performer of his own songs.
Film Festival reigned February 6-16

The 64th Berlinale just closed after eleven days, while 400 films from around the world were viewed by 330.000 Berliners and international visitors. The talk of the city while it lasted!
WWII Saga That Saved Western Cultural Icons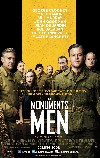 The Monuments Men is a American-German war film based on the book The Monuments Men: Allied Heroes, Nazi Thieves and the Greatest Treasure Hunt in History by Robert M. Edsel. The film follows the story of the Monuments, Fine Arts, and Archives program, an Allied group, tasked with saving pieces of art and other culturally important items before their destruction by Hitler during World War II. It focuses on a squad comprised of seven museum directors, curators, and art historians who with limited resources enter Germany with the Allied forces during the closing stages of World War II to rescue artworks plundered by the Nazis. It is a terrific story.
2014 Oscar Nominee

Cambodia's 2014 Official Submission for the Academy Awards is "The Missing Picture", by native Cambodian director and narrator Rithy Panh. In this deeply personal film Panh laments the genocide of almost two million Cambodians carried out by the infamous Pol Pot regime under the Khmer Rouge during the 1970s.
Overall a Very Good Year

The front runners with most nominations this year are for American Hustle, Wolf of Wall Street and Twelve Years a Slave. With a divided pack there is bound to be diversity when the awards are handed out on Oscar night. We have an overview of what proved to a year of numerous fine films and performances.
2014 Oscar Nominee for Best Foreign Film

The child Klara confuses a glimpse of her older brother's porn film, and anger over seeming rejection by her teacher Lucas, twisted into a false accusation. In this Oscar nominated Danish film we see the life and career of Lucas (Mads Mikkelsen) utterly destroyed by a witch hunt in a village. There are stunning parallels to the sensational Fells Acres daycare center case in Massachusetts that sent members of its Amirault family to jail.