Actress Irina Maleeva
Appears in The Meddler with Susan Sarandon
By:
Jack Lyons

-

Apr 15, 2016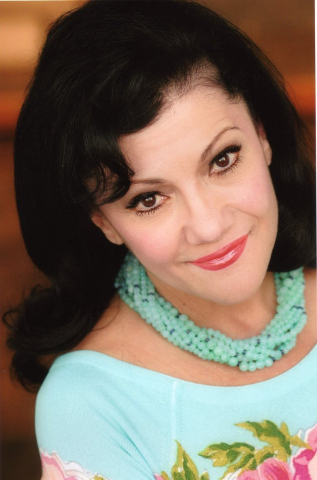 Serendipity and timing definitely has a place in the world of show business and movies in particular. This past week I was fortunate to interview iconic international star of stage, screen and television, Irina Maleeva, who latest feature film "The Meddler", starring Susan Sarandon, opens nationwide on April 22nd.
Maleeva, born in Bulgaria but who has lived in the United States for over 40 years, started her movie career at the tender age of 14 while living in Italy. She was discovered by famed filmmaker Federico Fellini and went on to work with some of the premiere filmmakers including Orson Welles.
Considering the recent dust-up at the 2016 Oscar ceremonies regarding the lack of diversity in the movie industry, to say nothing about the lack of roles for middle-age actors and beyond, the interview with Maleeva seemed like an interesting way to get a first-person perspective on this hot button topic.
Q: Hollywood and television are at long last acknowledging that the cinema and TV industries are in a state of transition when it comes to the subject of diversity in the arts. What are your observations on the subject of work for people of color with an emphasis on female actors of 'a certain age'?
A: To be honest, I have mixed feelings about the subject. I favor diversity in the industry, of course. I'm a European woman who's been a U.S. citizen for many years, and as an actor I applaud the industry for finally coming to grips with this issue. It's been long overdue."
Q:Tell me about all those references to the "La Dolce Vida" lifestyle when you worked with Fellini in "Satyricon", "Spirits From the Dead", and "Roma".
A: Yes, I worked with the great Fellini on those films. He was a film genius and a very nice man. I also worked opposite the brilliant Orson Welles in "The Merchant of Venice". I'm sorry, however, to disappoint you regarding on-set gossip, but we were too busy just learning our lines and playing our parts. Of course I can't speak for everyone during that wild era…(laughs)
Q: What was it like living and working in Rome as young actors?
A: It was a golden time in the Italian cinema. The Via Veneto was the great street where you brushed elbows with celebrities and movie people all over the place. During that period, Italy was producing 300 plus films a year. Those were exciting times to be an actor.
Then the movies in Italy changed some twenty years ago and I haven't made a film there in over ten years. European films now are chasing the dollars. They're not making stories or character driven films as they used to do. Now, it's films with an edge or all action.
Q: Just like today's American movie industry.
A: Working in early American films I was usually cast as an Eastern European female with a heavy accent, even though I speak seven languages. I've been told that even my face has an accent, according to casting directors.
Q: How much has the American film industry vs. the European changed?
A: In Europe, it appears there are more opportunities and good roles for actors who are over 60.
Q: And here in America?
Female actors are considered to be unemployable after thirty-five or so, with exceptions of course when it involves stars.
Q: But you're still working today as an actor over sixty.
A: Yes, thank goodness, but not many people do what I do, have done, and can still do. I'm very fortunate. I came from an acting family. My mother was a successful Eastern Russia actress who began acting at age seven. She had a successful stage and film career. Later, she wrote several books on actresses in Hollywood.
Q: Speaking of working today, you have a new movie called "The Meddler" opening nationwide this month starring Susan Sarandon. What role do you play in it?
A: I play Angie, Susan's sister-in-law from New York. Susan's character has lost her husband and I help her get through her new widow-grieving process. It's a broad comic role. It was a wonderful experience working with Susan and our amazing director Lorene Scafaria. Susan is such a generous and giving actor. I loved it.
Q:You also have a guest-starring role this spring on David Duchovny's NBC series "Aquarius" in a segment called "While My Guitar Gently Weeps ". What's that about?
A: I play Vira, a sweet Ukrainian lady who turns out to be a murderess and a con-woman who causes problems for Duchovny's cop character who is pursuing the Manson Family. Russian actress Ludmila Velikaia, who lives in San Diego, and I play two women in their sixties who are insurance fraud scam artists. We had a ball doing it.
You know, getting serious for a minute, David is an interesting and very caring man. He shared a story with me as how he rescued a dog he found lying on the road one day on his way to the set. He stopped, put the animal in his car and drove it to a vet hospital, saving its life. The word 'tohovny' means a person with a lot of soul. David certainly has that. How many people stop on their way to work to rescue an animal lying on a road?
Q: Irina, I know you have a one-woman show called "Illusions", a musical memoir of a life well lived that you wrote and performed at the Hudson Theatre in Hollywood last year. Do you have any plans to take it on the road somewhere?
A: I would love to, but I don't have a theatrical agent to represent me in such a venture. It takes a lot of planning, getting a theatre, advance bookings, ticket sales, finding a good musical director. It's a lot of work, but hugely satisfying.
Courtesy of Jack Lyons and Desert Local News.