Opinion
The Value of Education

People who make money are successful. They are sometimes well educated, and sometimes not, but they are smart. They are smart enough to be successful in the way most of us value success.
Functioning in Flatland
We had to teach ourselves and share what we have learned with the rest of the class. Apia, the beautiful brown girl I mentioned earlier, is back in town.
What You Don't Know About Quantum Mechanics Does Help You
Knowledge doesn't limit us or take away the beauty and mystery of the world—it actually enhances our view of the world and should make us stronger and more tolerant.
Reply to Larry Stark

Veteran Boston theatre critic Larry Stark wrote an open letter to Boston Mayor Martin Walsh. He stated his disappointment that campaign promises to the arts community were soon forgotten. We posted his original letter which is linked in this reply from the Mayor's spokesperson longtime arts advocate Joyce Linehan.
But Not By IQ Tests

Schools used to assign children to classes based on their IQ test scores. Then schools decided it was better for children to be in heterogeneous, or mixed IQ, classes. They would get a better feel for life because many people are not so fast. Now experts may be reconsidering. It is one of the truisms of fashion, and there are intellectual fashions, too, that they change. Here Rifkin again rebuts Zaig.
IQ Scores Have Declined 14 Points Since the 19th Century
The reason why humans are getting stupider is because we think we are immutable. In the grand scheme of things, we are as primitive as an amoeba trying to build a brain. Some think our brain has reached its peak. Evolution is either too slow or becoming ineffective. Now we are on our own.
Waxing Philosophical

There has been a lively response to the provocative series of think pieces by the Berkshire artist David Zaig. Here the Berkshire poet Stephen Rifkin debates Zaig's contentions. They often sit at the same table during weekly Monday night Chinese dinners in North Adams. Rifkin recently gave a poetry reading at the Rudd Art Museum where Zaig is currently exhibiting his work.
Taking Responsibility for Opinions We Promulgate
As an artist, I learned to understand that in this world of ours we humans must take responsibility for the opinions we promulgate: that means, ideally, we ought to search for the data to support what we say. We take notions such as subjectivity, creativity, feelings, or likes and dislikes for granted. Let's not forget that, first, these notions are words--words we inherited and use automatically, words that can be skewed when translated into action, and as such misrepresent and distort our perception of the world.
Poor Former Dr. Wakefield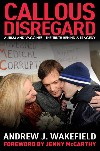 In this sidebar to the Vaccination Divide we discuss the contoversies surrounding the research of Dr. Andrew Wakefield who uncovered links between autism and a particular type of gut inflammation. Eventually his findings were discredieted and his liscense to practice medicine was revoked. But he is correct that aluminum toxicity is capable of doing real damage.