Opinion
Taking Responsibility for Opinions We Promulgate
As an artist, I learned to understand that in this world of ours we humans must take responsibility for the opinions we promulgate: that means, ideally, we ought to search for the data to support what we say. We take notions such as subjectivity, creativity, feelings, or likes and dislikes for granted. Let's not forget that, first, these notions are words--words we inherited and use automatically, words that can be skewed when translated into action, and as such misrepresent and distort our perception of the world.
Poor Former Dr. Wakefield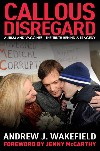 In this sidebar to the Vaccination Divide we discuss the contoversies surrounding the research of Dr. Andrew Wakefield who uncovered links between autism and a particular type of gut inflammation. Eventually his findings were discredieted and his liscense to practice medicine was revoked. But he is correct that aluminum toxicity is capable of doing real damage.
Honorific vs. Generic

Anyone who hangs a few pictures in a coffee shop is a self proclaimed artist or photographer. Is anyone who makes art an artist? Does posting comments to Facebook make one a critic? Does posting snap shots of your cat or kids qualify as art? Despite decades as a successful commercial and fine arts photographer the Berkshire based Benno Friedman, during an extensive interview, explains why he hestitates to call himself an artist.
My Theatrical Response to Disaster in Ferguson

Back in the day Larry Stark was the theatre critic for Boston After Dark which elided as The Boston Phoenix. He has covered theatre for decades currently with his website Theatre Mirror. Following up on campaign promises Stark in an open letter has questions for Boston Mayor Martin J. Walsh. "To put it bluntly Mayor, I voted for you Only because I thought at the time that your commitment to The Arts was genuine."
Exploring the Pros and Cons

Faith based and other concerned parents have opted not to vaccinate their children. This can result in outbreaks in formerly widely preventable diseases. There are concerns that vaccinations may in fact induce dangerous side effects inluding an inclination for autism. Our science correspondent, a firm advocate of vaccination, explores the issues and risk factors.
Unspeakable Times Are Soothed by Chicago's Statues

The figures are iron and aluminum, but to me and many others they stood for black and white. People of all colors are walking and seated in the Georg Solti Park in Grant Park, Chicago. These sculptures invite quiet contemplation of the state of race relations in this country this August.
Mixed Report on $25.4 Million from Commonwealth

Twelve days after breaking news the New York Times has reported on $25.4 million in Commonwealth funding for the $50 million renovation of the final phase of build out for Mass MoCA. While damning the museum with faint praise the Times drags up an eight year old controversy of a botched installation by Christoph Buchel. The reporter probed far and wide for on and off the record smears of the museum and its critical reputation.
The Unions and Management Both Give Ground

From inside the Met: "Both sides gave in. This is heartening. The three big unions took income reductions, even though they are not the massive reductions Gelb wanted. One of the good things is having some oversight on Gelb's spending. A big concern house-wide has been Gelb's tendency to over-spend without thinking things through." It appears that by settling with unions there will not be the anticipated lockout and the Metropolitan Opera will launch its season on schedule. We dig below the surface of this news for an understanding of long term implications for the Met and the struggle to sustain opera as an expesnive and viable cultural resource.
When You Come to the Fork in the Road Take It
The artist/ playwright/ thinker David Zaig evokes Descartes and Yogi Berra in a lively response to dissent aroused by his recent ruminations in Berkshire Fine Arts. Here he brings more depth and insight to those previous discussions.