Photography
Afghan Photo Series at Lenox Library

From 1985 until fairly recently the Berkshire based photograher, Jonas Dovydenas, made a number of trips to Afghanistan. He started by shooting black and white film and later abandoned the darkroom switching to digital cameras. In all he shot some 15,000 frames. These were culled and edited resulting in the recent exhibition at the Lenox Public Library.
Hitched Ray and Alice Brock of Alice's Restaurant

An extended family of artists and hipsters celebrate holidays in the Berkshires at the home of Benno and Stephanie Friedman. Among the renowned guests have been LSD guru, Tim Leary, and chef Alice Brock. Benno shot the illustrations for the Alice's Restaurant Cookbook. There's a shot of me with an apple in my mouth in the chapter on stuffing.
Early Years: Woodstock, Rolling Stone, Playboy

Berkshire based photographer, Benno Friedman, bought a camera in a duty free shop in the Amsterdam airport. It was the summer after graduation from college in 1966. Upon returning a friend helped him to process and print the film. Soon that launched into dual career as a commercial and fine arts photographer. That led to assignments like shooting Woodstock for Playboy and Seventeen. He was also a stringer for Rolling Stone. This is part one of a recent extensive interview.
Global Call to Participate in Photo Project

From February to May we invited participants to submit photographs and words via email and Face Book representing passages in any way real or imagined. Collaborators expanded the project in amazing and unexpected directions. Here is the resulting digital exhibition:
Play and Dream an Image. Let Someone Else Click.

The title of the exhibit, "The Production Line of Happiness" is taken from a Jean Luc Godard documentary in which an amateur filmmaker compares his day job as a factory worker with his hobby of editing his films of the Swiss countryside. Williams says that today's consumer culture pictures and produces endless images to be consumed.
A Photo Essay

A photograph is worth how many words? You decide! Our trip to Ireland and England included a couple of days experiencing the land, people and natural wonders of Ireland by bus. We returned with rock-solid photographs (pardon the pun!) and long lasting memories.
North Adams Parlor Cafe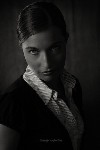 Ian Grey of the Berkshires is best known for his hummingbird series of photographs. In his largest exhibition to date, some 50 images, he will be showing portraits at the Parlor Cafe in North Adams. The reception for the artist will occur on Saturday, January 25, from 6 to 9 PM. The show remains on view through March 8.
Documentary Photos by Sabine Vollmer von Falken

Sabine Vollmer von Falken has created A Tango Diary photos of dancers and would-be dancers from South America to the Berkshires. It is on view at Six Depot Gallery in West Stockbridge
Hosting Epiphytes: Spanish Moss and Resurrection Fern

A series of photographs with a short report will remain on the BFA Project Space. These 16 photos were a gift, received from a very old Southern Oak Tree and the people, who care for the massive tree, hanging Spanish Moss and Resurrection Fern.