Dance Nation at Steppenwolf Theatre
Adults Playing Teens
By:
Nancy Bishop

-

Dec 30, 2019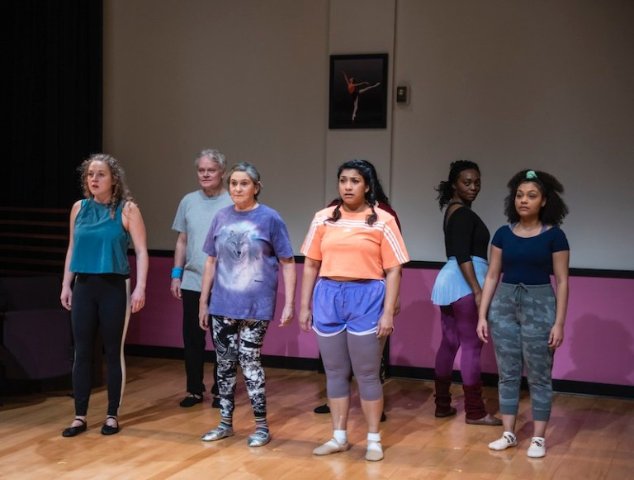 There is dancing in Dance Nation, now at Steppenwolf Theatre. It's sometimes clumsy, sometimes graceful, and generally amateurish. Clare Barron's play is about a crew of 13-year-old girls (and a token boy) from Liverpool, Ohio, who are competing in regional dance contests that could culminate in a trip to YAY! Tampa Bay, Florida!!!! YAAAAAYYYY! The dancers or "dancers" are coached by Dance Teacher Pat, earnestly and slightly menacingly played by Tim Hopper.
The preteen dancers are played by adult actors, in what Steppenwolf calls a multigenerational cast. Barron's script specifies that casting. And she notes that "Cuteness is death. Pagan feral-ness and ferocity are key." And if adults playing 13-year-olds seems weird to you, it doesn't take long before you will find this cast believably adolescent. Somehow, they all fit in this preteen world. Director Lee Sunday Evans has chosen a talented cast, many of them Steppenwolf regulars, and her solid direction brings all the pieces together.
The dancers win their contest tapping in sailor suits in Ashley, Pa., as the play opens. But Dance Teacher Pat advises they have to step up their game now to win in Philadelphia, Akron and Lanoka Harbor, New Jersey (at the Boogie Down Grand Prix). He challenges them with a litany of past winning teams and dancers, including the cherished Sabina, who was discovered by a casting agent and six years later, was in the chorus of a Broadway show.
Their next show, Pat tells them, is an "acro-lyrical number," titled World on Fire, based on the life of Gandhi. (Pat has to explain Gandhi.) The dancers will all dance as "citizens" in what amounts to a ballet of facial expression with no movement. ("Work on your faces," he tells them after rehearsal.) One of them will be chosen to be Gandhi and sit silently in the center of the floor. Connie (Adithi Chandrashekar), the only Indian-American girl on the team, is chosen. As an afterthought, Pat decides they need the Spirit of Gandhi, which does involve dancing. He chooses Zuzu (Caroline Neff) for the role.
In a tense practice scene, Pat works with Zuzu on her part. He's cruel in his comments to her: she's an idiot, she doesn't understand, she's not doing well. Later, her mom (played by Audrey Francis, who plays all the moms) comes to visit him. She demands that he tell her daughter Zuzu that she is special, wonderful, a genius. He refuses, arguing that children have to learn to live in the reality of the world. Their argument is the familiar one about parents' overvaluation of their children.
The choicest (and possibly controversial) parts of Dance Nation are the girls' conversations among themselves. As 13-year-olds will, they talk about boys and menstruation. (Sofia gets her first period very visibly during a performance.) They discuss their own genitalia, wonder about penises ('have your ever seen a penis?") and penis sizes. One of them coaches another in how to masturbate.
Dance Nation is perceptive about the life of preteens. It's raw, funny and realistic. It may remind you of yourself as a 13-year-old, whether you were a girl inspecting your own pussy or a boy wondering about such matters. Torrey Hanson, as Luke, the boy dancer, has a crush on Zuzu. One day when they escape dance practice, he asks her, tentatively but hopefully, "How do you want to lose your virginity?"
Caroline Neff as Zuzu and Karen Rodriguez as Amina give warm and emotional performances. Shanésia Davis as Ashlee has a long monologue about her female perfection. Davis performs it well, but the content is over-the-top and off-key for a 13-year-old. Ellen Maddow as Maeve (a cast member in the original Dance Nation at Playwrights Horizons in New York), is one of the older cast members. In a poignant scene, she describes flying—in her bedroom, any room, down the stairs, sometimes across the Great Lakes, if she just concentrates. "It sort of washes over me. Like sleep…. And suddenly I'm flying."
Arnulfo Maldonado's scenic design is minimal. The Upstairs Theatre is set with an alley stage. Furniture, equipment and props are dropped in or rolled in as needed by actors and crew. Heather Gilbert handles lighting and Mikhail Fiksel sound design. Costumes are by Christine Pascual.
Clare Barron's play was a finalist for the Pulitzer Prize for Drama. She also is author of You Got Older, staged by Steppenwolf in 2018, I'll Never Love Again and Baby Screams Miracle.
Dance Nation continues through February 2 at Steppenwolf Theatre, 1650 N. Halsted St. Tickets are $20-$97 for performances Tuesday-Sunday. Half-price rush tickets are available one hour before each show.
Content advisory: The play is about 13-year-olds, but you may not want to bring yours. Dance Nation contains nudity, gore, coarse language, depictions of self-harm, simulated masturbation and descriptions of masturbation, sex and sexual violence. May not be suitable for patrons under the age of 18.
Posted from Third Coast Review.