Bluebird & Co. To Tweet at Jiminy Peak
Mezze Opens New Resturant This Summer
By:
Mezze

-

Apr 19, 2023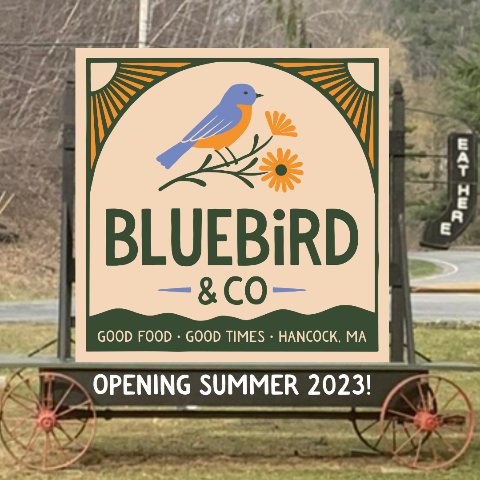 Mezze Hospitality Group will open Bluebird & Co., its forthcoming restaurant celebrating the outdoors, in Hancock, MA, near the base of Jiminy Peak.
Bluebird & Co. is the group's first new restaurant since selling allium, in Great Barrington, Mass., almost five years ago.
"For all the outdoor activities in the Berkshires, we don't have enough eateries that celebrate this part of our lifestyle," remarked Bo Peabody, co-founder of the Mezze Hospitality Group.
"Bluebird & Co. will be a place where groups of friends feel comfortable playing cornhole over burgers and beers, and families think nothing of eating steak frites in their ski boots or biking shorts!"
Bluebird & Co. anticipates opening this summer with seating inside and an extensive outdoor campus to feature lawn games and an outdoor bar for summer, and fire pits and hot chocolate in winter. The location is a short and pleasant walk from most of the parking at Jiminy.
Mezze Hospitality Group purchased 137 Brodie Mountain Road, 14+ acres of beautiful land at the base of the Jiminy Peak Resort, including the former Powder Hounds Restaurant.

Powder Hounds dates back to 1947 — then known as Hansons — and was started by the family of Fred Kruger, who inherited the business in 1999 and reopened it as Powder Hounds, serving a core clientele of local condo owners from Bentley Brook and Vacation Village.
Mezze Hospitality Group
Mezze Hospitality Group was co-founded by Nancy Thomas and Bo Peabody in 1996, quickly becoming a hospitality leader in the Berkshires, continuously innovating dining experiences over the past 27 years.
"Our guests love new experiences. We deliver consistency and creativity simultaneously. That's the secret," Peabody remarked.
"We will bring the same quality ingredients and preparations enjoyed at Mezze Bistro to the more casual Bluebird; and even to grab-and-go and take-out options, narrowing the gap between high-end and casual dining," Nancy Thomas said.
Thomas leads the creative direction as she has for each of the group's projects in the region, including Mezze, eleven, Cafe Latino and allium.
"I am most excited to be working in the landscape. This is the first time we'll have indoor and outdoor dining on the same level," she said about how to maximize the 14-acre property.
Thomas continued: "Imagine parents enjoying a craft cocktail while kids throw a frisbee or play in the grass overlooking Bentley Brook – it's going to be a thrilling challenge!"
Bluebird + Co. 137 Brodie Mountain Road Hancock, MA 01237 www.eatatbluebird.com
Bluebird & Co.
Bluebird & Co. is driven by an appreciation of the outdoors. It will offer guests a casual and family-friendly way to enjoy hallmark Mezze hospitality. There will be plenty of outdoor space to hang out through the afternoon and early evening while enjoying casual bites and beverages.
"How do we create outdoor experiences that work in all four seasons and serve locals, tourists, and skiers alike? This is a big challenge and if we achieve it there is a lot to do in other venues, " said Peabody reflecting the challenges and opportunities of this project.
Thomas said the menu will be rooted in comfort with a sense of adventure. Expect dishes with global flavors to work in concert with the Berkshire growing season. The Group's beloved Okie burger will be included. The beverage program will include classic cocktails, natural wines, spirit-free beverages and regional beers.
All positions, including prep cooks, line cooks, servers, bartenders and managers are being hired now. Interested applicants can send resume to info@mezzeinc.com