Corona Cookbook: Unique Pasta
By:
Phillip S. Kampe

-

Jan 11, 2021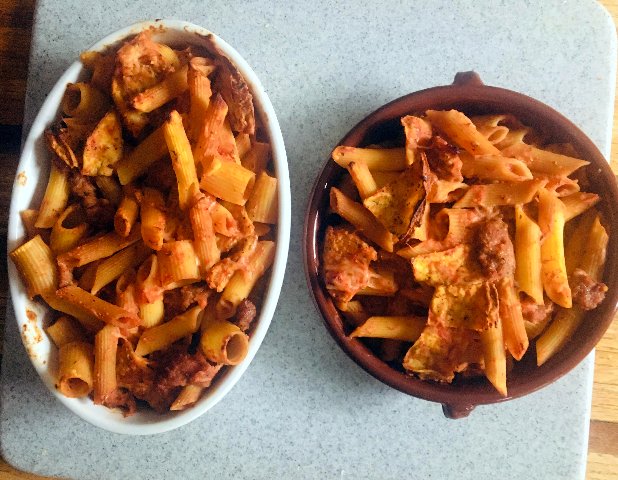 With so much time on our hands and an appetite for Italian food, my wife who has Italian roots, requested an entree out of the ordinary. As the house chef for the past 26 years, I knew that I must put a twist on the usual pasta, sauce and cheese.


I looked at what ingredients I had on hand and decided that I'll use eggplant, freshly made spicy meatballs, penne pasta and Asiago cheese.


This is what I did:


I cut the eggplant in rounds and dipped them into flour, egg, then Italian flavored breadcrumbs. When finished, I cooked them for 12 minutes at 390F in an air fryer. I turned them over halfway through. Then I boiled salted water and cooked a half pound of penne until it was al dente. While it was cooking the pasta, I made a simple tomato sauce. I, also tore each meatball into small pieces and heated them for five minutes in my preheated 350F oven.


Once the pasta was ready, I poured it into my baking dishes, added sauce and cheese and mixed it up. Then I added the eggplant, which I sliced into smaller pieces, the torn up meatballs and more cheese.


I mixed up the ingredients, added a topping of more cheese and put it in the 350F oven, uncovered for 20 minutes.


As you can see from the photo, I used two baking dishes. One is a gift for our 91 year old neighbors.


When baking cooked pasta uncovered at 350F, after 15 minutes, the pasta on top tends to harden and becomes crunchy. I like the crunch.


To serve this dish later in the day, just reheat it in your microwave.


Serve it with a Sicilian Nero d'Avola.