Adriana Lecouvreur at Metropolitan Opera
Gala Features Beczala, Maestri, Netrebko, and Rachvilishvili
By:
Susan Hall

-

Jan 03, 2019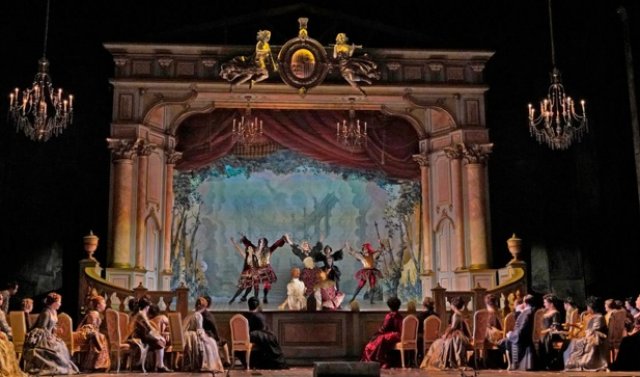 Adriana Lecouvreur was brought to New York most recently in a Carnegie Hall concert by Eve Queller's Opera Orchestra of New York. Angela Gheorghiu came to sing the diva role and was delicious, both touching and full of haughty allure. Bouncing her voice off located spots on the stage, she reverberated through the Hall. Francesco Cilea's music never sounded better. We got a taste of two lead performers who appear seven years later at the Metropolitan Opera, Anita Rachvilishvili and Ambrosio Maestri. The perfume of Cilea's score is unusual for Italian opera, but suits well the tragedy located in a bouquet of violets.
When Anna Netrebko expressed interest in the Adriana role, The Metropolitan Opera joined with five partners and hired the stalwart Sir David McVicar to produce. Interestingly, McVicar had said he would never work with Netrebko again after an Anna Bolena production. She was good at flouncing in comedy but refused to take drama seriously.
The diva went to Riccardi Muti for help. He only helps the most serious of artists and Netrebko became one. Keeping a straight face through a story of disguise, mistaken identity and poison by violets can not be easy. Netrebko does it. When she quiets her upper register, almost whispering, her tone is pure. If she pushes it for louder sounds, it is perhaps too big to keep smooth. In the middle and lower registers, she is in command and harnesses her voice to the demands of the drama. She seldom sings a word, instead using guterals. Yet her talent at bringing emotion to the moment makes diction less important.
Each and every principle in this cast is superb. Immediately arresting, Ambrogio Maestri strikes the right notes from the start, as a touching stage manager who is in love with his lead actress, but dares not sing so. His voice is richly shaped with beat perfectly timed to movement.
Piotr Beczala as a lady's man and war hero holds us in the thrall of his bright tenor which effortlessly slips high and low on the breath. He may not be quite the cad our anti-hero's actions add up to, but he is distraught at the death of his diva.
The star of the show is Anita Rachvelishvili as The Principessa, consumed by jealousy as she not so successfully cheats on her husband. Tomer Zvulen directed her Carmen at the Met in the fall of 2012. He was as struck by her dramatic mezzo as the audience was. Peter Gelb did not 'discover' her then, but in this production he is undoubtedly encouraged by his partners, The Royal Opera House Covent Garden, the Teatre d Liceu, Vienna Opera, San Francisco Opera and the Paris National Opera.
Muti has called Rachvelishvili the very best of the current Verdi mezzos. Her rich voice can mix a growl and seduction seamlessly. She has perfect control of notes, yet they often have the pleasing feel of abandon spinning out of time.
Gianandrea Noseda made the most of the lovely lyric score that doesn't have much meat. The conductor gave space for the glory of singing. The orchestra blended well with singers and gave the evening a light touch despite impending death by jealousy.

McVicar's production is also light, with only a garden escape scene cloaked in his customary darkness. Actresses trying to throttle each other are central on a stage which is framed with the globe lights of a dressing table.
The evening is so entrancing that you disregard the improbable death by sniffing poisoned violets.