Bernstein at the Park Avenue Armory
Isabel Leonard and Ted Sperling Sing Bernstein's Songs
By:
Susan Hall

-

Jan 06, 2018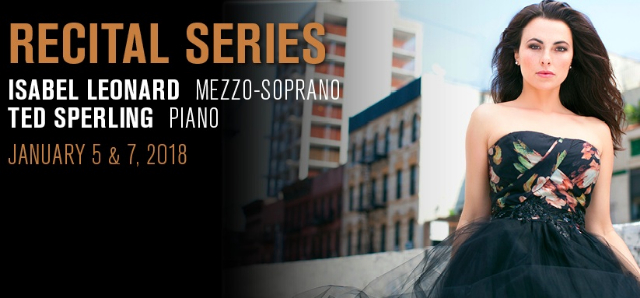 Isabel Leonard & Ted Sperling
Recital Series
Park Avenue Armory
New York, New York
January 5, 2018
If the Metropolitan Opera's Isabel Leonard and her partner-in-Bernstein, Ted Sperling, are to be believed, for a long time they've been attending the superb and surprising events the Park Avenue Armory puts on, as they waited for an invitation to perform.
Now the Armory presents one of the first 2018 events celebrating the 100th anniversary of Leonard Bernstein's birth, this unusual recital of his songs was perfectly produced in the Officer's Room. Leonard and Sperling are featured. Not only are we up close and personal with the performers, but the room itself holds us in its embrace. Lights are spotted on stage, yet do not detract from the overall ambience of the room which is warm and dark. You settle in, hardly expecting to end the evening singing Somewhere along with Leonard, Sperling and Renée Fleming. Such are the evenings at the Armory.
Leonard wore a long black low-necked dress sprinkled with small rhinestones. Her beige spike heels had red soles which peeked out when she perched on a stool.
Sperling wove the program so that it peaked in birthday songs for Conductor Karl Bohm, a delightful smattering of patter, and Irving Berlin. Twelve tone elements of the Berlin piece poked fun at Berlin's one key composing style, but ended with the word that has supported four generations of Berlin's, Always. Instantly getting the reference, the audience chuckled.
Bernstein was a fine lyricist, and certain words stand out, like always. Quiet is the title of the second part of his family opera. It is echoed in Somewhere. Gardens abound. We did not hear the finale of Candide, (Bernstein partially credited for lyrics), but we did hear Gardens Grow. Cellar door is often credited as the most lovely phrase in English. While we did not hear this, we heard so many more as the artists performed.
The heart of the program consisted of two songs on loneliness which suited Leonard particularly well. She is usually identified with exuberant characters like Rosina and Cherubino. Her quiet introspection and beautifully-shaped phrases reflected the songs' feelings.
Sperling had pointed out that Bernstein's wife wrote him a letter before they married in which she acknowledged that he was gay, but still wanted a life with him. She cautioned him to remain true to himself. This may be part of the reason Bernstein always needed to have people around him. Until his wife Felicia's death, whatever love interests he was able to express were kept under raps. The times and his solo status freed him in the last part of his life. Yet he remained lonely. Lonely Town comes from On the Town.
To What you Said was a setting of an unpublished poem by Walt Whitman, which suggests that his love of men was not to be fulfilled. Bernstein shared many of the ideas with which Whitman is associated: democracy, pacificism, human rights, universal brotherhood, and non-traditional forms of spirituality. Yet the song and Bernstein's selection of it suggest the pain that homosexuals experienced as they wished for the love that dare not speak its name.
What exactly Whitman meant when he wrote about "the threads of manly friendship, fond and loving, pure and sweet, strong and life-long, carried to degrees hitherto unknown," we will never know. That the loneliness of both Bernstein and Whitman was in part caused by unfulfilled deep desires is a just conclusion.
La Leonard's warmth and sense of humor were evident through out the evening, but these more tender and caring songs brought out a side of her singing which we hope she will explore. She sang sweetly of being a parent. She and Sperling, who has two daughters, share Bernstein's sense that the moment of a child's birth is a pure moment in the world.
"I'm pleasantly impressed," says Marin Alsop, music director of the Baltimore Symphony Orchestra and a Bernstein protégé, "by the value that his music seems to hold, and the esteem [with which] he's regarded as a composer, because that was such a struggle...during his lifetime. . . . People couldn't listen to his music objectively. That's been so gratifying to me, to see how well his music does live on, and how it's appreciated by the next generation."
Conductor Michael Tilson Thomas, another protégé, has said, "a song like Some Other Time or There's a Place for Us...It's music that haunts all of us. Talk about building large structures — it's woven into the structure of your entire life."
So we begin to re-evaluate Bernstein. His father, when asked by reporters why he did not support Bernstein's music education early on, replied, "I did not know he was Leonard Bernstein." 2018 may be the year we re-discover him. The Park Avenue Armory has started us off with a daring concert devoted only to his songs.