Decline in Theatre and Arts Media Coverage
Matt Windman Panel for American Theatre Critics Association
By:
Aaron Krause

-

Jan 08, 2017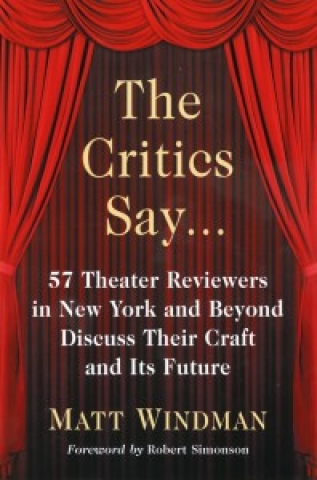 With the future of theater criticism facing uncertainties, a "new economic model" to help fund its continued practice may be necessary.
That's what a critic and author suggested during a panel discussion at the American Theatre Critics Association's recent mini conference in New York City.
Matt Windman, author of "The Critics Say…57 Theater Reviewers in New York and Beyond Discuss Their Craft and Its Future," led a panel discussion on the state of theater criticism in today's world of social media bloggers and a decreasing number of full-time print theater critics.
Several of the critics interviewed by Windman for his book comprised the panel, which offered some gloomy predictions on theater criticism's future as well as some optimism going forward.
Windman said theater critics started getting laid off during the Great Recession of 2008.
"Things got a lot worse," said Windman, who, in addition to being an author, serves as a theater critic at amNewYork.
Is theater criticism in a state of crisis? If so, what caused it? What can critics and others do about it? Those are some of the questions Windman said he sought to answer in his book.
"And they're uncomfortable questions," he said.
Windman, who is also a lawyer, said he began interviewing about 20 critics in the Summer of 2008, but he put the project aside to attend law school.
Windman said three years ago, he decided to resume writing the book.
"By at that point, things got a lot worse," he said. "The layoffs really began in earnest."
Panel member Peter Filichia, a former long-time Newark Star Ledger theater critic who now freelances, said readers don't value reviews as they once did.
"I fully understand why theater criticism is at its lowest interest to readers," he said. "I blame the producers because they raise the prices so much."
Filichia continued: "How many of you read the caviar column? Is there a caviar column?"
If such a column existed, many people wouldn't read it because they know they cannot afford to buy caviar, Filichia said. He also asked how "we can expect (the) average person who buys the newspaper, should those people exist anymore, to go to the theater anymore?
"It's just too costly. Why should (the average person) read about something he knows he cannot afford? People have been priced out of the market."
Filichia said he learned tickets to the upcoming Broadway revival of "Hello, Dolly" starring Bette Midler, are relatively inexpensive – that is, when you compare the price to tickets for "Hamilton."
"They were only $225," Filichia said sarcastically about "Hello, Dolly" tickets. Suddenly, with "Hamilton" seats selling for $998 a piece, $225 doesn't seem as expensive, the veteran critic said.
Panel member Linda Winer, the theater critic for "Newsday," said she's been doing her job for 47 years with regular paychecks, working with editors and writing for readers "who love the arts."
Winer said she's grateful she has a 401K and is able to work as a theater critic.
"Newsday is a bright light compared to what's happening at other newspapers," she said.
Still, Winer said her reviews are limited to 400 words and her paper no longer has a classical music, art or dance critic. In addition to Winer, the paper employs a television critic, a movie critic and a pop music critic, she said.
"And that's it for criticism," she said.
Winer said the situation for theater critics is getting worse.
"Every time I look up the herd has been culled some more," she said. "Each one of us is at a different stage of decay."
The latter comment received laughs from the audience, comprised mainly of American Theatre Critics Association members. ATCA is "the only national association of professional theatre critics," according to its website at americantheatrecritics.org. The group offers resources for critics, gathers for conferences and advocates for theater criticism's future.
It's not looking good, Winer said.
"Are we in crisis? Hell yes, we are in crisis."
Winer alluded to a report in the New York Times about changes planned for its arts coverage.
"And I can tell you for sure it's not going to be good for the arts," she said.
According to Playbill.com, Times editors on Aug. 2 told freelance critics and writers that the paper would stop its regular coverage of arts, theater and restaurants in the tri-state area – affecting New Jersey, Westchester, Long Island and Connecticut. Deadline.com broke the report. The website reported the change results in the lay-offs of "longtime contributors" and prompted protests from institutions from affected institutions.
Deadline quoted from an email from metropolitan editor Wendell Jamieson to more than two dozen freelance critics and reporters, informing them the Times would no longer use their services.
"Dean Baquet (New York Times executive editor) and I have decided that the resources and energy currently devoted to these local pages could be better directed elsewhere," the e-mail reads. "Therefore, we will publish our final reviews and features in the New Jersey, Westchester, Long Island and Connecticut editions on Aug. 28. The Metropolitan section as it appears in New York City will still be published and circulated throughout the region, but it will no longer include zoned content…Sorry about this, folks. I want to thank you for all you've done, all the fine writing you've given our readers. I wish you all the best."
Former USA Today theater critic Elysa Gardner said arts coverage these days is more celebrity-driven. Using "Hamilton" as an example, she said many stories focused on which celebrities were seeing the show and on ticket sales. There has been "ticket sale story after ticket sale story," Gardner said.
There's much more to write about "Hamilton," Gardner said. She added one can trace a direct line from "Hamilton" back to "Show Boat," in "Hamilton's" "depth and breadth and musical imagination and imagination in every other respect."
"A lot of stories about 'Hamilton' had nothing to do with any of that," Gardner said.
Gardner also noted that today, "everyone is a critic," because social media has become so widespread.
Gardner said while she believes there are "many good aspects" of the proliferation of critics on social media, the "intelligence, curiosity and varied interests" of readers might suffer as a result.
"People (are) not just interested in celebrities," she said.
Jesse Green, theater critic for New York Magazine, said he feels theater criticism is undergoing a crisis, "but theater has been around for thousands of years; it seems to me it's a re-grouping."
One of the positives of bloggers writing reviews is that they're finding people with common interests. Theater criticism won't disappear; it will just be available in different formats, Green said.
Windman agreed. He said bloggers writing reviews "opens up (the) door to many other voices being heard who otherwise might not get the opportunity to write."
Someone might notice a great review written by such a person, and offer a paying job to that writer. But he wondered how theater criticism's "economic potential" might be affected.
Can a new economic model be created for online-based theater criticism, Windman wondered out loud. He added he'd like to see a not-for-profit enterprise support the discipline.
"I don't have these answers but I wonder whether that can be done," he said.
Perhaps online theater criticism needs nonprofit support as well, he added.
One success story of online criticism has been the emergence of www.floridatheateronstage.com.
Bill Hirschman, editor, chief critic and reporter for the website, sat among the critics in the audience. He said his website has been in the black every year of its five-and-a-half years. Hirschman added that when the website launched, people were "tickled to death" that another "legitimate, real-life voice" was joining the shrinking number of existing critical voices.
The "professional-vetted, edited" website reviews "every professional theater production" in South Florida, Hirschman said.
It has continued to exist because theater companies are paying the website advertising dollars as they would to a newspaper, he added.
Hirschman also said he's traveled to many places and is seeing growth in theater companies.
"I'm not saying things aren't bleak because they are, but there are glimmers out there," he said.
Jeremy Gerard, critic for deadline.com, offered the final advice before the panel discussion ended: "Start a blog and write, write, write," he said.
But Winer said she's not giving up as print theater critic.
"They're going to have to pry my cold fingers from the ledge," she said.
More on this topic from Columbia Journalism Review.