Nevermore Based on Edgar Allan Poe
World Premiere Musical in Chicago
By:
Nancy Bishop

-

Jan 10, 2018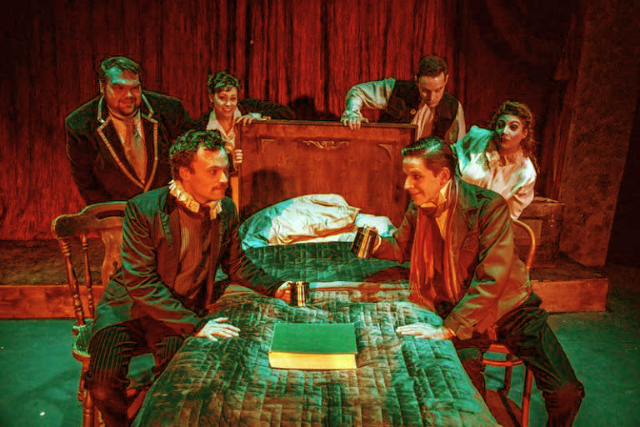 Black Button Eyes' darkly gothic production of Nevermore: The Imaginary Life and Mysterious Death of Edgar Allan Poe makes good use of the Edge Theatre's spacious proscenium stage. The six performers (plus a teenage girl puppet and Kevin Webb as Poe) play many roles to try to keep this story of Poe's tragic life on its path of woe and melancholy.
The world premiere musical with book, music and lyrics by Jonathan Christenson is directed by Ed Rutherford. The play is written in ballad meter so the occasional spoken sections are melodious and the performers carry off both musical and spoken word segments very well. In fact, if anything is in need of work here, it's the structure of the script, which relies far too much on narration (most of it by the impressive Ryan Lanning). Also the six actors play so many characters that it's sometimes difficult to keep track of who is who at any given moment.
Jeremy Hollis' creative set design and Derek Van Barham's choreography make use solely of a bed (it's movable and does double and triple duty as other pieces of furniture), a chair and flexible curtains in black and white that sometimes swathe an actor. Frequent uses of masks enhance the costuming (both by Beth Laske-Miller) and Rachelle "Rocky" Kolecke's props and puppetry mostly work well. However, the lifesize puppet named Sissy, a cousin who becomes Edgar's teenage bride, is more than a little creepy looking. (She's moved and voiced by Maiko Terazawa.)
The story follows Edgar's early life, the relentless tragedies of his teen and adult years, his writing career and his struggles with demon rum. His father abandoned the family and his mother died when he was very young. Edgar was taken in (but never adopted) by the Allan family of Richmond. Jock Allan (Matt McNabb) both spoiled and disciplined his foster son. Edgar's sister Rosalie and brother Henry went to separate homes and the three didn't meet again until adults.
Poe's writings are referenced and quoted throughout. Edgar's performance of his iconic poem, "The Raven," is a highlight of act two. The four musicians on keyboards, synth and percussion, led by Nick Sula, add drama and energy. The melodic score and orchestration (with sound design by Robert Hornbostel and sound engineering by Kirstin Johnson) are excellent. The final song, "A Dream Within a Dream," left us humming as we left the theater, although not merrily.
Webb looks remarkably like his character. The competent six-actor ensemble that surrounds him is made up of Megan DeLay, Jessica Lauren Fisher, Lanning, McNabb, Terazawa and Jeremy Trager. And that puppet.
Black Button Eyes Production's staging of Nevermore: The Imaginary Life and Mysterious Death of Edgar Allan Poe continues through January 28 at the Edge Theatre, 5451 N. Broadway. The show runs 2 hours and 10 minutes including one intermission. Tickets are $30 and can be purchased online.
Posted courtesy of Third Coast Review.