A Dancer's Covid Tale
Chriselle Tidrick's "The Limits of Escape."
By:
Susan Hall

-

Jan 16, 2021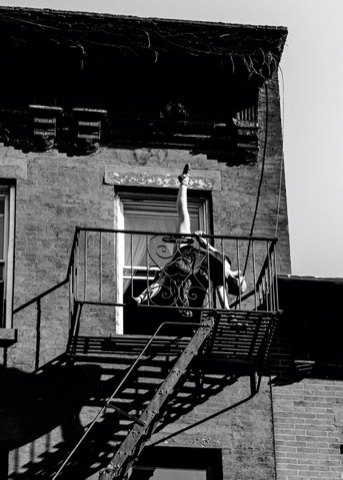 Make Do is not what many artists are doing in the time of Covid. In the process of coping, they have extended boundaries, created new forms, and looked particularly to visual distribution channels to show their new work.
Chriselle Tidrick is a formidable aerial dancer who has also appeared on stilts at the Metropolitan Opera. Here is the dancer herself on how she came to create "The Limits of Escape."
New York City shut down in March, leaving everyone in a state of shock as we spent our days inside listening to the ceaseless wailing of ambulance sirens and news reports of the rising deaths from COVID-19. On the heels of the unsurprising news that People of Color were being disproportionately affected by the virus, we watched again and again the video of George Floyd being murdered by Minneapolis police. Our feelings of grief were compounded.
Meanwhile, the ground completely fell out from under everyone in the performing arts community. Performances were cancelled. Gigs were cancelled. Overnight, performing artists and performing arts organizations saw their sources of income evaporate. Here lay another source of shock and desperation. I was one of the lucky few who continued to have income through this time, but most of my performer friends spent weeks on end trying to figure out how to file unemployment claims, how to survive, and what their futures might look like.
In the midst of all this, I wrestled with the fact that it was impossible for me to continue with the aerial training that is essential to my creative aesthetic. I came to discover that, for structural reasons, it wasn't even possible to install a pull-up bar in my apartment. I watched as my muscles atrophied, and I wondered if it would be possible for me to continue as a creator and performer of aerial dance work. I grieved over what I feared might be the end of my performance career, and I felt guilty for feeling grief over the loss my creative life while thousands of people were literally dying throughout New York City and beyond.
As the weeks wore on, I settled into a routine of online dance classes and solo dance training at home. I worked as a professional dancer for many years, and it felt oddly like coming home to find solace in dance classes and the dance community. I began to think about what I might have on hand to make creation possible under the current constraints. In a flash of clarity, I suddenly realized that I could choreograph a piece for my Brooklyn fire escape. I finally had some inspiration and a clear idea of something I could create.
The creative process began with a step stool in my living room, as I generated movement ideas and imagined what it might be like to dance on my fire escape. Ironically, my first day testing my ideas and movement possibilities out on the fire escape was Memorial Day—the day of George Floyd's murder. I discovered that much more movement was possible out there than I imagined. I felt excited and inspired as I tested out new choreography and found new ways I could make use of the space available to me. The shock of the news of George Floyd's murder (hadn't we already been down this road too many times?), particularly after the excitement of creative discovery, left me questioning whether making art had any meaning under the current circumstances.
Nevertheless, she persisted.
As I continued developing the piece, I found an outlet for my feelings of frustration, grief, and isolation. I found a way to be creative and somehow continue to be my Self. The events of the spring informed and inspired my movement choices on my fire escape.
This character—both myself and not myself— tries to escape her circumstances but realizes those experiences will always be with her. She begins in grief and tears, looks at her surroundings with fear and a sense of overwhelm, and gradually begins searching for a way out. At one point, she feels close to freedom as she moves easefully from place to place, but ultimately she remains trapped by the circumstances of the moment. Escape is never as simple as it seems. As the awareness of the pain of the moment returns, she ends up back where she began—grieving— but this time with a sense of the possibility that lies on the other side of pain.
As many of us have in this time, contact with people long gone from our lives happens without conscious intent. The pre-eminent contemporary composer, Daniel Bernard Roumain (among other works, We Shall Overcome with Bill T. Jones) had been an accompanist in the Jose Limon Dance studio when Chriselle studied there. She had been drawn to his music.Now she contacted him. in response to some music news he posted. I re-introduced myself and let him know how much she loved his work.In discussing the future of the arts in NYC, he generously and spontaneously offered me his music. I floated the possibility of using it for my fire escape project. At that point, I was using a different piece of music, but it was becoming clear that it wasn't working. Following that conversation, Chriselle went back to Daniel's music and found the perfect pieces: "The Loss" and "Slowly Fooled" on the album "Woodbox Beats & Balladry."
Chriselle reached out to a fellow Metropolitan Opera employee, Roy Szuper, who took on the job of directing, camera, and the supervision of editing. Her relationship with Szuper was the good kind of testy. Christelle is a perfectionist, and she disagreed with some of his decisions. She envisaged the work danced only on her fire escape. Szuper insisted on shooting from inside and out. She admits that he was right. Viewers will agree that this dance between interior and exterior response is at the heart of 'limits' and is dramatically realized in camera position.
Chriselle has given several performances of the work for an audience that stands, at regulation distancing and masked, across the street from her fire escape. The film of the work is available here.
Chriselle concludes: Choreographed and performed on my Brooklyn fire escape, the piece centers on themes of confinement, fear, grief, and escape. Despite the fraught nature of much of the movement, the piece also offers glimmers of hope and a sense of the possibility that comes from moving through pain.