Literary Diagnoses Gay
Thomas Mann, Thomas Eakins and Henry James
By:
Susan Hall

-

Jan 20, 2022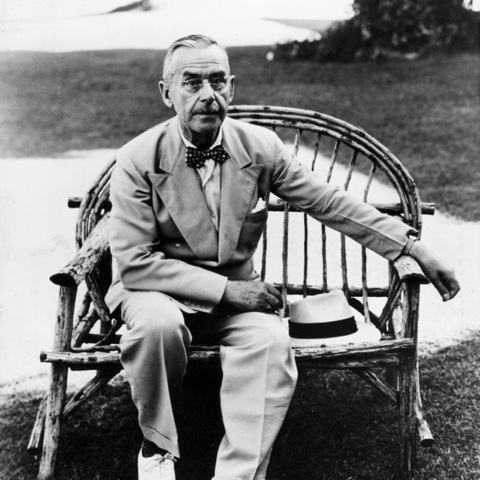 Looking around us, we claim people in our gene pool as our own. Identifying common traits and dispositions is comforting. Homosexuals, who have been outsiders for so long, find similar comfort in detecting common hidden traits in distinguished others.
I have spent a decade studying the life of Thomas Eakins, with whom my great uncle studied. Recent books like William F. McFeely's stretch to embrace Eakins as gay.
Alex Ross, reviewing The Magician, Colm Tóibín's new novel on Thomas Mann, reports that no realized homoerotic encounter has ever been proven. Yet Toibin describes several in his engaging work. Furtive and not so furtive glances pervade the tale. In it, Mann spends a great deal of time looking at beautiful boys and men. Death in Venice launched the insight. It is possible that this work simply reflects the author's sense that a thing of beauty is a joy forever. Mann had a seemingly successful marriage to a highly intelligent and beautiful woman. They had six children.
Mann wrote continuously about his frustrations and confusion about the political fate of his beloved German culture. Clearly its future preoccupied him more than unfulfilled homoerotic desires. Yet there is a need to claim him by the gay community.
When we don't know and can't corroborate, is there value in this embrace? Perhaps we better understand a great artist. Ross points out that the complex character of Mann (and this is true for Henry James and Eakins as well) is insulted by a designation not rich enough to suggest the full scope of the man's character. Ross writes that Tóibín diminishes "the imperial strangeness of Mann's nature." Leading Eakins scholar Kathleen Foster, who would never say that the artist was gay, yet she said he was 'strange.'
I for one wish that these embraces were more tentative, reflecting what is actually known. Henry Adams writing about Eakins never bothered to go to the archive of Eakins' nude photographs housed in the Pennsylvania Academy. In D.T. Max's interview of Tóibín, Tóibín does not defend his stretch.
Think instead of the real characters, including his own, that Mann used as prompts to creations. Composer Arnold Schoenberg was one real figure who influenced the character of the composer in Dr. Faustus. Mann knew Schoenberg and sought him out, not for friendship, but for observation. When Dr. Faustus was published, Schoenberg quickly told people that he did not have syphilis. Schoenberg was so readily identified as the composer that he feared being assigned a disease that inspired the German philosopher Nietzsche in its tertiary phase. Mann's character contracted the disease in a bargain with his devil – and it may have inspired his best music.
Writers use real people in their fiction. Mann may have been inspired by his grandson Frido when he wrote of a young boy that caught the composer's eye in Dr. Faustus. Did he have homoerotic (and a pederast's) view of his son Michael's son? Unlikely. There is no evidence.
It is sad to think that gay people still feel sufficiently outside to claim others as their own when there is no evidence. My experience extends from the suicides of two gay friends in the 1970s, deaths clearly related to their fears of being outed, to friendships with gay people today who are comfortable in their own skins and their own predispositions. They no longer need to claim anyone who doesn't share their preference clearly.
Why do writers still need to make unsubstantiated suggestions and claims?