Charlie and the Chocolate Factory
At San Jose Center for the Performing Arts
By:
Victor Cordell

-

Jan 21, 2022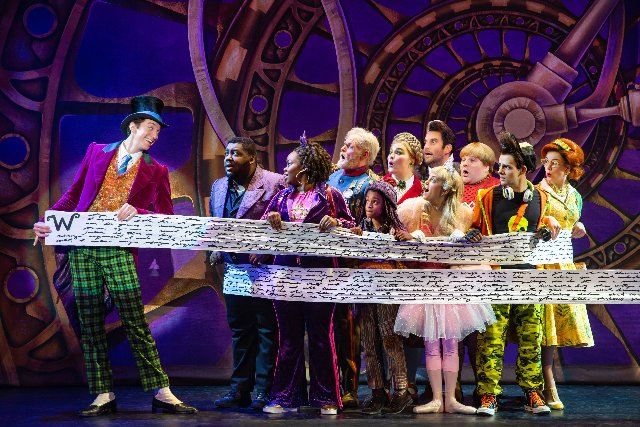 Most of us have confronted situations that are discomforting because we're not sure that we're in a place where we belong. Maybe we're improperly dressed, or we expect to have little in common with the crowd assembled. Well, what about attending a musical based on a children's novel without having kids in tow? When it comes to "Roald Dahl's Charlie and the Chocolate Factory," never fear. At its San Jose opening, very few youngsters could be seen in the orchestra. So, any adult can relax and let the inner child enjoy an exhilarating musical that works on many levels and transcends the age divide.
Charlie Bucket is a child from poverty with hopes and dreams (one might say, a Bucket List!). A lover of chocolate, he is budgeted only one bar of his favored Willy Wonka chocolate per year. When Willy Wonka offers a contest in which five recipients of "golden tickets" hidden in chocolate bar wrappers will receive a free tour of the chocolate factory, Charlie is all in. And (of course), he receives one of the prizes and gets to see the magic behind the scenes.
Casting makes all the difference, especially in the lead roles. A charismatic Cody Garcia leaves an indelible mark as Willy Wonka, both acting and singing. He is a worthy challenger to more famous film portrayers, Gene Wilder and Johnny Depp. Self-absorbed and self-interested, Wonka totally lacks empathy. As Wonka, Garcia delightfully and imperiously crushes the aspirations of any and all. When others suffer tragedies, he sees only the disruptions to his life.
But are there seeds for redemption? What about his signature song "The Candy Man (Can)" in which he "makes the world taste good….and mixes it with love?" Or the inspiration "Want to change the world, There's nothing to it," he offers in "Pure Imagination?" Curmudgeon or motivator? To counterbalance Wonka, a waifish boy to portray Charlie is de rigueur, and William Goldsman, one of the alternates in the role, provides the goods as a loving son and dedicated lover of chocolate.
This touring musical brings all of the glitzy production values of Broadway. Staging, which combines extensive back-lit projection along with movable scenery, is bright, colorful and appealing, especially the brilliant landscape diorama made entirely from candy. The play is highly episodic with different musical twists in the introductions of each winner of the free tour. Lyrics are clever, funny, and revealing. The German, polka-inspired "More of Him to Love" for the pot-bellied boy from Bavaria who wears a string of sausages around his neck is particularly distinctive. That vignette, and others like the one about the unruly Iowa boy whose dipsomaniac mother controls him with physical restraints, are also reflective of Dahl's dark edges. Surprisingly mature themes and streaks of cruelty run through much of his children's literature, but those attributes probably induce adults to like his work.
Perhaps the most memorable feature of the play is the Oompa-Loompas, who help run the factory and who sing and dance at each contestant's calamity. As the story specifies that they are little people, various productions use different solutions. This show's answer is a technique that was made famous by the Fred Astaire-led "triplets" in the movie "The Bandwagon." Several orange-wigged, black-clad puppeteers hide their bodies behind small, white-dressed, full-body marionettes attached to their heads, with the actors' faces exposed. They sing and crack jokes as they manipulate the puppets by hand. The effects, with puppets dancing and gesticulating wildly, are hilarious.
For a fun evening at the theater, this is the ticket.
"Roald Dahl's Charlie and the Chocolate Factory," with book by David Greig, music by Marc Shaiman, lyrics by Scott Wittman and Marc Shaiman, with added songs by Leslie Bricusse and Anthony Newley, and based on the novel of the same name by Roald Dahl, is produced by Broadway San Jose and plays at San Jose Center for the Performing Arts, 255 Almaden, San Jose, CA through January 23, 2022.