Uma Thurman's Flawed Broadway Review
The Parisian Woman Ripped from DC Headlines
By:
Karen Isaacs

-

Jan 22, 2018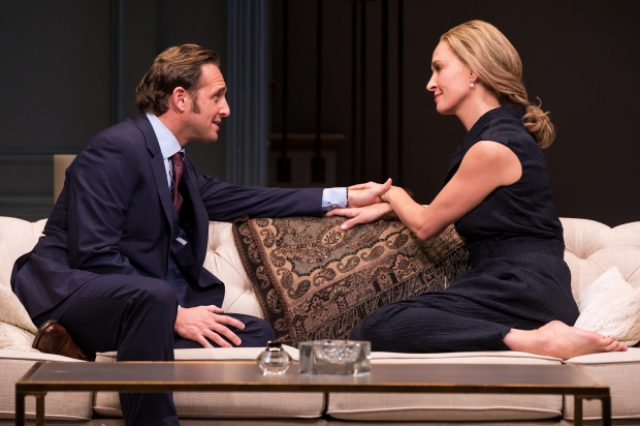 Sometimes when I start to write my review, I feel torn. I know the work wasn't that good or that some of the performances could have been better BUT I really enjoyed the show.
That's the case with The Parisian Woman which marks Uma Thurman's Broadway debut. The play won't stand the test of time and her performance won't go down in the history of Broadway greats.
YET….I am very glad I saw it.
The plot is familiar; a wife who will do almost anything to help her husband gain a position of prestige and power. In this case, it is Chloe (Uma Thurman) whose husband is being considered for a judgeship on the Court of Appeals, but things are not progressing as quickly or surely as both would hope.
In a series of scenes we see Chloe operate behind the scenes to ensure the appointment. From using charm (and more?) on a wealthy admirer to talking up an influential woman at a party to engaging in some not-so-subtle blackmail.
The play is by Beau Willimon, not only a playwright but the creator of the popular Netflix series "House of Cards." It is loosely based on a French play la Parisenne by Henri Becque first produced in 1885. The play scandalized Paris.
So, if the plot isn't really new, what makes it modern? First of all there is a twist which I don't want to reveal about Chloe's private life. Let's just say it was an "open marriage.")
But this is a play about politics. The politics of getting what you want and the political situation in the US today. The play is set in the Trump Administration and several of the characters are high powered Republicans who are trying very hard to convince themselves that all will be well.
This leads to lines that will make both supporters and detractors of the administration laugh.
What makes this play enjoyable is seeing a character so confidently and expertly maneuver and manipulate. Thurman may not be a great stage actress, but with gorgeous costumes, beauty and sophistication, it is a pleasure to watch her operate.
Director Pam MacKinnon has surrounded her with a cast of fine actors. Blair Brown is a delight as the woman, Jeannette, who becomes the ultimate target. Brown's intonations and body language reveal both how uncomfortable she is with the administration but also how she hopes to benefit from it. It is a fine, well defined performance. Marton Csokas has the less interesting role of Chloe's admirer. Playing a relatively boring businessman/millionaire is challenging; if you make him too interesting you defeat the purpose of the part. Philliipa Soo plays the daughter of Jeannette and the one who provides the "twist."
Josh Lucas has the difficult job of helping us understand, Tom, the husband. He needs to convince us that the two are in love and couple, while at the same time, convincing us that he is accepting of Chloe's admirers, many of admirer from very close range. It's difficult and made more difficult because Thurman seems at times so remote. (Think Grace Kelly). It's hard to feel that there is any chemistry. Lucas does the best he can with the role.
Derek McLane has given us a variety of sets including the very comfortable living room of Tom and Chloe. It reveals their economic status without being pretentious. Jane Greenwood has had the task of creating the elegant costumes for Thurman – which she wears beautifully – as well as the others.
The Parisian Woman is not a great play and Thurman's performance is lacking, BUT (and this is a big but), I had a thoroughly enjoyable time seeing it.
It's running through March 11 at the Hudson Theatre, 141 W 44th Street. Tickets are available through TheHudsonBroadway.com.
Courtesy of Two on the Aisle.