Sheepdog By Kevin Artigue
By Shattered Globe Theatre
By:
Nancy Bishop

-

Jan 25, 2020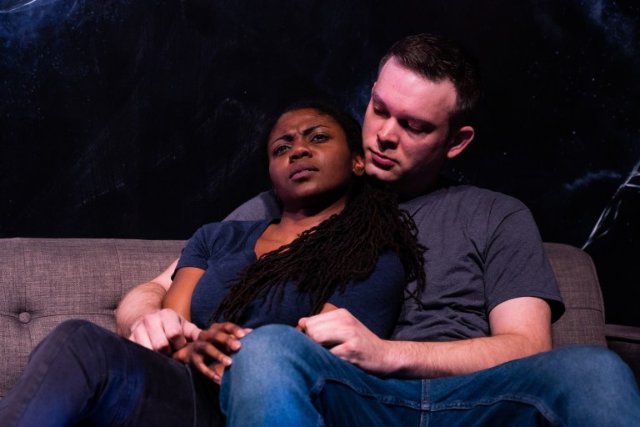 Alton Sterling. Laquan McDonald. Walter Scott. Michael Brown. Greg Gunn. Philando Castile. Some of those names might come to mind as you watch the tense, even-handed police thriller, Sheepdog, by Kevin Artigue. Shattered Globe Theatre's new production, crisply directed by Wardell Julius Clark, will have you holding your breath as the details of the incident spool out over 90 minutes.
Our two characters are officers in the Cleveland Division of Police. Amina (Leslie Ann Sheppard), a college-educated 13-year CDP veteran, is injured and Ryan (Drew Schad), eight years on the force, volunteers to help in her rehab. He also brings her groceries, helps her at home. They're attracted to each other and begin to date. They fall in love and later he moves in with her. Sounds sweet, right? But she's black and he's white and we don't doubt that trouble will result.
The story begins in the middle and scenes flip back and forth, and sometimes repeat. Artigue's script handles this time-switching smoothly, and you always know where you are in the story. Amina narrates the action and describes her reactions. The two-character story avoids inertia because the characters are mobile; they're in different locations with minimal scene changes. Eight offstage voices also contribute to the story.
When Ryan is promoted to the drugs unit, he begins to hang out with a group of cops. Amina is concerned. "It's just beers," Ryan says. But then one of the other cops behaves violently with a suspect and Ryan feels he should report him. Amina reminds him of the blue wall of silence. "Listen to me. If you speak up, they'll put the screws on you and nothing will change… except you'll become a rat. And you'll never live it down."
But then Ryan is the cop who shoots a black man. He's remorseful. There are inconsistencies between versions of the story. Ryan's bodycam somehow cuts out during the incident. Amina is determined to find out what really happened and pursues the story to its conclusion.
The subject of race comes up between them, as it must. When Ryan says, "Why is it always about race with you?" Amina answers, "Hold up. You know why it's always about race?? Because I'm BLACK. Because I have no choice in the matter." And later, she notes, "…it comes down to this: You're black before you're Blue…."
Ryan explains the play's title when he mentions a writer who describes the role of "the warrior." There are three kinds of people. Sheep, normal citizens who avoid violence. Wolves, who perpetrate violence on the sheep. And sheepdogs, who keep the wolves from harming the sheep through "righteous violence." It's probably a reference to the scene in the film American Sniper, where a character quotes from a 2004 book, On Combat, by Lt. Col. David Grossman.
Clark's direction is absolutely crucial to the timing and movement of Sheepdog. Both actors are capable but Sheppard's performance is stunning. She speaks, gestures and moves as if she's been a cop forever. Her performance is nuanced and emotive, as she struggles to make sense of her love for Ryan and her realization that perhaps she is not always black before she's blue.
Sydney Lynne Thomas is scenic designer of the minimalist, not entirely homey-looking, Cleveland suburban home. I'm a minimalist to the bone but this home design seems to go too far in that direction. Lighting design is by Jason Lynch and original music and sound design by Christopher Kriz. Projection design is by Smooch Medina. Costumes are by Hailey Rakowiecki.
Sheepdog by Shattered Globe Theatre continues at Theater Wit, 1229 W. Belmont, through February 29. Tickets are $42 for performances Thursday-Sunday. Discounts include student rush tickets, industry tickets, under-25s and seniors.
Posted from Third Coast Review/