TFANA Streams an Outsider Rehearsal
John Douglas Thompson Takes on Shylock
By:
Susan Hall

-

Jan 28, 2021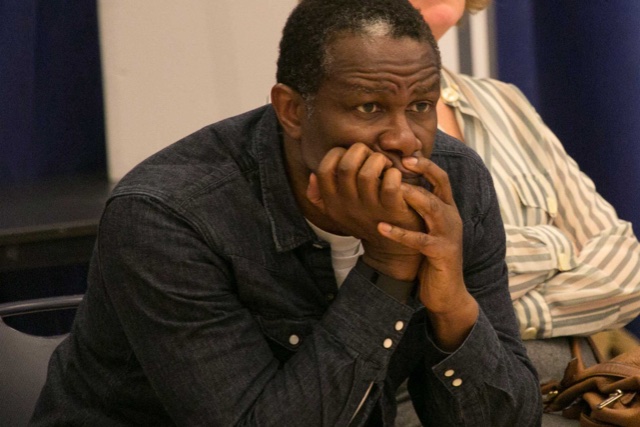 Preparing for live-reopening, Theatre for a New Audience (TFANA) is sharing its rehearsal process. Arin Arbus, a regular as TFNA, directs. She and John Douglas Thompson have worked together on Otello and Macbeth. Now they take on Shylock and Merchant of Venice.
The evening, to be continued on Saturday at 3pm, was a mix of on-book performance, cast and crew discussion, led by Jeffrey Horowitz who heads TFANA, and audience questions.
We learn that Thompson has watched theatre, live streaming and on video, over the years. He observed the techniques of superior talents. Yet he noticed that no one like him was on the stage. This distanced him from productions. He vowed to take on traditionally white male roles so that a new audience could identify with the action on stage. Who better than Thompson to take on the roles of Otello and Macbeth.
The "outsider" is a figure Thompson deeply understands. As black man in modern America, he is an outsider Otello and Shylock's status comes immediately to mind as we engage with the actor.
Four excerpts from four scenes in the play were streamed. Actors read from their home locations. The cast is of color, ranging from peach to deep brown. Latinas and Latinos are represented, along with blacks.
This casting helps make the work of our times, Arbus notes. In post-play call-ins, a audience member noted that Shakespeare's plays exist in three times: the time in which Shakespeare wrote, the period of the play, and now, the present. To keep diversifying audiences, we must put a rainbow of actors on the boards.
Merchant of Venice was written when Jews were banned from England. Unattractive "Jewish' traits are magnified in 'usury.' If say F. Murray Abraham plays the role in our time (TFANA 2007), people leave the theatre mumbling loudly "anti-Semitic.'
Thompson does not leave this taste. I keep hearing him say softly, 'thrift.' Is a Jew in Venice able to lend money because he has the attractive trait of "'thrift?"
As Thompson speaks, you feel Shylock's pain. His daughter has left home to marry a Christian. She has taken a treasured ring of Shylock's and then sold it for a monkey. For Shylock, a wilderness of monkeys are not worth this ring.
In Thompson, Shylock becomes a sympathetic and human figure. Hardly perfect, but understable. Arbus points out that no one in the cast is attractive. Yet we recognize in all of them a human mix of good and bad. We can identify.
Sharing rehearsal insights, the cast discusses their effort to make one of the finest crafters of word into present meaning.
Join the troupe again on Saturday, for more production and more lively conversation. TFANA is a warm and interesting spot for Covid shut-ins. For an afternoon of theatre, click here.