Cabaret Panel at Theater Critics Conference
Cabaret Performers Tout Their Art Form
By:
Aaron Krause

-

Jan 29, 2017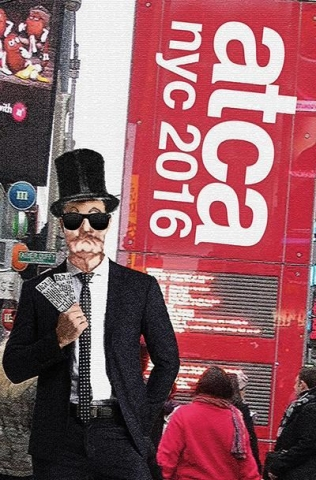 At its root, Cabaret is real estate.
"It's a room," writer/director Gerry Geddes said. "And what happens in that room can be magic. A performer can do whatever they want in the space of a cabaret."
Geddes spoke those words while surrounded by Cabaret performers. They comprised a panel that sought to enlighten a critics group about Cabaret, its challenges,characteristics and rewards of performing in that style.
Geddes served as moderator.
The audience mostly comprised members of the American Theatre Critics Association, a national association of professional theater critics (www.americantheatrecritics.org).
Among other tidbits, the critics learned that Cabaret shares similarities with shows reviewers might be more accustomed to seeing.
"I think of Cabaret as being at the core of all performance," panelist Laurie Krauz said. "In the center of it, we're going to that place where every actor wants to go: the truth of something."
The Bronx-born-and-bred Kruz "thrills audiences with her award-winning blues-inflected jazz vocals and her powerful emotional range," according to her website at lauriekrauz.com. "Blazing new musical territory, Laurie combines improvisational elements with the passion and sensuality found in other forms of music to create a unique, soulful jazz…she creates a mood and weaves a musical story with every cell of her being."
One of the differences between traditional theater and Cabaret is that in the latter, the "fourth wall" doesn'texist. In other words, Cabaret performers are not only aware that audience members are watching them, but the performers interact with them.
Kim David Smith is no stranger to the art form.
Broadway World described him as the "David Bowie of cabaret" while the New York Times called him the "Male Marlene Dietrich."
The award-nominated singer and cabaret performer is famous for his "Weimar-era inspired works that juxtapose authentic musical material with stylistic takes on current popular tunes," according to his website, located at kimdavidsmith.com.
Smith told the audience that he enjoys the "lawlessness" of Germany's Weimar Republic, the end of which serves as the setting of the John Kander and Fred Ebb musical "Cabaret."
Last summer, Smith performed the role of the emcee in the musical, which illustrates the decadence of the time as seen in a cabaret setting. It's there that eccentric folks choose to party, paying no heed to the impending signs of the Nazi party's rise to power.
The dark, sexy emcee "has no fourth wall and bless him, because that's my favorite thing," Smith said.
He added that after he attended a university, people encouraged him to create his own content.
He performed shows in a club "where Sally Bowles went to die," Smith said, referencing one of the characters in Kander and Ebb's "Cabaret."
The thought of such characters might spring to mind when people think of the word "Cabaret," but it's an eclectic art form.
"It can be anything that you want it to be," said panel moderator Gerry Geddes, a director and writer specializing in Cabaret and theater in New York City.
Geddes said he's witnessed a drag queen a capella rock group perform political satire about the most recent election. He's also seen an iconic jazz singer in her mid-80s "still finding meaning and excitement in the songs she sings."
"This place is the most wonderful place, I think, in the world for intimate music making and investigation of lyrics," Smith said. "That, to me, is what Cabaret is all about."
While it's rewarding, it's hard work, at least one panel member said.
"My own family doesn't understand what I do," Krauz said.
She added that when it comes to working on a show, she's its producer, writer, agent, booking manager and coach.
"I do work on all of my arrangements," Smith said. "It's a lot of work."
Still, Smith and Krauz said they enjoy the work.
"I love the angst of the creative process," said Krauz. "It feeds my soul so deeply that it keeps me going until the next time."