Around the World in 80 Days
Seven League Boots for Solona Beach California
By:
Jack Lyons

-

Feb 01, 2018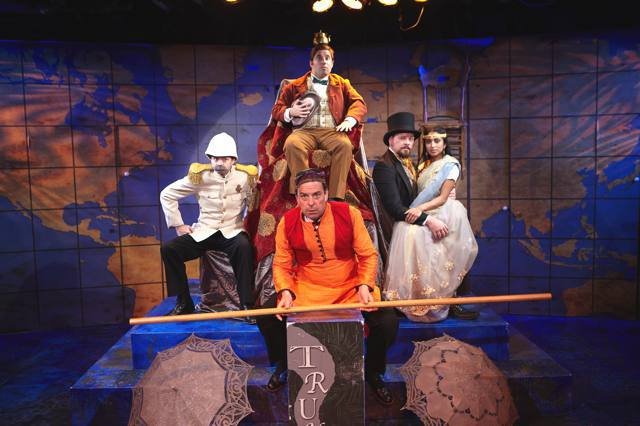 North Coast Repertory Theatre (NCRT) of Solana Beach, CA is gifting its audiences with a 'master class' in farce/comedy ensemble acting with its delightful, whimsical, tongue-in-cheek, production of the Jules Verne classic tale "Around the World in 80 Days".
For those of you who are familiar with the eponymous 19th-century novel, you may ask yourself how can a story about circumnavigating the world in 80 days, not only fit onto the NCRT stage but perform the miracle where 39 characters are played by just five extremely talented performers? As Sherlock Holmes always said, "Patience, Watson. All will be revealed."
Audiences of a 'certain age' will remember the epic sweep and grandeur of the 1956 Academy Award-winning movie where three extremely wealthy English gentlemen, while playing cards at their club one day, wonder if it is possible to for anyone to actually circumnavigate the globe in under three months now that railroads, sailing ships, caravans, and stagecoaches are accepted methods of travel?
As an inducement to find a candidate they agree to sweeten the adventure with a wager of 20,000-pound sterling to anyone who can accomplish the feat. If that sum feels paltry even for wagers in the 1870's, the financial exchange rates in today's economy would make it little over $ 2 million dollars on the line. That level of wagering is nothing to sneeze at. In fact, it was so intriguing a proposal that one of the gentlemen, Phileas Fogg (Richard Baird), boasts that he will not only accomplish the feat himself, he will do it in 80 days. One would think that the idle rich of Victorian England would have come up with more interesting ways of spending their money.
"80 Days", freely adapted from the Verne novel, is a visual delight for ages eight to eighty. One doesn't have to be over-engaged with the sprawling story to follow the absolutely creative execution of the story, by the actors thanks to five sensational Equity actors: Richard Baird as Phileas Fogg, Omri Schein as Fogg's loyal French valet Passepartout, Lovlee Carroll as Auoda, the love interest of Phileas, Loren Lester as the non-threatening Scotland Yard Inspector Fix, (the opposite of Inspector "Javert" from 'Les Miz'), and Will Vought as a wonderful theatrical general factotum of many characters.
Yes, there are echoes of the play "The 39 Steps", a farce/comedy that also relies on the skill of its actors working at warp speed. One, however, is blown away by the energy and high octane performances and the impeccable timing of this cast and its pace set by director Allison Bibicoff.
Baird's performance as Fogg is a study in English discipline, manners, and decorum. As Fogg, he's calm, unflappable, completely in charge of every situation, and is a delight to watch him work his magic on an audience. Schein is a bundle of controlled energy that lights up the stage, especially, when physical comedy is called for. The task of melting the stiff-upper-lip demeanor of Phileas falls to the dark-eyed East Indian beauty Auoda, played by Lovlee Carrol. Lester is right there with his mastery of accents, as the redoubtable Inspector Fix and other characters. Vought, whose credits speak of him as a stand-up comedian, is the perfect actor to master many accents and costume changes; always in character even when he walks out of one door, only to reappear from another, maybe 10 seconds later as a different character. One can only imagine the controlled mayhem taking place backstage with actors, dressers, and backstage personnel, who no doubt, work their derrieres off to insure the audience doesn't miss a beat of this enjoyable production.
"Around the World in 80 Days" is a true ensemble creative effort led by director Bibicoff, along with resident Design wizard Marty Burnett who has designed NCRT's last 175 productions. His cohort, and Lighting designer Mattt Novotny, incorporates his creative lighting plot and between them this creative duo knows every nook and cranny of the North Coast stage. According some of the actors I've spoken to over the years, say it's such a pleasure to work in stage productions designed by this duo.
The costume designs of Kim Deshazo are spot on for the period. Not only do they look authentic, they have been designed for those lightning costume changes required by all comedy/farce productions. The sound design by Dave Mickey lends that extra aural touch of reality; enhancing the overall visual experience. The Prop design by Holly Gillard is the icing on an already tasty divertissement. Technical teams and their attention to production details is what will separate a good production from a great production.
"Around the World in 80 Days", is a stellar production that shines in the technical department as brightly as it does for the on-stage actors. It , performs at North Coast Repertory Theatre through February 4, 2018.