The Devil's Music: The Life and Blues of Bessie Smith
By Angelo Parra at Center Repertory Company
By:
Victor Cordell

-

Feb 02, 2020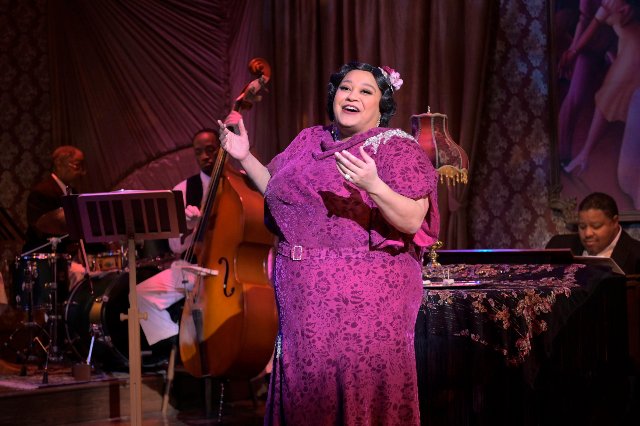 What does it take to produce a successful jukebox musical biography? Minimally, you need a subject of considerable interest and a performer who can look and sing the part with some authority. With Central Rep's The Devil's Music, you get an extraordinary singer with great charisma and acting chops. Put her in a quality production that adds depth and nuance, and you have a great evening of entertainment.
Bessie Smith apprenticed with Ma Rainey, "The Mother of the Blues," and took the world of entertainment by storm in the early 1920s. Rejected by African-American owned record companies because her music was "too black" sounding, Bessie was picked up by Columbia. In 1923, her rendition of "Downhearted Blues" sold over 700,000 records in its first six months and saved the record company from bankruptcy. She would become known as "The Empress of the Blues" and was the highest paid black entertainer of her era.
Katrina Lauren McGraw portrays Bessie Smith, and what a portrayal. Bessie was unapologetic about loving life on her terms, and McGraw exudes her style with great panache and humor. She commands the stage, prancing like a cat on the prowl – with a shimmy here, a shake there, and always an air of open-face, smiling confidence. Bessie's love of hooch was legendary, which is depicted onstage with constant swigs from flasks and jiggers poured into a crystal glass.
Bessie's bisexual proclivities were also public, and her hunger is on display. Bessie wrote numerous compositions, many with concerns about social issues from the black perspective. And she repeatedly called for women to stretch beyond the moral received wisdom of the day. When McGraw writhes and rubs her hands on her body as she belts Bessie's lyrics "I need a little sugar in my bowl, I need a little hot dog between my rolls," there is little ambiguity regarding what she's referring to.
.
McGraw pleases from beginning to end with her larger than life performance. She eggs on the crowd to respond to her as they do with relish. Her voice contains all of the characteristics needed for the role. Maybe a bit brighter and higher pitched than Bessie's, her mellifluous voice is dominated by well-controlled vibrato along with growl and caressed or squeezed high notes as needed.
The stage appropriately appears as an early 20th century New Orleans bordello. Supported by a four-piece band, McGraw imprints every song, most of which are upbeat blues, with her powerful voice and appealing style. But three will be known and especially appreciated by virtually everyone in the audience – the melancholy "I Ain't Got Nobody" and "T'ain't Nobody's Bizness If I Do," and finally, the exquisite dirge "St. Louis Blues."
Bessie suffered many setbacks in life. Her husband, Jack Gee, philandered and abused. She was found unfit as a mother for her adopted son. Her hard living life style failed acceptance by many parts of society. Sometimes exacerbated by her fame, she faced the victimization that all black Americans in her era did, including confrontations with the Ku Klux Klan.
Yet, if there is one weakness in the show, it is that these incidents don't evoke the heart-in-the-throat response that you might expect. In part, that may derive from the interspersed and episodic nature of the dramatic parts as opposed to building a dramatic arc. Or perhaps it is because McGraw's portrayal exudes such élan, that you know that she will sweep these inconveniences aside with ease.
P.S. – Despite 7,000 attending her funeral, Bessie Smith lay in an unmarked grave for many years, as her ultimately estranged husband pocketed funds donated for her headstone. That was remedied in 1970 with a gift from one Janis Joplin.
The Devil's Music: The Life and Blues of Bessie Smith, written by Angelo Parra, is produced by Center Repertory Company, directed by Darryl V. Jones, and plays at the Lesher Center, 1601 Civic Drive, Walnut Creek, CA through February 22, 2020.
Posted from For All Events.