Bill T. Jones and Anne Bogart Collaborate
A Rite at Williams '62 Center March 17
By:
Williams

-

Feb 03, 2015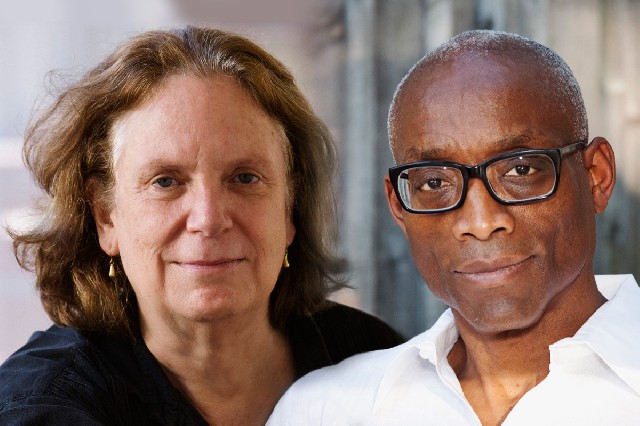 The '62 Center for Theatre and Dance's CenterSeries is excited to present Bill T. Jones/Arnie Zane Dance Company and Anne Bogart's SITI Company as they join forces for A Rite. These two celebrated companies examine The Rite of Spring, Igor Stravinsky's groundbreaking masterpiece. His celebrated collaboration with choreographer Vaslav Nijinsky was so revolutionary at the time of its Paris premiere that it incited a riot, and A Rite attempts to imagine the consequences of hearing the piece played for the very first time, with a libretto that pulls from the diaries of World War I veterans, the writings of physicist Brian Greene, and many other sources. There will be one performance only, on Tuesday, March 17th, 2015 at 8:00 PM on the '62 Center's MainStage, located at 1000 Main Street, in Williamstown, MA. Tickets are $10/$3 students.
"Our intention is to create a meditation upon the phenomenon of the encounter with Igor Stravinsky's music and with the history that the piece carries upon its back. We are taking the work apart and putting it back together again in a way that we both hope will speak to audiences everywhere. The music is prime and the social-historical context is a point of departure as is the community created by the joining of our two companies. We both believe that the work allows us the opportunity to reflect upon the human condition: sacrifice; creative and spiritual rebirth; the individual against or with the community. Much of the spoken text will be by Jonah Lehrer from his chapter on Stravinsky in his bestselling book Proust Was a Neuroscientist. The result will not be a re-construction of the performance and subsequent riot at the infamous Parisian premiere, but rather a deconstruction of the music and its impact upon the development of the human mind." Anne Bogart & Bill T. Jones
SITI was founded in 1992 by Anne Bogart and Tadashi Suzuki to redefine and revitalize contemporary theater in the United States through an emphasis on international cultural exchange and collaboration. Originally envisioned as a summer institute in Saratoga Springs, New York, SITI has expanded to encompass a year-round program based in New York City with a summer season in Saratoga. www.siti.org
Now in its 31st year, the Bill T. Jones/Arnie Zane Dance Company was born out of an 11-year collaboration between Bill T. Jones and Arnie Zane (1948–1988). During this time, they redefined the duet form and foreshadowed issues of identity, form and social commentary that would change the face of American dance. The Company has performed worldwide in over 200 cities in 40 countries on every major continent and is recognized as one of the most innovative and powerful forces in the dance-theater world. Touring projects for the 2013-2014 season include major new work, repertory classics, minimal duets and Bill T. Jones's return to the stage. www.newyorklivearts.org
This performance is made possible by the W. Ford Schumann '50 Endowment for the Arts and the Lipp Family Fund for Performing Artists.
As with all CenterSeries productions, the '62 Center presents Integrated Programming to offer an academic context to A Rite. All Integrated Programming events are FREE and open to the public.
March 16 – Anne Bogart class visit with Professor Robert Baker-White's acting class. (Reservations required)
March 16 – Anne Bogart class visit with Professor Omar Sangare's acting class. (Reservations required)
March 16 – SITI company members class visit with Professor David Eppel's Struggle Theatre class. (Reservations required)
March 16 – Bill T. Jones Master Class, Williams College. (Reservations required)
March 16 – Mini-Commission, Anne Bogart: site-specific presentation in Sawyer Library at 7:30 pm.
March 17 – Movement class, Mt. Greylock Regional High School. (Reservations required)
March 17 – Bill T. Jones visit with Professors Erica Dankmeyer and Amy Holzapfel's The Body as Book: Memory and Reenactment in Dance & Theater. (Reservations required)
March 17 – Mini-Commission, – Bill T. Jones' company Dancer & collaborator Jenna Riegel panel discussion in Sawyer Library at 6:00 pm.
March 17 – Post-Show Q&A with Chair and Professor of Theatre David Eppel.

Continuing its mission to contextualize arts within scholarly inquiry, the Center presents an impressive body of work that sets student work side-by-side with that of professional artists. We strive to challenge traditional forms, engage with a larger political dialogue and allow our audiences to explore diverse modes of expression. Not content merely to present popular work, the Center's professional performances, workshops and student productions are designed to invite the entire community to engage, debate, and celebrate the experience of both witnessing and creating live art.
For tickets, visit the Williams '62 Center Box Office Tues-Sat, 1-5 pm or call (413) 597-2425. For more information, please visit http://62center.williams.edu