Rotterdam
At Island City Stage Near Ft. Lauderdale
By:
Aaron Krause

-

Feb 04, 2023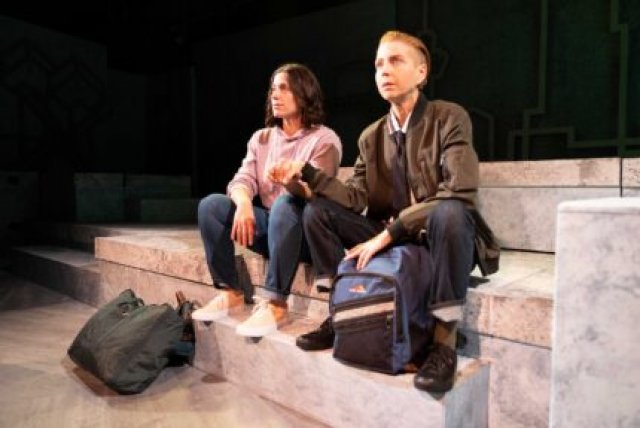 Change can be hard for anybody, especially when they least expect it. With that in mind, you may find it easy to identify with Alice, even if you disagree with her about most things.
Alice is a character in Jon Brittain's touching and funny, award-winning 2015 play, Rotterdam. It is running at Island City Stage in a strong production through Feb. 19. The company's intimate performance space is located in Wilton Manors, near Ft. Lauderdale.
Alice has known she was gay ever since she was a child. However, she never told her parents about her sexual preference. In fact, she had a boyfriend.
Now, in her late 20's, Alice is about to finally e-mail her parents a letter in which she comes out to them. Sending that e-mail will be "the most important thing I've ever done," she says.
But just as she is about to hit "Send," her girlfriend, Fiona, blindsides Alice. Specifically, Fiona tells Alice that she wants to start living as a man because she always knew she was one.
Suddenly, Alice questions everything she thought she knew about herself. And what does Fiona's confession mean for her own future and the couple's future?
With humor and compassion, and without preaching or judging, Brittain takes us on an emotional journey in which Rotterdam's characters undergo difficult transitions. We see them, warts and all, struggle to adapt to their new circumstances. Symbolically, the play takes place in the Dutch city of Rotterdam, itself a city of transition. Also symbolically, Rotterdam takes place on and right before New Years Day around 2017. Of course, the new year is a time of new beginnings for many.
"You're not supposed to stay in Rotterdam," Alice's ex-boyfriend and Fiona/Adrian's brother, Josh, tells her. "It's a port. Everything's moving on, it's all just passing through, nothing's standing still. It's all on its way somewhere…else."
Alice and Fiona, who becomes a straight man named Adrian, may soon be on their way back to their native England. Both work in the Netherlands — Fiona/Adrian as a teacher and Alice for an English company based in the Netherlands.
While the playwright makes it easy to identify with Alice, he shows compassion for the other characters as well, including Fiona/Adrian.
"I don't want to change the world," the character says. "I just want people to see me the way I want to be seen. The way I am. I'm a man. I am a straight man in a woman's body."
But Fiona/Adrian finds his transition to be anything but easy. For instance, the character starts fights with anyone who misgenders him. And the character's new identity as a man may just cause Alice to part with him for good.
In fact, for Alice, time started moving uncomfortably fast ever since Fiona/Adrian announced she was really a man. In fact, Fiona/Adrian agrees with Alice that things have been going too fast.
"I know they have, OK?" he tells her. "I'm sorry. We can take it slower. We can take it all slower. Just, give it time and you can get used to it. You will get used to it."
One of the beauties of the emotionally-rich Rotterdam is that the playwright makes it easy to sympathize with all of the characters. None come across as self-centered or arrogant, even when they are assertive.
And in Island City Stage's winning production, the actors create believable, sensitive, three-dimensional characters under Michael Leeds' careful direction.
Autumn Kioti Horne's transition from Fiona to Adrian is so subtle that we barely notice that it is happening. At first, Horne imbues Fiona with an easy-going demeanor, quite a contrast from Suzanne Ankrum's jumpy, nervous Alice.
Horne makes us keenly feel Fiona/Adrian's emotional pain, particularly during one scene when the character is an emotional mess. We watch, perhaps tearful, as a panting, dysregulated Adrian, leaning against Josh's body, falls to the floor, wondering why Alice no longer likes him.
Meanwhile, Ankrum imbues Alice with a touching sensitivity and a tentativeness that fits her character. She is hesitant to take risks, unlike the more adventurous and laid-back Lelani.
Horne and Ankrum share a strong chemistry. At first, they are believable as a loving couple. Visual displays of affection look sincere. In fact, their tenderness toward each other make it hard to watch later scenes when they are distraught and almost at the point of breaking up.
Abbie Fricke conveys a fun-loving and loose aura as Lelani, Alice's co-worker who harbors feelings for Alice. Fricke, who speaks in a convincing Dutch accent, also injects her character with palpable emotional pain during tense moments.
Robert Koutras also delivers a believable performance as a sensitive and supportive Josh.
Behind the scenes, the set by Robert F. Wolin is more symbolic than literal. Specifically, the set consists of what looks like the skyline of a city, in this case Rotterdam. However, the set also resembles a complex maze. If you have to navigate through it, you must change your direction at times, just as these characters must quickly change during their times of transition. The characters must be flexible, as this set is. For example, in addition to the skyline/maze, the set includes multiple platforms and boxes. In one scene, one of the boxes transforms easily into a dining table.
Also behind the scenes, Ardean Landhuis's realistic lighting helps focus the actors. In addition, Landhuis appropriately varies the intensity of the lighting to convey mood and specify locale.
Casey Sacco designed the character-appropriate costumes, and Jenni Hacker, as intimacy coach, helps the performers create believable scenes involving closeness.
You should be able to identify with the characters in the emotionally rich and relatable Rotterdam. And kudos to Island City Stage on yet another strong production. Rotterdam is ICS's opening show for the 2022-23 season, the company's 11th year.
ICS is dedicated to creating quality professional theatrical experiences focused on the LGBT+ community for a universal audience.
Island City Stage's production of Rotterdam runs through Feb. 19 at the theater, 2304 N. Dixie Highway in Wilton Manors. Ticket prices range from $40 to $55. For more information, call (954) 928-9800 or go to www.islandcitystage.org.