Constellations by Nick Payne
Brief Evocative and Frustrating at TheaterWorks in Hartford
By:
Karen Isaacs

-

Feb 08, 2018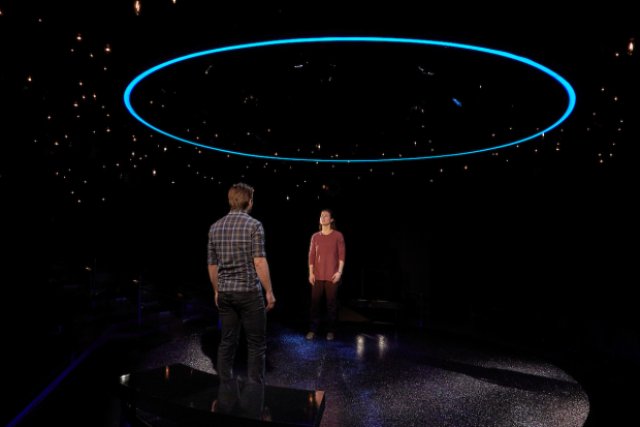 Constellations, by Nick Payne, the brief play at TheaterWorks in Hartford through Thursday, February 22 is a frustrating work.

It wants to be deal with the time/space continuum, the infinite possibilities of human interactions and quantum physics. To a limited extent, it succeeds with moments that are fascinating.
But too often, it seems repetitious, pretentious and like an exercise for an advanced acting class.
Yet the production is excellent. Rob Ruggiero who has directed this piece has gotten – with cast and production team – every nuance, every laugh and every thoughtful idea in front of us.
The two actors – Allison Pistorius as Marianne and M. Scott McLean as Roland – create as full characters as possible.
We meet Roland and Marianne — in fact we meet them multiple times as they meet each other in multiple scenes. The gimmick of this play is that it is a series of very brief scenes that are played over and over again, sometimes with different outcomes.
So the two meet at a soggy barbeque multiple times — sometimes the exchange goes well and sometimes it doesn't or the potential relationship is aborted because Roland is married or attached. The other scenes in this play about their relationship are also repeated.
But this is about relationships, so the two date. Again we see some possibilities of what might occur at the end of a first date: does she invite in to her flat, does she ask him then to leave, does he want to leave, or do they spend night? And so it goes through stages of the relationship.
Which of these possibilities is reality? Or are all of them real in different universes? That is left up to each of us to decide.
TheaterWorks has been reconfigures to move the stage more into the center of the space, with audience on all four sides. This gives each of us a slightly different perspective on the actions and characters. Above the playing area, lighting designer Philip S. Rosenberg has hung starlike lights. Billy Bivona composed and plays music throughout the piece; sometimes it sounds futuristic and other times almost atonal.
The play attempts to talk about individuals and options. Marianne is a quantum cosmologist while Roland is a beekeeper. It certainly gives her the opportunity to talk a great deal about chance, the importance of what we do and what we don't do and more. And Roland is given the opportunity — at least twice — to explain the life cycle of members of the hive.
It's possible to draw significance from these two professions: Marie's dealing with the abstract and the future and Roland's grounded in nature and reality.
It's given to Marianne to underline some of the points Payne is trying to make: that several outcomes can co-exist simultaneously and that there is a parallel universe. She also gets into the question of free will and does it exist.
Allison Pistorius and M. Scott McLean show us how tentative each of the characters is as they approach this romance. You hope that it goes well because you like them as characters; perhaps they remind us of our own tentative efforts at connections with others and how both transitory and accidental they can be. But at times you don't understand their motivations, sometimes they seem more like puppets. Even at 75 minutes or so, I checked my watch several times.
While I still wonder if Constellations isn't more gimmick than play, I have found myself thinking about it ever since I saw it. So that means it has interested and stirred me.
Constellations is at TheaterWorks, 233 Pearl Street, Hartford through February 22. For tickets call 860-527-7838 or visit TheaterWorks.
Courtesy of Two on the Aisle.