Shakespeare & Company Tickets on Sale
Two Shakespeare Plays and Homer's Iliad
By:
S&Co

-

Feb 10, 2022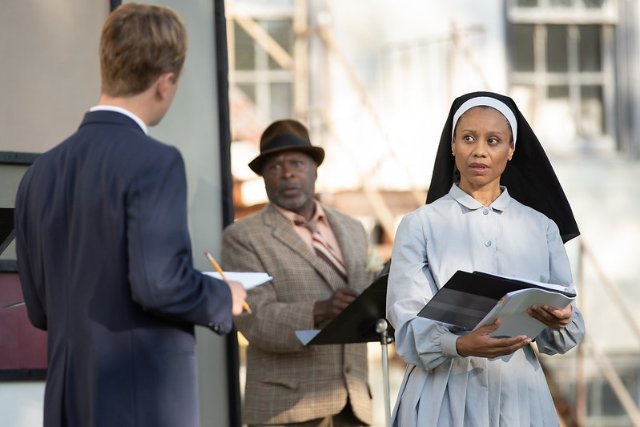 Two Shakespeare Plays and a Greek Tragedy Adaptation to be Staged in 2022
LENOX, Mass. – Shakespeare & Company has announced tickets are on sale now for the three Classic productions of its 45th Season: Shakespeare's Much Ado About Nothing and Measure for Measure, and An Iliad, an adaptation of Homer's epic poem by Lisa Peterson and Denis O'Hare.
An Iliad?will be staged from Friday, June 3 through Sunday, July 3 indoors at the Tina Packer Playhouse, directed by Jeffrey Mousseau and featuring MaConnia Chesser. Playwrights Peterson and O'Hare have transformed Homer's text – from Robert Fagles' translation – into a riveting monologue that explores the human compulsion toward violence.
Much Ado About Nothing?will be staged outdoors at The New Spruce Theatre from Thursday, July 2 through Sunday, August 14. Directed by Kelly Galvin, Much Ado About Nothing features some of Shakespeare's most satisfying language as it tells the story of two romantic pairings steeped in comedy, trickery, and intrigue.
Measure for Measure, directed by Alice Reagan, will be staged Friday, August 19 through Sunday, September 18 indoors at the Tina Packer Playhouse. With elements of both comedy and tragedy, Measure for Measure includes several parallels to many of today's social issues.
Tickets to these performances range in price from $37 to $82; preview performances are $10 less. FLEXpasses are also available now in three- and five-show packages, at $150 for three-show pass or $260 for five-show pass, from now until April.
Shakespeare & Company's Modern titles of the 45th Season will be announced at a later date. For more information or to purchase, visit shakespeare.org.
Photo Caption: Measure for Measure is one of three Classic productions that will be staged at at Shakespeare & Company this summer. Pictured left to right are David Gow, Charls Sedgwick Hall, and Nehassaiu deGannes in the 2021 workshop production of the play. Photo by Christina Lane.