Company XIV's Adults-Only Snow White
Outrageous Burlesque at NY's Minetta Lane Theatre
By:
Deborah Heineman

-

Feb 11, 2016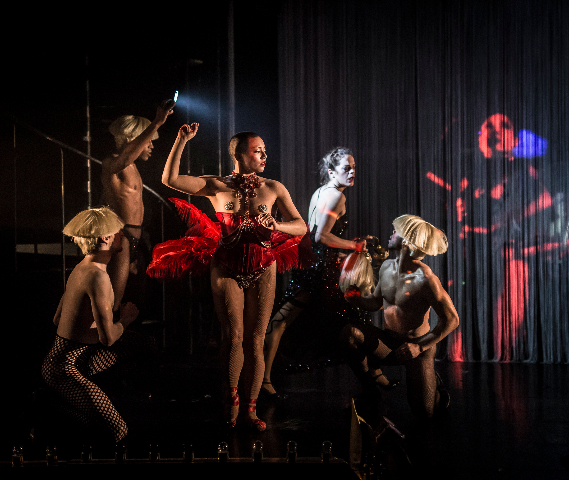 Conceived, directed and choreographed by Drama Desk Award nominee Austin McCormick, there is never a dull moment when Company XIV puts their special spin on burlesque, circus, opera, dance and just plain fun on irreverent interpretations of classic fairy tales!
The Company has been in residence at the Minetta Lane Theatre for the Fall/Winter season, presenting a trio of twisted tales: "Cinderella," "Nutcracker Rouge," and now, "Snow White." Many of the actors are, like McCormick, classically trained, and several have appeared in all three performances. Using few words but lots of song, music and even acrobatics, Snow White succeeds because the cast is just so damned multi-talented. Every conceivable dance form is part of the show: From ballet to ballroom to baroque, tap to tumbling – the audience never knows what to expect.
My personal favorite was feisty Lea Helle, who could sing opera with the Met – but might just as easily sign up to pole dance at an upscale strip club. Also terrific and talented, Hilly Bodin plays Snow White as a ballerina – a sharp contrast to Laura Careless' ballroom-dancing Queen. The dwarf issue is handled deftly: Whenever "dwarves" are required, a puppet theatre is rolled on stage and two actors simply bob cut-outs of the dwarves up and down – drawing laughter from the crowd at the silliness and absurdity of it all!
All other cast members, however, are decidedly full-sized, full-bodied humans – a fact made very, very clear by the lack of clothing worn (female cast members' breasts are often bare; male cast members wear fishnet stockings and g-strings, but nothing else – displaying toned dancers' buttocks!). The dancing is erotic but humorous; true burlesque, with fabulous costume changes full of feathers and sequins; a feast for the eyes and ears.
McCormick sticks to the basic Brothers Grimm plot: The Queen is gorgeous – and homicidally vain! Her favorite occupation is to cavort with her consorts and obsessively ask her magical talking mirror the same question: "Mirror, mirror on the wall. Who's the fairest of them all?" – fully expecting the answer to be "You, Queen." When, instead, the mirror tells her that Snow White is, in fact, far fairer than she, all Hell breaks loose, and the Queen sets out to kill her rival. She manages to do so on several occasions in ever more creative ways – but, roll out that puppet stage – the dwarves revive Snow White each and every time, until finally, the Queen contrives to poison the girl with an apple, and the dwarves give up and just entomb Snow White in a glass (or rather, plastic wrap!) coffin.
Now only a prince's kiss can revive Snow White, so cue Courtney Giannone as that gender-bending "fellow" -- who makes his entrance in flamboyant attire and, after reviving Snow White with that obligatory kiss, does a dance of victory and seduction, tumbling and rotating in a huge hoop while one of the cast sings a soulful love song. The crazy part is: It all works!
Snow White will be at the Minetta Lane Theatre from February 3 – March 12, with performances Tuesday – Saturday at 8:00; Sunday at 5:00. Tickets are $40-65; VIP seating is available from $75-105, and may be purchased by going to http://www.ticketmaster.com or calling 1-800-745-3000. "$30 Under 30" rush tickets for patrons between 16-29 are also available at the box office two hours prior to performance.
Company XIV was founded in 2006 by McCormick, who is a graduate of both Juilliard and The Conservatory of Baroque Dance. In addition to Bodin, Careless, Giannone and Halle, the diverse and talented cast includes Marisol Cabrera, Nicholas Katen, Malik Kitchen, Mark Osmundsen, Davon Rainey and Marcy Richardson. Zane Pihlstrom, Jeanette Yew and Sarah Cimino are the talented design team trio; the production team includes Nataliya Vasilyeva, Emma Greger, Audrey Nauman and John Starmer.