Shakespeare & Company 2020 Season
A Mix of Classic and Contemporary in Lenox
By:
S&Co

-

Feb 11, 2020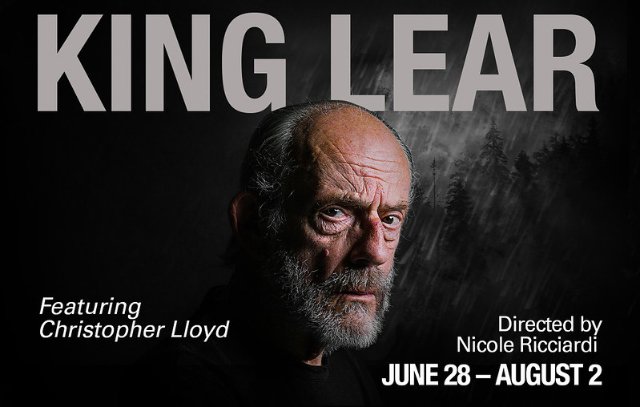 Additional casting and details about Shakespeare & Company's 2020 programming will be announced later this spring. Following is Shakespeare & Company's official 2020 Summer Performance Season:

THE LIFESPAN OF A FACT
By Jeremy Kareken, David Murrell, and Gordon Farrell
May 21 – July 11
Directed by James Warwick
Featuring Annette Miller
The Elayne P. Bernstein Theatre

In this blistering comedy an exacting fact checker takes a famous writer to task for bending the reality of a tragic incident to serve the art of his narrative in the retelling of it. The survival of a prominent magazine depends on the article being a success. Sparks fly and a deadline looms as the editor referees a pitched battle between accuracy and the truth, and who's to say what that is?

Generously sponsored by Jerry and Honie Berko.
KING LEAR
By William Shakespeare
June 28 – August 2
Directed by Nicole Ricciardi
Featuring Allyn Burrows, Jonathan Epstein, Nigel Gore, and Christopher Lloyd
The Tina Packer Playhouse

The once powerful but now aging King Lear chooses to divide his kingdom between his three daughters, and so begins one of Shakespeare's most moving tragedies. At the crucial point of relinquishing his realm, Lear demands to know which of his daughters loves him the most. His ambitious older daughters answer with false praise and lavish flattery, however his youngest daughter, who does truly love him, answers with honesty. Wildly unsatisfied with her response, Lear's rage sets in motion catastrophic consequences. Ultimately stripped of his privilege and its trappings, Lear must reckon with his own humanity.

Generously sponsored by Deborah and Bill Ryan.

THE COMEDY OF ERRORS
By William Shakespeare
July 7 – August 8
Directed by Michael F. Toomey
Featuring Dara Brown, O'Neil Delapenha, Nick Nudler, Devante Owens, Kirsten Peacock, and Julia de Avilez Rocha
At the Dell at The Mount, Edith Wharton's Home (outdoors)

Two sets of twins, mistaken identities, outlandish mix-ups, and a whole lot of laughs for the whole family makes this romp of a comedy live up to its name. One of the Bard's fastest-paced plays (it all takes place in one day!), it follows Dromios and Antipholi on a wild ride that sheds light on how others perceive us and how Shakespeare created his blueprint for comedies to follow.
A Special Reading
MY LEFT BREAST
By Susan Miller
July 16 - 19
Directed by Nela Wagman
Featuring Corinna May
The Elayne P. Bernstein Theatre

Courage takes many forms. An intrepid woman's humorous and moving encounters with relationships, parenthood, cancer, and her ever-changing self are charted in this searingly honest solo piece.

WHAT RHYMES WITH AMERICA
by Melissa James Gibson
July 23 – August 15
Directed by Normi Noel
The Elayne P. Bernstein Theatre

As he struggles to stay connected with his daughter, Hank's life seems to be unraveling in a most persistent manner. In this poignant and touching portrait of the trials of modern American life, Obie Award winner Melissa James Gibson offers a compassionate sketch of how to hold on. Who do you turn to when the ground starts to give way under your feet? At the end of the day, maybe a sense of humor is your best friend.

Generously sponsored by Howard and Natalie Shawn.

MUCH ADO ABOUT NOTHING
By William Shakespeare
August 11 – September 6
Directed by Kelly Galvin
Featuring MaConnia Chesser and Ryan Winkles
The Roman Garden Theatre (outdoors)

Beatrice and Benedick can't stand each other, or so they would have everyone believe. Those who know them know better, and hatch a hysterical plot to have the true feelings of these reluctant lovers revealed. At the same time, young love blossoms between Benedick's friend Claudio and the governor's daughter Hero. But when their love is undermined by an act of treachery, lives and relationships in Messina may be ruined forever. Who will be able to see the truth? And who will have the courage to speak it? A spirited celebration of true love and friendship, Much Ado About Nothing features some of Shakespeare's most satisfying language—and two of his most beloved characters, Beatrice and Benedick, whose wit and vulnerability make us laugh and remind us what it means to entrust our hearts to one another.

Generously sponsored by The Dr. Gerald and Roberta Friedman Foundation.

ROW AFTER ROW
By Jessica Dickey
August 13 – September 13
Directed by Tina Packer
Featuring Tamara Hickey and Michael F. Toomey
The Tina Packer Playhouse

Two Civil War reenactors walk into a bar...When they encounter Leah at their usual table after the annual battle of Gettysburg, Tom and Cal get knocked out of their comfort zone, back and forth in time, and into a search for meaning. The toll of sacrifice is the backdrop of this humorous journey for these three to find themselves and their small but significant place in history and the world.

A Special Workshop Production
MEASURE FOR MEASURE
By William Shakespeare
September 2 – 6
Directed by Alice Reagan
The Elayne P. Bernstein Theatre

When Angelo is abruptly appointed to rule over a chaotic and debauched city, he restores order with repressive laws and an iron fist over licentiousness. The object of his own twisted desire is a young nun, whom he puts in an unthinkable position. "To whom shall I complain?" is all that young Isabella can utter when she finds herself the target of his abuse of power. Justice can never come soon enough.

BETRAYAL
By Harold Pinter
September 18 – October 18
Directed by Regge Life
Featuring Elizabeth Aspenlieder and David Joseph
The Elayne P. Bernstein Theatre

In this Olivier Award-winning classic, Harold Pinter brings his savagely tight dialogue and powerful pauses to every interaction these intertwined souls share. Jerry and Emma carry on a seven year affair under the nose of Emma's husband and Jerry's best friend, Robert, only to discover, with poetic precision, the fallout of deception.
Tickets
3-Show and 6-Show FLEXpasses are on sale now. FLEXpass advantages include: Up to 40% off regular ticket prices, ability to book shows and seats one week earlier than the general public, and a waiver of the exchange fees.

Single Tickets for the 2020 performance season go on sale to donors and groups today, February 11; seat and show selection for FLEXpass holders on February 18; tickets for the general public will be released on February 25.

Shakespeare & Company will once again offer a 40% discount to full-time, year-round Berkshire County residents (excludes Saturday nights, opening nights, and previews). The Company also continues its commitment to the EBT Card to Culture Program, offering a $5 performance ticket to all EBT Cardholders. The discounted tickets can be reserved over the phone, online, and in-person at the Box Office. Cardholders will be required to show their card at the Box Office when picking up tickets, and processing fees will also be waived.
The Tina Packer Playhouse, Roman Garden Theatre, and the Elayne P. Bernstein Theatre are wheelchair accessible. For more information on our summer performance season or our year-round programming, call the Box Office at (413) 637-3353 or visit www.shakespeare.org.