The Glass Menagerie in Chicago
Hypocrites Production Revived by Hans Fleischmann
By:
Nancy Bishop

-

Feb 14, 2016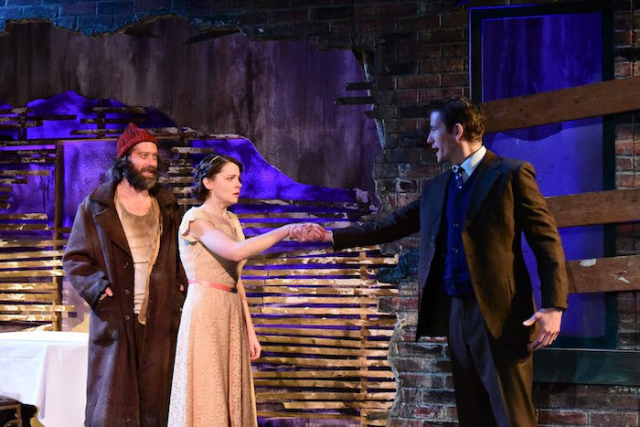 Hans Fleischmann developed a distinctive poetic vision for his production of Tennessee Williams' The Glass Menagerie, which ran for about six months in 2013 at Mary-Arrchie Theatre and then at Theater Wit. Fleischmann reprises this production as director and lead actor in the new Hypocrites production. Fleischmann as the narrator and poet Tom wanders in and out of time, in his homeless-man persona, as future Tom and past Tom. He's the son of the Southern belle mother, Amanda (Kate Buddeke), and brother of fragile Laura (Joanne Dubach).
The Wingfield family drama, one of Williams' early plays, is set in 1930s St. Louis. Like most of Williams' works, this reflects his own family story. Amanda is modeled after Williams' mother, Edwina, just as Laura mirrors his sister, Rose, who underwent a prefrontal lobotomy in 1944. The Glass Menagerie is a memory play, as Tom explains in his opening monologue, walking amongst the glass strewn around the set: "This play is memory. Being a memory play, it is dimly lighted; it is sentimental; it is not realistic."
Amanda, who tries to remake everyone in the image she prefers, enrolls Laura in a business school class but with little success. Laura is only happy playing with her collection of small glass animals, which she endows with names and personalities.
Tom the poet works in a shoe factory and steals every spare moment to write in his notebook. Amanda gives him little peace, nagging at him to go to fewer movies, drink and smoke less, eat breakfast and bring home a "gentleman caller" to meet the painfully shy Laura.
The gentleman caller, "long delayed but always expected," is the thread woven through the story. Zach Wegner plays Jim, the high school hero now working as a shipping clerk at the shoe factory; life has been a disappointment for him too. Tom invites Jim home for dinner and Amanda undertakes a frantic flurry of preparing food and décor and remaking Laura. Amanda is sure this might be the man Laura needs to meet, to find a man to take care of her. In act two, Jim and Laura get acquainted and Laura in a moment of trust introduces Jim to her glass animals.
The four actors make up a strong cast. Fleischmann reprises his performance as Tom (although with a trimmer beard). Buddeke's Amanda will remind you of Blanche in Williams' A Streetcar Named Desire (and of her turn as Tanya in Steppenwolf's Airline Highway). Dubach is sweet and awkward as the delicate Laura she portrayed in the 2013 production. And Jim seems like a breath of today in the cobwebby air of the Wingfield household. As Tom describes Jim, "He is the most realistic character in the play, being an emissary from a world of reality that we were somehow set apart from."
Grant Sabin has recreated his set from the earlier production with strewn glass and decaying board walls suggesting the ruin of the Wingfield home in Tom's memory. Aaron James Stephenson's sound design provides the right platform for Daniel Knox's original score.
This is a strong, sweet production but it's not clear to me why it is remounted just 2.5 years after the last identical production. If you missed it before, do see it now. But if you saw it in 2013, you can consider skipping this one–unless you love the sound of Williams' poetic text, skillfully interpreted as it is here.
The Glass Menagerie was Tennessee Williams' first theatrical success. It opened in Chicago's Civic Theatre (now part of the Civic Opera House) in December 1944 and received glowing reviews from the Tribune's critic, Claudia Cassidy, and other Chicago critics. Those reviews enabled it to move to New York where it ran for about 16 months. Williams adapted the play from his earlier short story, "Portrait of a Girl in Glass."
The Glass Menagerie runs 2.5 hours with one intermission; the Hypocrites production continues through March 6 with performances at the Den Theatre's first floor Heath Main Stage, 1329 N. Milwaukee. You can see it Friday through Sunday and some Thursdays. Tickets for $36 can be purchased online.
Resposted courtesy of Nancy Bishop and Third Coast Review.