Bonnie's Last Flight by Eliza Bent
Next Door at New York Theater Workshop
By:
Rachel de Aragon

-

Feb 14, 2019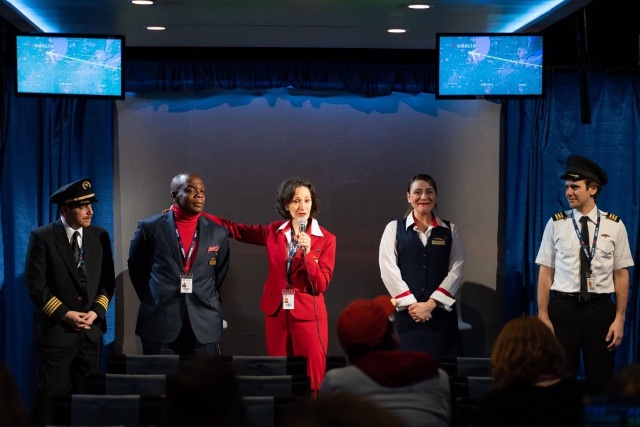 Next Door at New York Theater Workshop, a New Georges Supported Production, present Bonnie's Last Flight by Eliza Bent
Buckle your seat belts; the plane is still on the tarmac and we the audience, seated in airplane style aisles, are already anticipating a turbulent trip. There are technical difficulties. Flight attendants are rushing up and down the aisles shutting the overhead compartments, allaying our fraying nerves with snacks.
But as we lift off we become increasingly aware that our trip is the last flight for the head stewardess Jan (Barbara Walsh) and her pet-carrier enclosed dog, Bonnie. Jan is retiring, and is set to embark on her life long ambition, to join a writers workshop program in Chicago after 31 years of airline work. Walsh delivers her part with an emotional veracity as she explores the meaning of her life's choices.
Her colleague of two decades and only true friend Greig (Greig Sargeant) like Jan has lost the blush of youth in the hectic and stressful job of flight attendant. Sargeant gracefully balances between gripping self-reflection and comedic reminiscences as he conveys the real possibilities of a final flight. He moves with a flight attendant's 'professional precision' down the crowded aisles, with humor and pathos.
Playwright Eliza Bent captures the absurdity of airline travel in its staccato attention to details and overarching commandment to relax. It's off-set by the knowledge of the precarious nature of doing anything 3000 miles above the ground. We, like our attendants, must be prepared for danger.
The weather, as always is unpredictable. We are given water and cookies. The pilot, (Sam Breslin Wright) is an alcoholic. His frazzled young co-pilot Eric, (Frederico Rodriquez) who he insists upon calling Jesus, seems more concerned about recapturing the affection of the youngest flight attendant, Leeane (Ceci Fernandez) than with navigation.
As the plane soars towards Chicago over the Mark Twain National Forest, the ghost of that prolific Hoosier (Eliza Bent) appears sporadically to underscore our trip with pithy commentary. Like Twain himself, our experiences on, or high above the Mississippi, are both life affirming and life threatening. In a Twainian sardonic vein we are asked to laugh at the fragility of our hopes. We smile through our tears at ability of love to give meaning to our sojourn.
Director Anne Tippe and the production team Scenic design Meredith Ries, Lighting design Dona Curley, Sound, John Gaspar made the theater as airplane a viable vehicle. The video design, David Pym, contributed substantially to our flight. Bonnie's Last Fight is filled with humorous twists, and unexpected turns. Buckle up-- and!