Expressions by Shawn Abramowitz
At California's Desert Ensemble Theatre
By:
Jack Lyons

-

Feb 15, 2017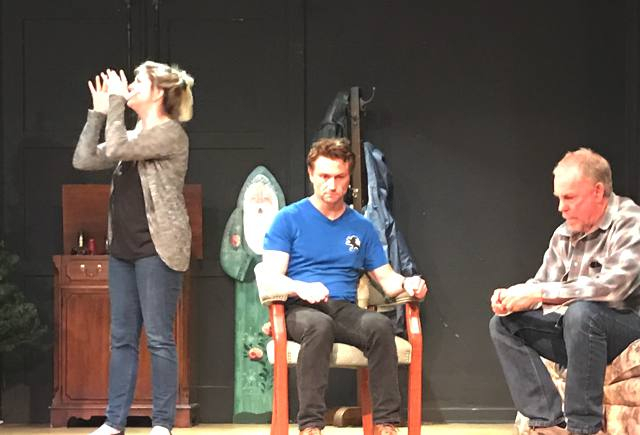 Playwrights promoting playwrights is not that unusual in the Coachella Valley. In business and creative endeavors, however, creators jealously guard their creations from industrial theft, art forgery, copyright plagiarism, and from screenwriters who recognize a good idea when they see one. Desert Ensemble Theatre founder and playwright Tony Padilla, is a playwright, who not only encourages other writers, he gives them a venue to display their wares, so to speak.
An example of a new and emerging playwright in Palm Springs, is local actor/director Shawn Abramowitz. He has been seen as a working actor throughout the valley, and has been singled out for Desert Theatre League honors for Best Actor and Best Supporting actor in "A Number" in 2016, and for "Family Meetings" in 2014, respectively. "Expressions", marks Abramowitz's debut as a playwright, who also directs the powerful drama now performing on the Pearl Mc Manus Stage at the Palm Springs Woman's Club.
"Expression", is a compelling story of two brothers and their respective father-son relationships; set in the year 2002. Karl (Fergus Loughnane), is a troubled Viet Nam veteran who has never fully recovered from the trauma of his war experiences. Certain images and loud sounds haunt him turning his home life with his wife Emily (Kelley Moody) and his 18 year-old son Joseph (Nick Wass) into becoming at times, a distant husband and a misunderstood father who can't quite bring himself get close to his son Joseph, which troubles Emily.
Karl's older brother Steven (James E. Anderson III) every now and then drops by for occasional visits, along with his 17 year-old son Paul (Cameron Keys). The two brothers have a prickly relationship. Steven is surly and has a drinking problem. He too was in 'Nam', and is also dysfunctional. But the "warrior mentality" keep both men from fully expressing their feelings and their fears. We now know in 2017, that both men are suffering from PTSD.
The two young cousins, however, are great friends and both share the desire to join the army like their dads. However, neither young man has broached the subject with his father. Joseph knows that Karl and Emily want him to go to college. Steven feels that Joseph should make his own decisions about whether to enter the military, but he feels that his son Paul is definitely too young to join the army. This sets up a dynamic where the brothers keep growing more distant. No more spoiler alerts here.
The appeal of the play lies in the situations the characters find themselves in and the performances of the actors. There are moments of true poignancy in Act Two that are emotionally deep and resonate with the audience. Powerful plays like "Expressions" need the steady hand of the director to orchestrate and modulate the performances. The night I attended, the pacing was a tad slow. Yes, I know it's a drama, but it is also a theatrical piece, that requires the audience to remain engaged. I'm not suggesting that playwright Abramowitz throw "his baby" out with bath water, but life is full of choices. And as talented a playwright/actor/director as Abramowitz is, I'm confident he'll make the right choices. He has a fine ear for dialogue, and as I said, his play is powerful and compelling. I look forward to his next effort.
The technical crew led by Abramowitz includes: Cecilia Orozco as Stage Manager, Garo Mazmanian, Sound Technician, Sierra Johnson, Lighting Technician and Maiya Orosco, Prop Master.
"Expressions", performs Fridays, Saturdays at 7 PM and Sunday Matinees at 2 PM on the Pearl Mc Manus stage at the Palm Spring's Woman's Club throu
Reposted by Jack Lyons and Desert Local News.