National Sawdust Presents Against the Grain Opera
Intriguing Peek Into Artists-in-Residence Program
By:
Susan Hall

-

Feb 16, 2020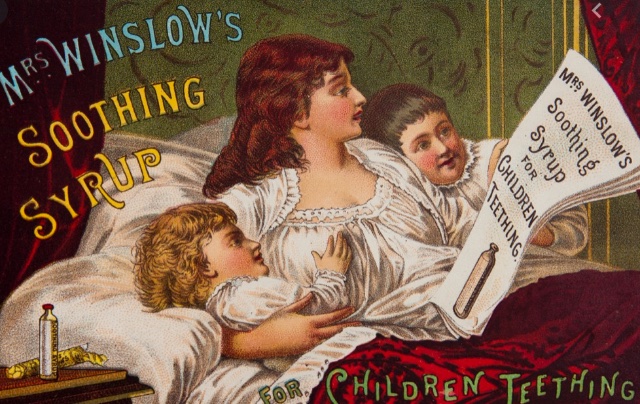 Against the Grain Opera Company.

Mrs. Winslow's Soothing Syrup
A Work-in-Progress
Artists-in-Residence Program
National Sawdust
Brooklyn, New York
February 15, 2020
Ashley Emerson, soprano (Meri)
Eve Gigliotti, mezzo-soprano (Junkie)
Michelle DiBucci, composer
Royce Vavrek, librettist
Brian Gilling, music director
Joel Ivany, stage director
Pedro Mateu-Gelabert, PhD (Associate Professor, CUNY Graduate School of Public Health and Health Policy)
Nicole R Greenspan, PhD (Canadian perspectives on the opioid crisis)

National Sawdust, an artist led Brooklyn group, is a leading incubator of new music. One aspect of their work is an artists-in-residence program. Committed to assisting the creation of work with impact, as artists draw from personal experience and their interpretation of the world. New work based on pertinent social or political themes is encouraged.
As work is developed, artists need space, support and guidance. National Sawdust is at the ready. Experimentation with new sounds are offered by state-of-the-art technology —including the Meyer Sound Constellation® Acoustic System and Spacemap® Multi-Channel Panning System. Leaders from the music world and renowned musicians offer mentorship and advice.
We were privy to the results of a week's workshop setting Mrs. Winslow's Soothing Syrup in motion. Against the Grain Theatre, a National Sawdust Artist-in-Residence, presented a work-in-progress performance of the new chamber opera being created by celebrated composer Michelle DiBucci and award-winning Canadian librettist Royce Vavrek. A journey into a young wife and mother's world torn apart by abuse, neglect, addiction is an unflinching and compassionate look at the opioid crisis. This plague is emblematic of our time.
"Let the world see what I have seen," is a guiding motto. Composer DiBucci has immersed herself in the world of the opioid addict, as she begins to compose Mrs. Winslow's Soothing Syrup. Reading about the epidemic has given her a firm base in fact. Clearly she understands the depth of an experience she has not had. Bets are on that she will capture the essence, jumping off from a libretto by the inimitable Royce Vavrek. She has listened to Billy Holliday sing right after shooting up. How highs color song will color the chamber opera.
The collaborators have based their work on Karl Georg Büchner 's play, Woyzeck (made famous by Alban Berg's opera). Written in the early 19th century it is regarded as first truly "modern" drama. Based on the real-life case of a barber who stabbed his mistress in a fit of jealousy and was sentenced to death in 1821, this seems at first a classic study of violence prompted by sexual rage. Yet in Büchner's unfinished play, it becomes a social critique, a lower-class King Lear. It strongly influenced the work of German dramatists Wedekind and Brecht. It became a sacred text for the new British dramatists of the 1990s.
DiBucci points out that she has reversed the Woyzeck roles in Mrs. Winslow's Soothing Syrup. Meri is the addicted (mad) barber, and in a gender reverse, her husband is Büchner's Marie. The broader social context is indicated in part by naming characters, as Berg does, with generic titles like Captain, Doctor, Drum Major.
Against the Grain presented the first confrontation between Meri, a middle class housewife with a baby at home with her husband and a street woman called only "Junky."
Junky is sung by the incomparable Eve Gigliotti, who was Dodo in Breaking the Waves, sings a Walkere in Wagner at the Metropolitan Opera and across the nation, and nails her role whatever it is. Here she takes Vavrek's words and meshes them with the music, often giving us outside-the-music gutterals, changing the texture to emotional linguistics closer to the feeling of the character. She stands out, outstanding in whatever role she assumes. With the puppet dog companion she has gloved on one hand in this workshop performance, she dramatizes her money-making canine tumbler whose performance keeps her in drugs. She laughs at Meri, sung movingly by Ashley Emerson, who has yet to be drowned in her drug of choice.
A panel discussion after the first presentation featured experts in opioid addiction from Canada and the US. There is no question about the universality and magnitude of this epidemic.
In a second panel discussion, the artists discussed how the work was being developed. Lush orchestration is anticipated for the piano suggestions that Brian Gilling sensitively conducted.
Any event at National Sawdust offers fascinating insights into the new music being created around the world today.