Master Class by Terrence McNally
Produced by Sonoma Arts Live
By:
Victor Cordell

-

Feb 16, 2022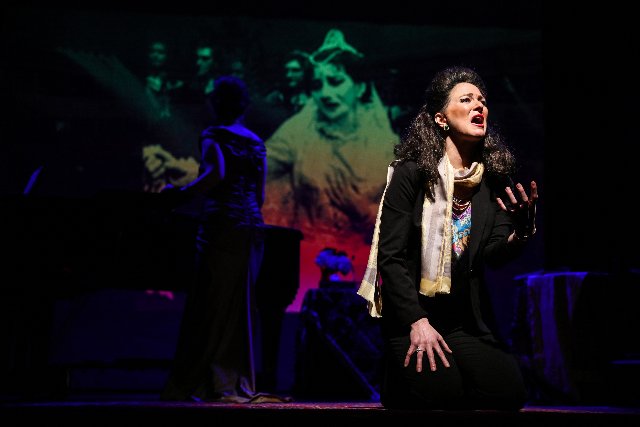 Maria Callas didn't have the most beautiful voice among sopranos of her era. She certainly was not the most beautiful of women. But with a powerful presence and an astonishing set of operatic skills, she was as esteemed and remembered a diva as ever set foot on stage. Playwright Terrence McNally's paean to Callas is less a dramatic narrative than a platform for a virtuoso performance by an actress capable of displaying La Davina's charisma and self-absorption. That a cavalcade of iconic actresses have inhabited the mantel on Broadway and beyond speaks to the vitality of the role. Those grande dames include Zoe Caldwell (who won a Tony), Patti LuPone, Tyne Daly, Faye Dunaway, and locally at Berkeley Rep, Rita Moreno.
Sonoma Arts Live offers an absolutely delightful rendering of this chamber play. In the lead role, Libby Oberlin captures the glamor, dominance, humor, and candid self-reflection of the great Callas. Oberlin commands the stage as she alternately intimidates and charms students, her accompanist, and a stagehand. She also engages patrons directly, frequently breaking the fourth wall, and connecting so closely with widened eyes and grand gestures that it seems she might step off the stage into the audience. Her dramatically-accented speech (Callas was born in and spent her first 13 years in New York City) is peppered with French and Italian vocabulary and punctuated with nasalous "aahs" grunted for emphasis. The part is non-singing, but when Oberlin recites Italian lyrics, her voice is melodious; her accent is convincing; and her depiction of passion for opera is searing.
As suggested by the title of the play, Callas evaluates the performances of hopeful opera singers. But her guidance derives less from commenting on technical sound production and more on everything that goes before the opening note. She castigates the students for everything from not knowing the history of an opera to the emotional state of the character to how they enter the stage. Throughout, she reminisces. She bemoans her ugly duckling childhood; draws strength from surviving World War II in German-occupied Greece; resents much of her relationship with Aristotle Onassis; but glories in her successes on the greatest operatic stages and revels in her rivalries with other great sopranos of her day.
Three young singers appear before the diva. Each possesses a strong voice and the acting ability to play off Oberlin's indominable insistence as Callas. Emily Owens Evans plays Sophie, the diffident ingenue, a sweet-voiced lyric soprano, who sings Amina's lovely aria and cabaletta from Bellini's "La Sonnambula." The always smiling, confident, and somewhat bumptious tenor Rob Kaywin-Dornaus sings Puccini's beautiful "Recondita Armonia" from"Tosca." Of course, his presence prompts Callas's tenor jokes. Finally, Morgan Harrington portrays Sharon, a dramatic soprano who, after the typical needling from Callas, nails Lady Macbeth's aria from Verdi's "Macbeth." The arias are a benefaction to the ear and much of Callas's criticism is highly instructive.
In her brilliant but too short career, Callas was blessed with a number of signature roles and arias. But perhaps the most fitting aria, which closes the program, is the one that most closely reflected her own life – Florio Tosca's plaintive plea to the villain Scarpia "Vissi d'arte," (I lived for art).
"Master Class," written by Terrence McNally, is produced by Sonoma Arts Live and plays at Sonoma Community Center, 276 Napa Street, Sonoma, CA through February 27, 2022.