By the Bog of Cats in Chicago
Marina Carr's 1998 Play at The Artistic Home
By:
Nancy Bishop

-

Feb 17, 2017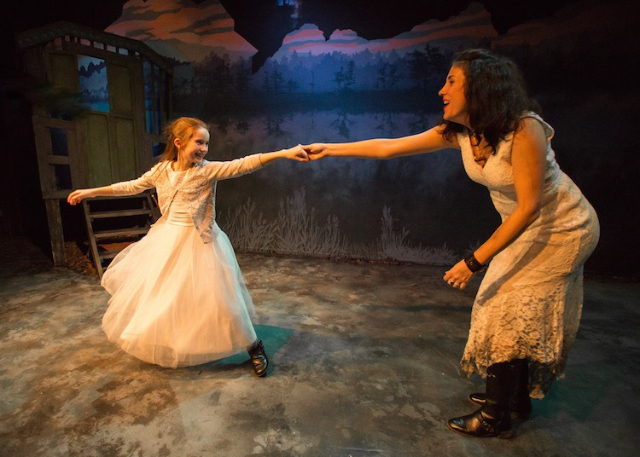 Marina Carr's 1998 play, By the Bog of Cats, is set in a ghostly bog in the Irish midlands. Hester Swane (a fierce and determined Kristin Collins) has lived in the bog all her life. She has a 7-year-old daughter with Carthage Kilbride (Tim Musachio), but they never married. Now he's trying to send her out of the bog she loves. And they both want to keep young Josie (Elise Wulf).
By the Bog of Cats is a bit of Irish Gothic laced with some Greek tragedy and it's on stage now at The Artistic Home, one of Chicago's fine storefront theaters, located in the Noble Square neighborhood.
John Mossman, cofounder of The Artistic Home, directs Bog of Cats with sensitivity to Carr's poetic language. It's a tense, gloomy story about the life of Hester, an Irish tinker (or gypsy), a strong, angry woman who has few friends. She's an outsider, but ready to fight for her home and her child. Her one friend is Catwoman (Caroline Dodge Latta), who knows the ghosts and history of the bog.
As the play opens, Hester is burying the black swan, Black Wing, which died frozen in the ice last night. She's confronted by the Ghost Fancier (John LaFlamboy), who reminds her of the superstitions about black swans. He's come looking for a ghost named Hester, but his timing isn't right. Hester lives in the house that Carthage built for her, but she's really most happy in her old caravan (or trailer) on the bog.
Hester is ready to fight because Carthage wants her to leave the bog so he can live there with his bride, Caroline Cassidy (Kelsey Phillips). They're marrying today and Caroline's wealthy father Xavier Cassidy (Frank Niall) is fighting Hester too so his daughter can be happy with her new husband. Josie is a pawn torn between the two warring factions.
At the wedding, Catwoman laps up wine from a saucer. Why is she there? Because it's bad luck not to invite her, Xavier says. The mother of the groom (Jane DeLaubenfels) lavishes a little too much affection upon her son. She's dressed in a long white dress and Carthage comments that she's "makin' a holy show in that stupid dress." Mrs. Kilbride responds, "I cut back on everything to buy this dress. How was I supposed to know the bride'd be wearin' white?"
As the wedding guests begin their celebration, Hester storms in, dressed in what was to be her wedding dress. She begs Carthage to let her stay in the house, in the bog. "I was born in the Bog of Cats, same as all of yees, although you'd never think it the way yees shun me. I know every barrow and rivulet and bog hole of its nine square mile." Desperate to save her life in the bog, Hester takes desperate actions.
The two-hour-plus play includes a wedding, a bitter breakup, a tragic ending and some fine Irish music. Because that's how Irish Gothic and Greek tragedy roll.
A bit of background about Irish land. Bogs are a rare sort of land in Ireland now, found mostly in the west and far north of the country. They tend to be infertile, with acidic soil and remains of decaying plant matter, which piles up and forms peat. There are some animals like mudfish, geckos and a few birds. Bogs are a popular setting for Irish and Scottish plays and stories because they have taken on supernatural auras over time.
By the Bog of Cats is notable for fine performances by Collins as Hester, Latta as the Catwoman and Niall as Cassidy. Elise Wulf is a likable and precocious Josie. Director Mossman sets his story on a spare Artistic Home stage. The rear wall is painted with a scene of plants and grasses in blues and grays. Hester's "caravan" sits at one side opposite the cottage. The scenic design by Anders Jacobson and Judy Radovsky is minimal but atmospheric. Claire Sangster handles lighting design and Petter Wahlback is responsible for sound. Zach Wagner's costume designs include several "wedding" dresses and the Catwoman's coat of what looks like cat fur studded with cat paws and eyes.
Marina Carr is one of the younger generation of Irish playwrights. Some of her other plays are The Mai, On Rafferty's Hill and Portia Coughlan. She credits Greek mythology as an influence on her work, especially the development of strong female characters such as Hester Swane. By the Bog of Cats was produced in Chicago in 2001 by the late Irish Repertory Theatre.
By the Bog of Cats continues at The Artistic Home, 1376 W. Grand Ave., through March 26. Performances are Thursday-Sunday with tickets at $28-32. Phone 312-811-4111 for tickets and info.
Reposted courtesy of Nancy Bishop and Third Coast Review.